Parker Center for Plastic Surgery
122 East Ridgewood Ave
Paramus, NJ 07652
Phone: (201) 967-1212
Monday, Wednesday, Friday: 9 a.m.–5 p.m.
Tuesday, Thursday: 9:00 a.m.–7 p.m.
Saturday: 9 a.m.–2 p.m. (medical spa only)

Procedure Snapshot
This procedure reshapes the nose to bring facial features into better balance. Dr. Parker is experienced in a variety of rhinoplasty techniques to help his Bergen County patients in Paramus change the shape, size, or symmetry of their nose.
Cost & Recovery
Nasal tip plasty: $9,675*
Rhinoplasty: $9,550 - $15,495*
Rhinoplasty Revision: $16,300 - $20,800*
Patients typically return to normal daily activities about 7 to 10 days after surgery.
Quick Facts
Cartilage and bone are reshaped to achieve a refined nasal structure. 
Results can be enhanced by combining rhinoplasty with a chin augmentation.**
Teenagers can have rhinoplasty after their nose has finished developing, typically around age 13 to 16.
352,555 patients had rhinoplasty in 2020.*** 
*Refer to our Pricing page for details.
**Results may vary.
***Statistical information listed here is drawn from 2020 ASPS data.
Rhinoplasty

Before & After Photos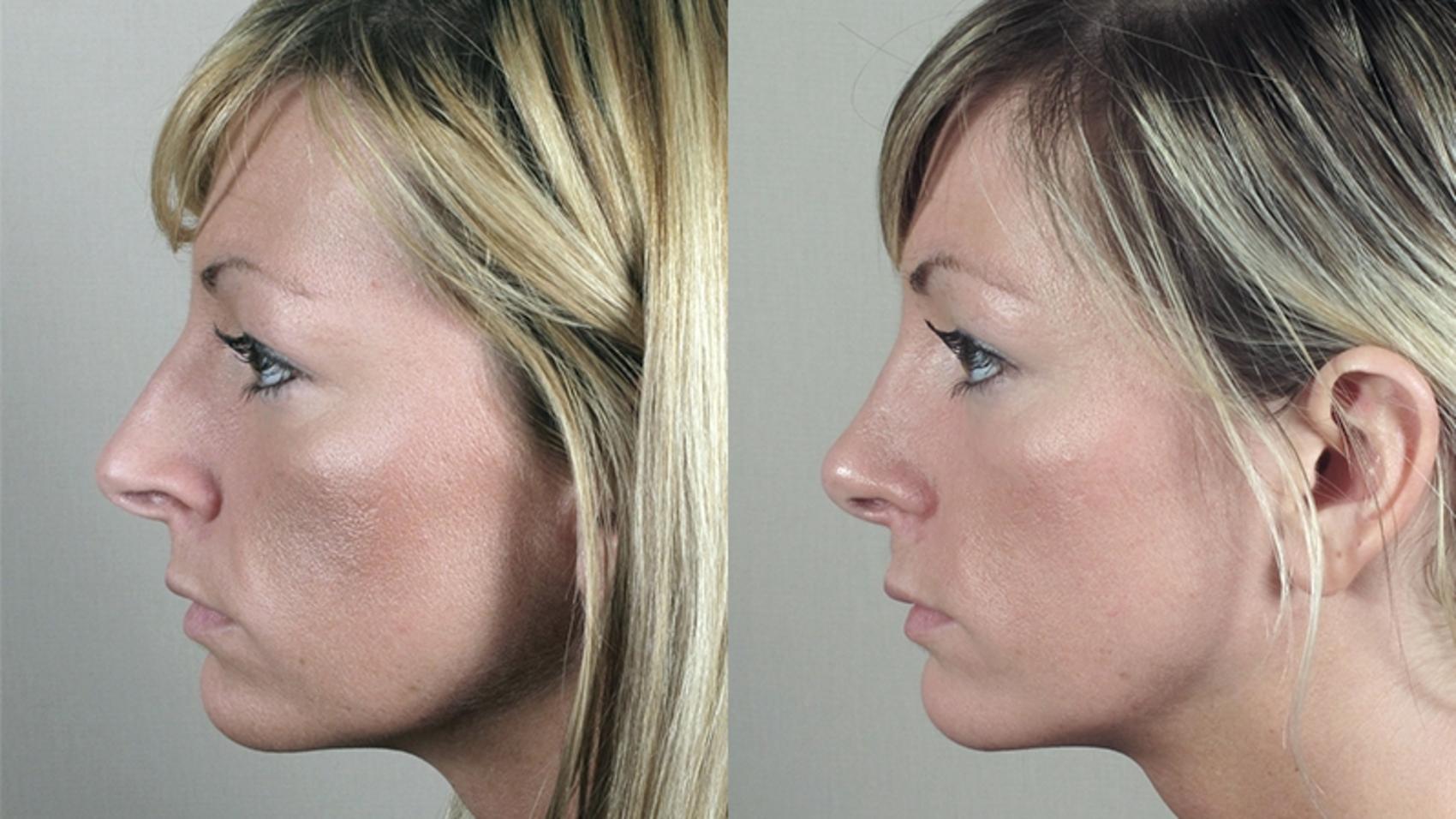 Before & After
Case #159
This 26 year old complained that her nose was too large. She said she would like to have it smaller and in better proportion with the rest of her face. Dr. Parker performed an open rhinoplasty during which he reduced the patient's bony cartilaginous hump, narrowed the nose with infractures, refined and set back her large, over projecting tip...
Read More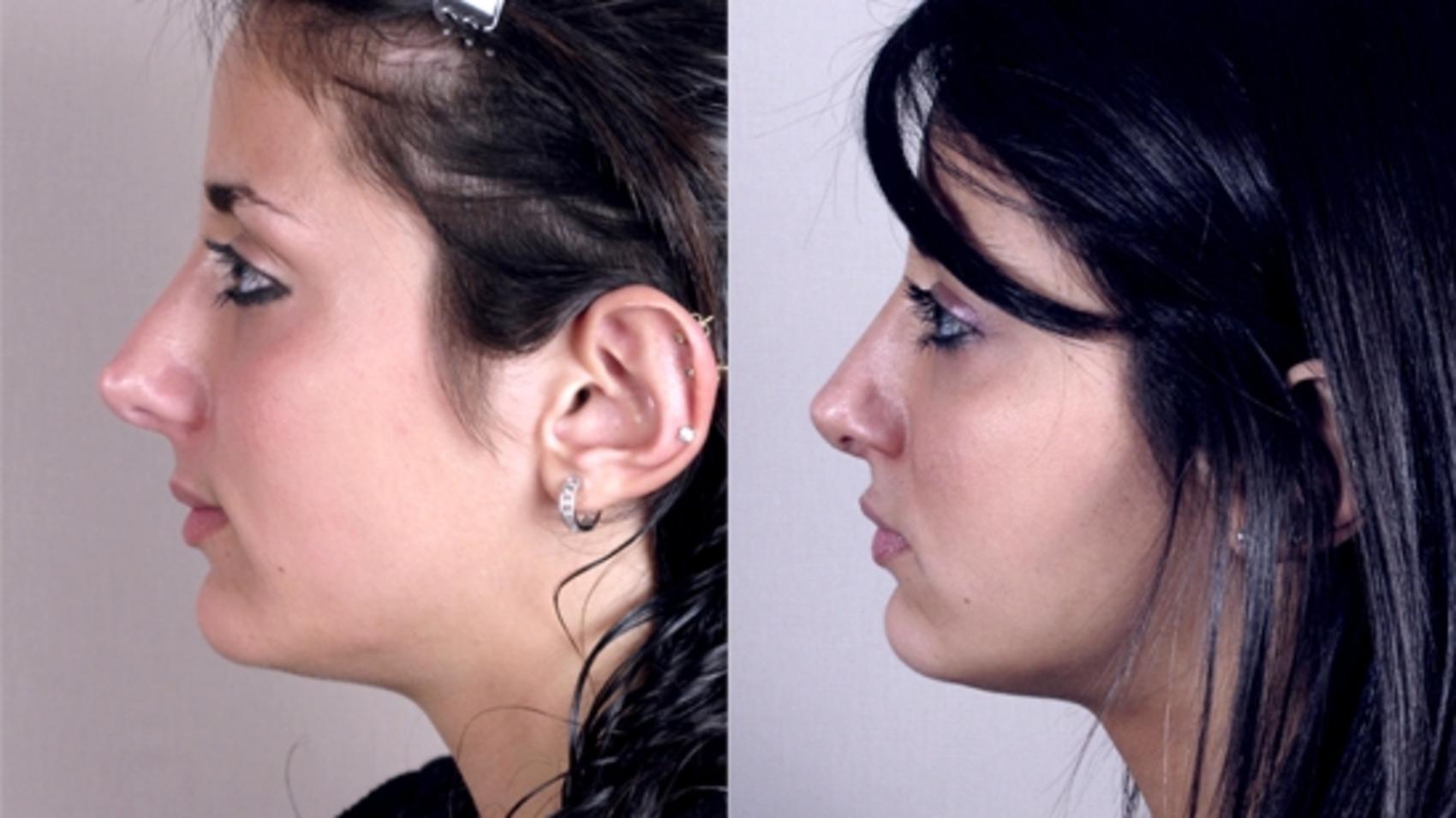 Before & After
Case #140
This 17 year old is status post 3 prior rhinoplasties by other surgeons. She asked to have her nose appear straighter and her nasal tip more defined and "prettier". Dr. Parker discussed with the patient and her parents performing an open rhinoplasty in an effort to achieve these goals. He directed his computer imager to show the patient what...
Read More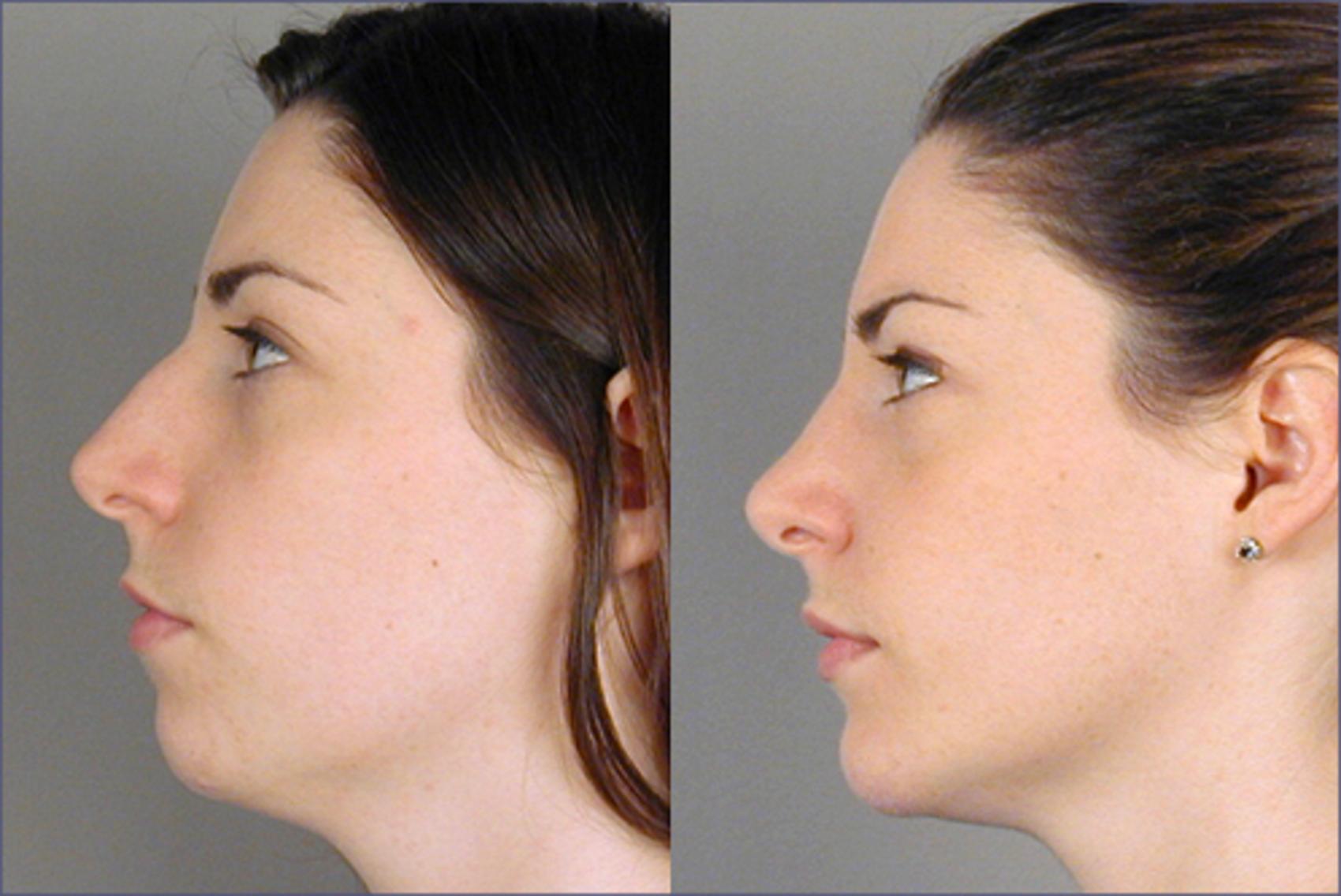 Before & After
Case #124
This 24 year old patient has never liked the dorsal hump on her nose. After a careful evaluation of her facial proportions, Dr.Parker used a two-phase approach. To improve the shape of her nose, he performed a rhinoplasty and then addressed her chin by inserting a silastic chin implant to provide better balance between her nose and chin.
Read More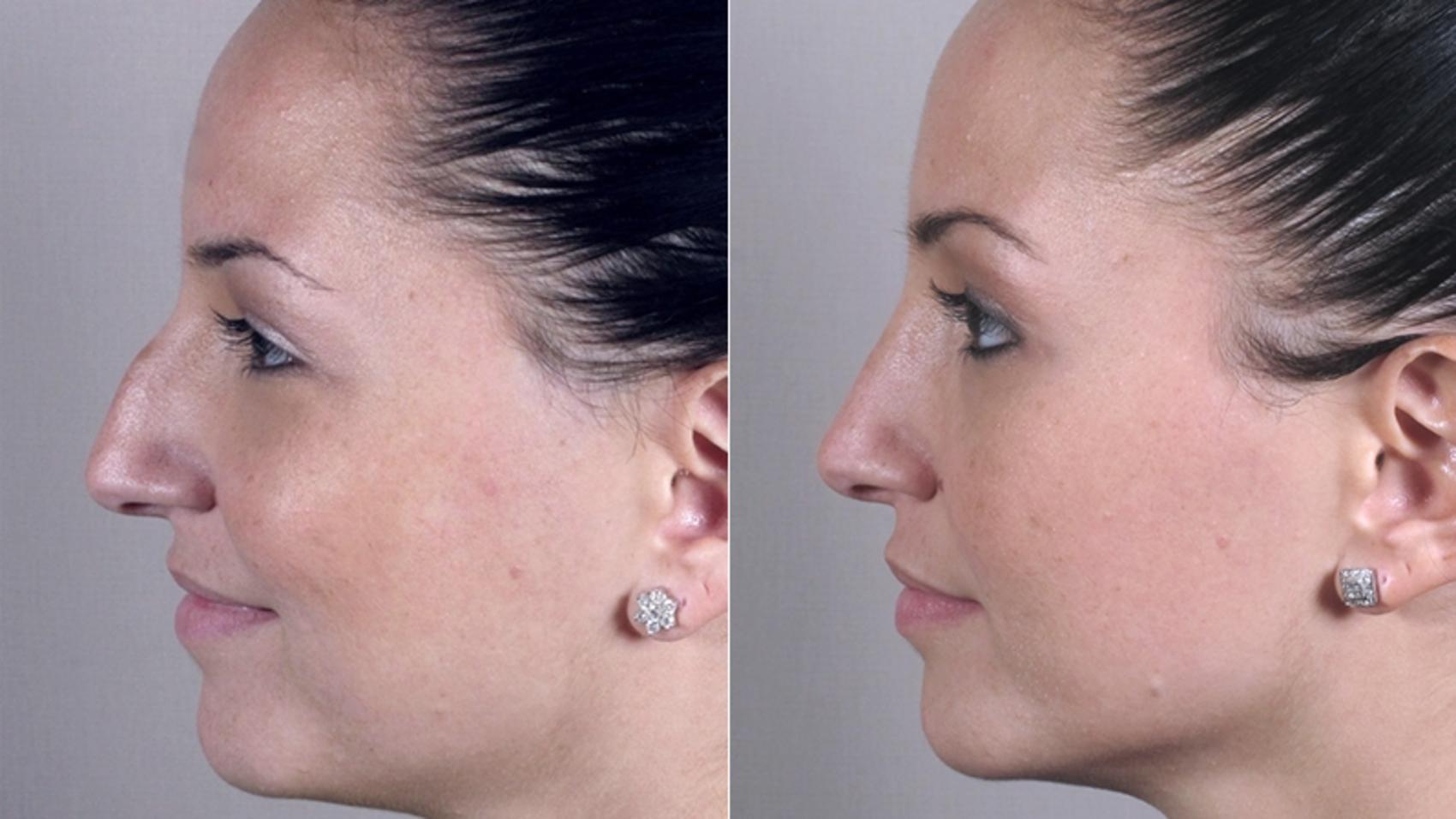 Before & After
Case #143
This 25 year old, referred to Dr. Parker by several other patients, expressed concern about the appearance of her nose and lower eyelids. Specifically, the patient did not like the bump on her nose and her drooping nasal tip, which worsened when she smiled. She also asked to have the puffiness corrected on her lower eyelids. Dr. Parker perfor...
Read More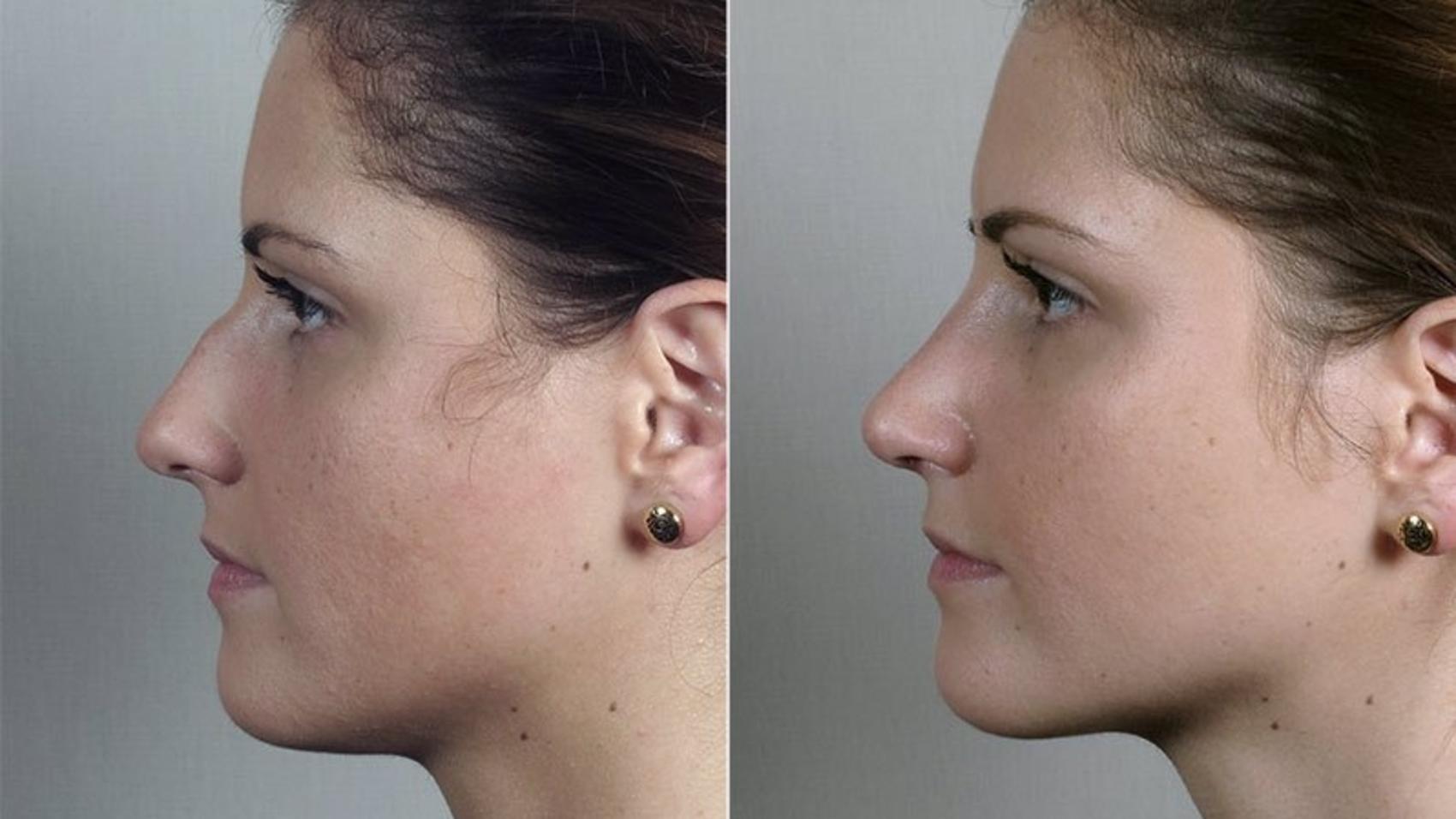 Before & After
Case #201
This 24 year old requested that Dr. Parker improve the appearance of her nose. She did not like its crooked appearance, dorsal hump and bulbous tip. Dr. Parker performed an open rhinoplasty to address these issues. At surgery, he reduced the bony cartilaginous hump, performed infractures to narrow the upper nose, reduced and refined the bulbo...
Read More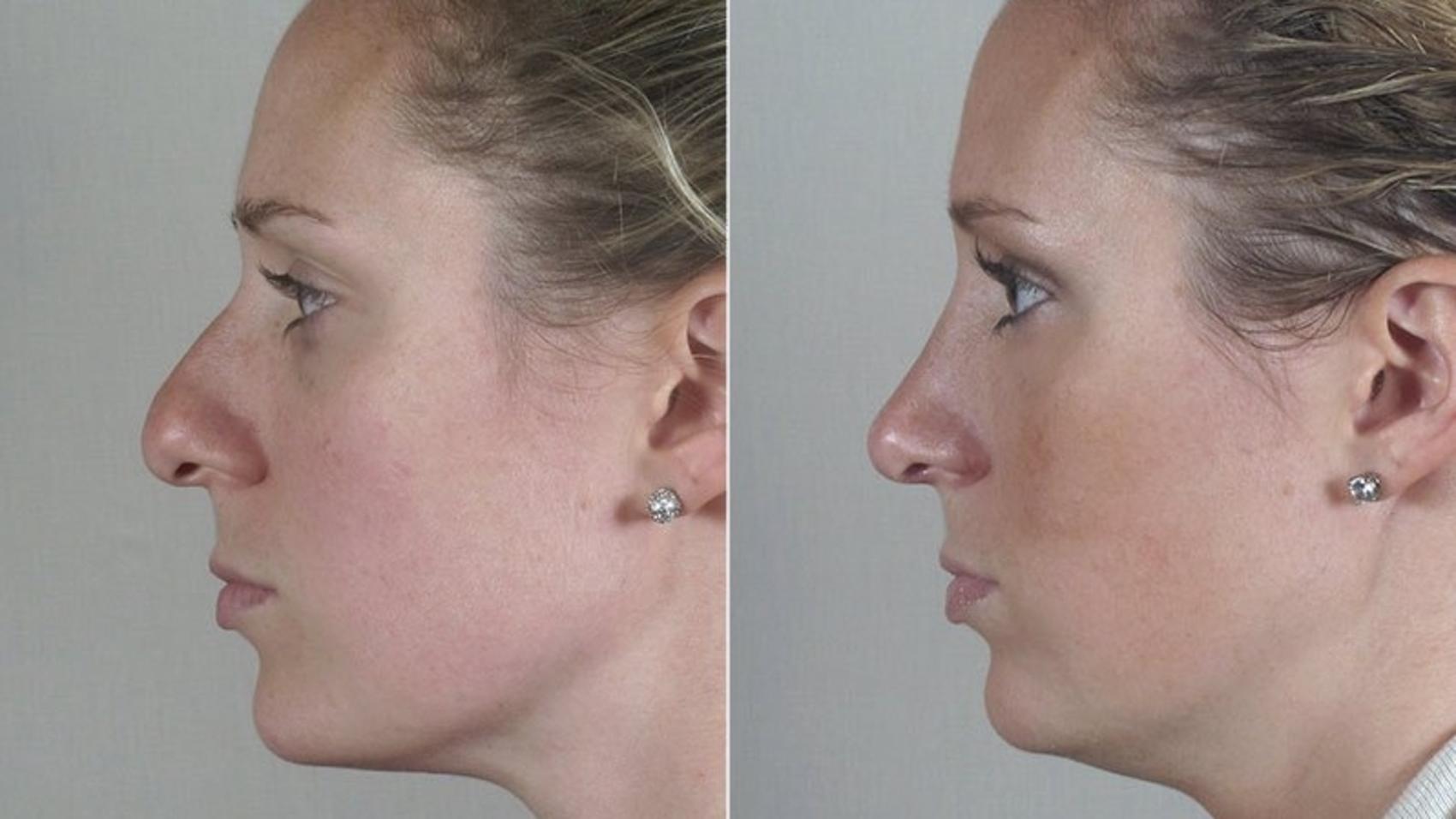 Before & After
Case #178
This 23 year old was referred to Dr. Parker by another patient. She requested improvement in the appearance of her nose. She asked Dr. Parker to make her bulbous tip more refined. He explained to the patient that her's was a tricky nose to correct. In order to achieve the proper balance in the nose, he removed excessive cartilage from the nas...
Read More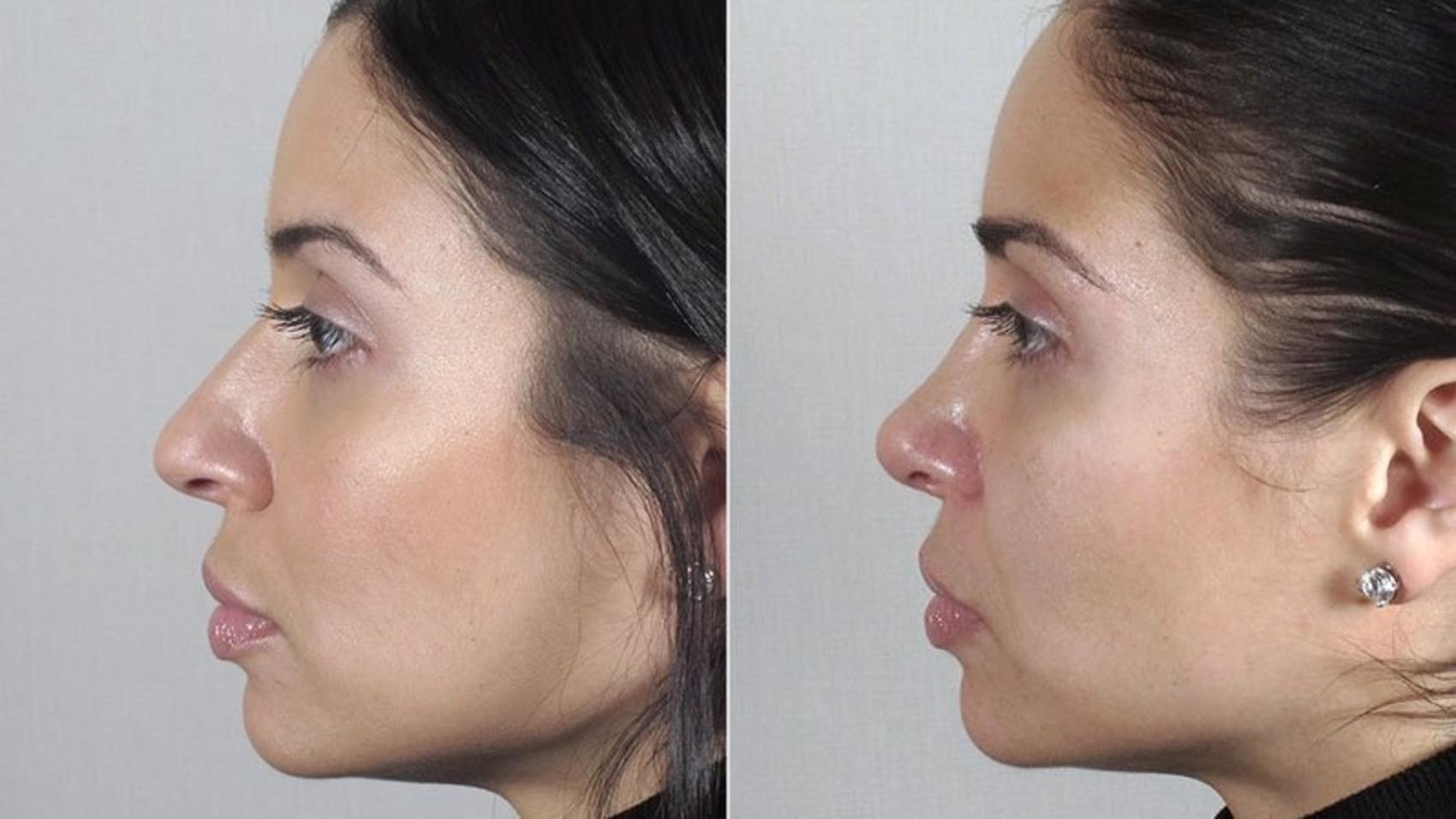 Before & After
Case #172
This 35 year old, referred to Dr. Parker by another patient, requested improvement in the appearance of her nose. She did not like her dorsal hump, bulbous tip and wide base of her nose. Dr. Parker performed an open rhinoplasty during which he reduced the bony cartilaginous hump, performed infractures to appropriately narrow the upper portion...
Read More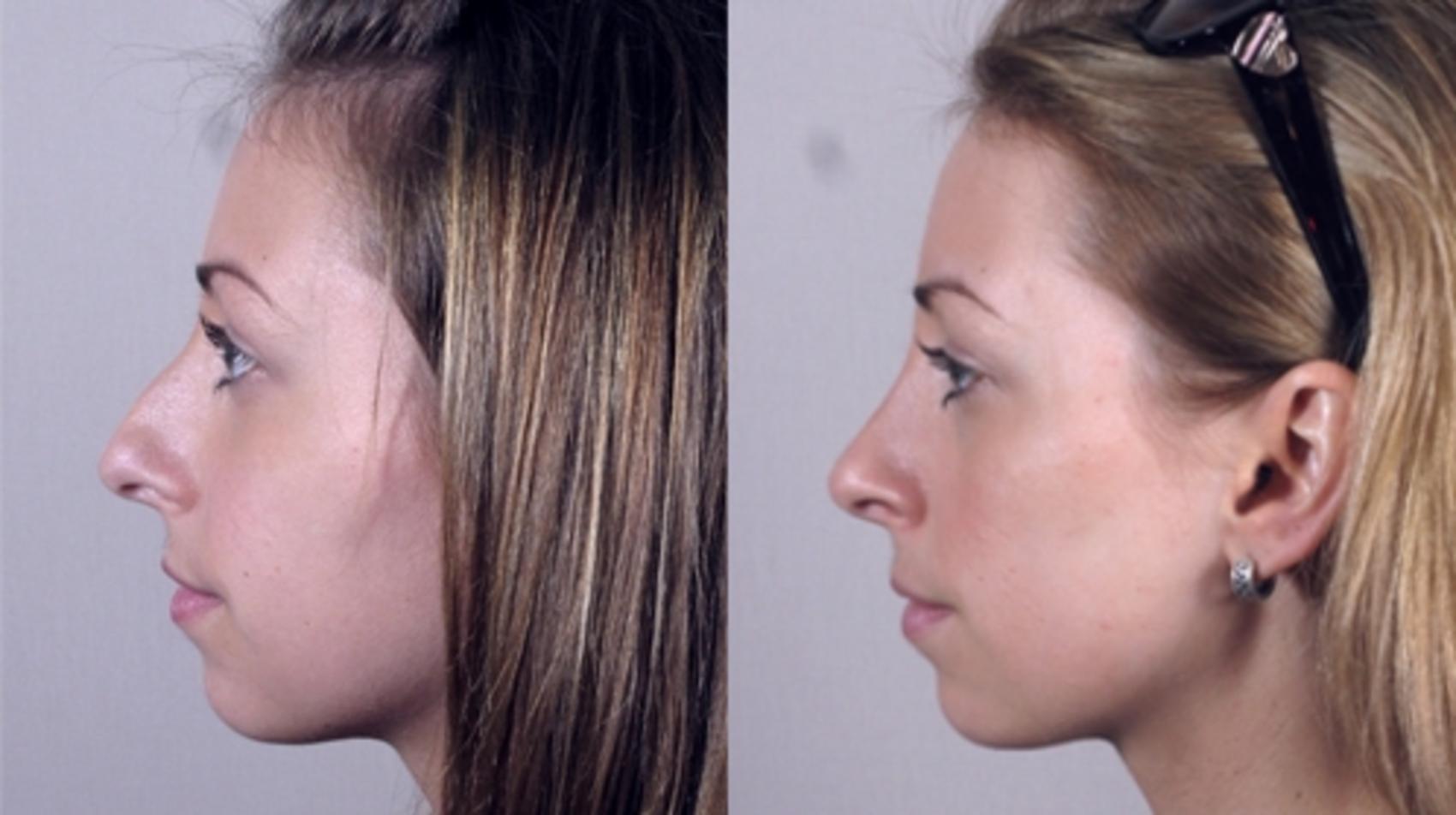 Before & After
Case #141
This 25 year old presented to Dr. Parker asking for correction of her dorsal nasal hump, which she said developed over time. Dr. Parker performed a closed rhinoplasty, taking down the bony cartilaginous hump as well as infractures to appropriately narrow this part of the nose. Postoperatively, the patient experienced very little bruising and...
Read More
Keep in mind that each patient is unique and your results may vary.
A nose that is out of harmony with other facial features draws attention and affects the overall aesthetics of the face. Dr. Parker performs rhinoplasty (nose job) in Paramus, NJ, to help patients who visit from Ridgewood and throughout Bergen County, North New Jersey, and surrounding areas achieve a more refined, natural nasal contour that complements the other facial features. He can also correct any internal deformities that may be causing breathing difficulties.
How Much Does a Nose Job Cost in New Jersey?
At Parker Center, the cost of rhinoplasty typically ranges between $9,550 and $15,495. Your total cost will depend on your anatomy, your desired results, and the complexity of the procedure. At your consultation with Dr. Parker, we will provide a detailed price quote that includes surgeon's fees, operating room and anesthesia costs, supplies, and pre and post-operative care. Visit our Pricing page for detailed information.
Rhinoplasty Specialist Trained by Masters
Dr. Parker was fortunate to train under several master rhinoplasty surgeons during his plastic surgery residencies at NYU Medical Center and Manhattan Eye, Ear & Throat Hospital. In his private practice, Dr. Parker has maintained a strong interest in rhinoplasty, performing many rhinoplasties each year. Dr. Parker is a member of The Rhinoplasty Society, a prestigious organization composed of 150 premier surgeons throughout the world who specialize in noses. These surgeons go through an extensive vetting process in order to become members of this organization. They are considered innovators in their field and deeply committed to aesthetic and reconstructive nasal surgery.
Understanding the Anatomy of the Nose
From an anatomical perspective, the nose is a complex structure (see illustration). The upper 40% of the framework consists of paired nasal bones, which are not movable. The lower 60% of the nose is made of movable cartilage. The two nasal passages are separated by the nasal septum, which is composed of both bone and cartilage.
What Issues Can Rhinoplasty Treat?
People from Ridgewood, Paterson, Jersey City, and beyond visit Dr. Parker for rhinoplasty to improve the size and shape of their nose. He may also correct breathing problems at the same time by correcting a deviated nasal septum and other related internal nasal structures. The issues rhinoplasty can address include:
Straighten a crooked nose
Reduce excessive nasal tip projection
Refine or reduce a bulbous nasal tip
Correct nasal tip asymmetry
Reduce width of the nose
Improve a nose that's too large for your face
Reduce the length of the nose
Correct a nasal bump
Secondary rhinoplasty: revise poor nose job results
Dr. Parker reviews details about all of the issues he can correct with rhinoplasty (with patient photo examples) in this blog post and this rhinoplasty infographic.
Paul M. Parker, M.D., FACS
Board-Certified Plastic Surgeon
Known for his surgical talent and caring personality, Dr. Parker has been serving the community for over 25 years. He has dedicated his practice to the education, safety, and comfort of his patients—making each one feel as important as family.
How Is Rhinoplasty Performed?
Depending on your anatomy and the changes you would like to make, Dr. Parker may perform a closed rhinoplasty, open rhinoplasty, or tip plasty. During your consultation, Dr. Parker will explain his recommended surgical plan to improve the appearance of your nose. To help you understand your options, we will photograph your face and review computer images of what your nose should look like after surgery.
How Is a Closed Rhinoplasty Performed?
A closed rhinoplasty is performed through incisions that are completely hidden on the inside of the nose. This technique is indicated for adjustments to the nasal bones and cartilage to improve the profile of your nose. If your nasal tip needs reshaping, Dr. Parker will perform an open rhinoplasty. At the same time, if appropriate, he can perform deviated septum repair.
What Is Open Rhinoplasty Surgery?
Open rhinoplasty involves a small, inconspicuous incision underneath the tip of the nose in the skin between the nostrils, called the columella. This incision is connected to incisions inside the nose. These cleverly hidden incisions allow Dr. Parker to "open" the nose, providing unparalleled exposure to the underlying bone and allowing him to make very precise adjustments under direct vision.
What Is a Nasal Tip Plasty?
A nasal tip plasty involves improving only the cartilage that shapes the tip of the patient's nose (see illustration above)—it is not a surgical technique, but an area of focus. Almost always, Dr. Parker will use the open rhinoplasty approach to achieve the most natural-appearing, symmetric tip he can.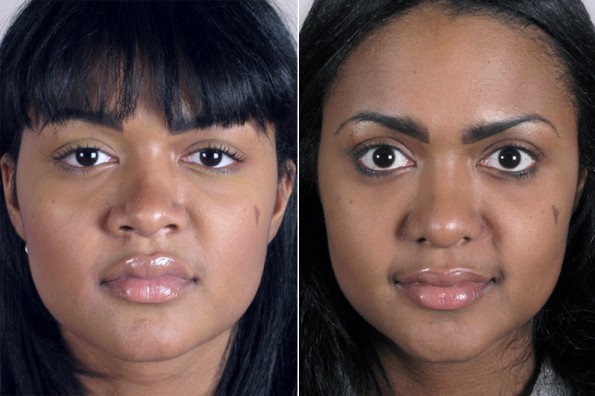 What Should I Expect at My Rhinoplasty Consultation and Imaging Session?
Your consultation is where the fun really begins—and Parker Center has made the experience particularly special! During your appointment, Dr. Parker will spend extra time with you to ensure that he understands your goals and that you are fully educated about your options so you can make a well-informed decision.
In addition to your time with Dr. Parker, you'll also have the opportunity to meet with our imaging expert so you can see the possibilities of your procedure. One of the best ways to understand what rhinoplasty can achieve for you is to see a picture of the possible results on your own nose. Using our advanced computer imaging technology will give you a very good idea as to how your existing nose can be sculpted to the nose you desire.
Feel Confident
About Your Procedure
Our cosmetic consultations include plenty of time with Dr. Parker, our patient care coordinator, and our imaging specialist. Once your procedure is booked, our nurse educator will meet with you for a special 1-hour pre-op education session.
Request a Consultation
Your Education Session
What Is Secondary/Revision Rhinoplasty?
Dr. Parker performs secondary rhinoplasty, also called revision rhinoplasty, to help Bergen County patients correct deformities from prior rhinoplasty surgery. These procedures are typically more complicated than primary, or first-time, rhinoplasty. Secondary rhinoplasty surgeries are almost always performed after waiting at least 12 months following the prior procedure.
The intricate nature of the structures that shape the nose, as well as scar tissue from prior surgery, most commonly make a secondary rhinoplasty an especially tricky and complex procedure. Accordingly, Dr. Parker almost always uses an open rhinoplasty technique for these surgeries. Cartilage grafts are often needed to replace or support the nose as part of a secondary rhinoplasty procedure.
The best rhinoplasty is one that will not have to be redone. Dr. Parker's revision rate following primary rhinoplasty surgery ranges from 5 to 10% and most often is needed simply for rasping dorsal callus, which may form after surgery.
Secondary Rhinoplasty*
After 3 rhinoplasties by other surgeons, this 32-year-old patient came to Dr. Parker for secondary rhinoplasty. She wanted a sleeker dorsum and a more defined nasal tip.
Before & After Secondary Rhinoplasty*
This 70-year-old physician had concerns about the appearance of his nose and was referred to Dr. Parker by a friend. The patient had septorhinoplasty to improve his breathing after nasal trauma. The primary surgery was successful, but over time the patient's nasal tip had drooped, affecting both his appearance and breathing. He asked Dr. Parker to elevate his drooping nasal tip. Dr. Parker performed a secondary open rhinoplasty.
Should I Get a Nose Job, a Chin Implant, or Both?
Balanced facial features are the hallmark of an attractive face, particularly a refined facial profile, so sought after in today's "selfie" pictures. Together, the nose and chin are important in helping determine your profile. Many patients achieve optimal facial balance with a chin augmentation at the same time as rhinoplasty. This combination procedure is performed in approximately 20% of Dr. Parker's rhinoplasty patients and adds no extra recovery time.
Rhinoplasty With Chin Augmentation*
This patient had a custom-fit chin implant inserted during the same surgery as her rhinoplasty procedure. Note the more refined jawline and improved balance in facial features.
Before & After Rhinoplasty With Eyelid Surgery*
Rhinoplasty procedures are commonly combined with eyelid rejuvenation or neck contouring. This allows the patient to have multiple areas corrected during one surgery with only one anesthesia and recovery. Usually, the recovery is similar, whether one or more procedures are performed.
Your Surgery
For your safety, Dr. Parker performs rhinoplasty (nose job) using general anesthesia. Surgery may take anywhere from 30 minutes to 3 hours, depending on the degree of complexity. You will be able to go home about an hour after surgery. There is usually little pain.
Several sutures are inserted in the columella, and a light plastic splint is applied to protect the nose. Packing is never inserted because patients don't like it and it is unnecessary. The columellar sutures and external splint are removed 1 week after surgery. Swelling and discoloration usually subside within 7 to 10 days.
How Long Is Rhinoplasty Recovery?
Rhinoplasty recovery occurs progressively over time. Even though the recovery timeline can vary depending on the patient, this is generally what you can expect:
First week: Swelling and bruising peak. During this time, you will be wearing a plastic splint to protect the nose as it heals. When the splint is removed at 7 days after surgery, swelling and some bruising will be present. Patients are excited to see the improved shape of the nose, even this early on in the recovery process.
Weeks 1 to 2: Return to work and social activities.
Weeks 2 to 3: Gradually resume exercise (at least 4 to 6 weeks for swimming and contact sports). Camouflage makeup can be applied. Much of the swelling will be gone. It often takes approximately a year for the last 10% of the swelling to disappear.
We will spend time during your pre-op education visit to carefully walk you through the details of recovery following your rhinoplasty.
Our Signature
Rapid Recovery Program
Our surgical procedures, anesthesia, medications, and aftercare are tailored to minimize post-operative discomfort and accelerate recuperation.
Learn More
"I had my rhinoplasty done by Dr. Parker in June 2012. Dr. Parker is a compassionate doctor with great bedside manner and his staff is wonderful. It's been a year since my surgery, my nose has healed with no problems and I am more than happy with the outcome. I would highly recommend Dr. Parker to anyone that is interested in getting plastic surgery."

Rhinoplasty Patient
How Old Do You Have to Be to Get a Nose Job?
Nose reshaping is one of the most common procedures requested by teenage patients. Having a nose that is in proportion to your features can help you feel better about the way you look, but it is important to approach your decision thoughtfully. Rhinoplasty can only be performed safely and successfully after the nose has finished developing, typically by age 13 to 14 for girls and 15 to 16 for boys.
Frequently Asked Questions
How many years does a nose job last?
The changes made by rhinoplasty are permanent. Your results will evolve during the first year after surgery and then more gradually as you age. A traumatic injury to the nose can also alter the results of rhinoplasty surgery.
How painful is the procedure?
The surgery itself is performed with the patient under a general anesthetic, so you will be comfortable during the operation. There is some discomfort during the initial recovery phase, but many patients are pleasantly surprised that the recovery is much less painful than anticipated. Prescription pain medication or over-the-counter pain relievers can effectively manage any discomfort you experience.
How long after surgery will I need to protect my nose?
You should wait 4 to 6 weeks before participating in contact sports or other activities that pose a risk to your nose. It's also best to wait 4 to 6 weeks before wearing glasses again.
Will a nose job change my face?
The nose is the central feature of your face. When it's in harmony with other features, it attracts less attention than before getting a nose job. So, yes, rhinoplasty will change your overall appearance.
Is the surgery really worth it?
This is a very personal question that only patients can answer for themselves. Rhinoplasty is one of the most popular plastic surgery procedures performed in the U.S., and users of the RealSelf website rate it as 91% "worth it." Typically, patients who are happy with their results have reasonable expectations for their outcomes and choose a rhinoplasty specialist to perform the operation.