Parker Center for Plastic Surgery
122 East Ridgewood Ave
Paramus, NJ 07652
Phone: (201) 967-1212
Monday, Wednesday, Friday: 9 a.m.–5 p.m.
Tuesday, Thursday: 9:00 a.m.–7 p.m.
Saturday: 9 a.m.–2 p.m. (medical spa only)

CoolSculpting®
Procedure Snapshot
This 100% nonsurgical, FDA-cleared treatment reduces bulges on the belly, hips, and thighs by selectively freezing fat cells. CoolSculpting is perfect for our Paramus, New Jersey, patients who don't want or need the more dramatic contouring of liposuction.
Cost & Recovery
$750 to $9,000
There's no downtime; most patients return to full activity immediately.
Quick Facts
Freezes fat cells without harming surrounding tissues; no anesthesia needed.
Your body metabolizes treated fat cells naturally and gradually.
Many patients see optimal results within 3 months of just 1 or 2 treatments.*
Results can be long-lasting so long as you maintain your body weight & exercise routine.*
*Results may vary.
Do you have a particular "problem area" that will not respond to diet or exercise? You may not need surgery at all to finally see some results. CoolSculpting is a non-invasive treatment that literally freezes fat cells to death, so your body metabolizes them as waste.
Just one or two CoolSculpting treatments can help patients from Hackensack, Ridgewood, Mahwah, and Somerset, NJ, shrink unwanted, stubborn bulges at a fraction of the cost of surgery. There are no needles, no scars, and little-to-no downtime. If this sounds good to you, why not contact us for a free cosmetic consultation?
Page Contents
Paul M. Parker, M.D., FACS
Board-Certified Plastic Surgeon
Known for his surgical talent and caring personality, Dr. Parker has been serving the community for over 25 years. He has dedicated his practice to the education, safety, and comfort of his patients—making each one feel as important as family.
How Much Does CoolSculpting Cost in New Jersey?
CoolSculpting in New Jersey is affordable! Fees begin at $750 for 1 hour of treatment, and we offer per-hour discounts for treatment packages of 3 hours or more. The exact cost of CoolSculpting will depend on your personal goals, the number of areas you are having treated, and the number of treatments it takes to achieve your desired results. See our different options for financing and payment.
How Does CoolSculpting Work?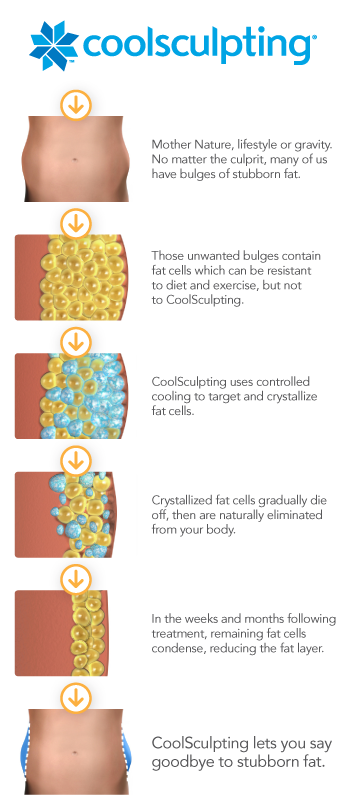 CoolSculpting uses a proprietary technology called cryolipolysis, which selectively chills fatty tissue to the point where fat cells break down while leaving your skin, muscle, and other tissues unharmed.
After treatment, your body metabolizes and absorbs the targeted fat cells naturally. This happens gradually, so you'll begin to notice the area slimming down a few weeks after treatment, with your final results apparent about 3 months after treatment.*
What Is a CoolSculpting Treatment Like?
CoolSculpting is non-invasive, needle-free, and no anesthesia is needed. Treatment takes about 1 hour, performed in our Paramus, NJ, office. You'll settle into a comfortable recliner, and then we'll place the CoolSculpting applicator onto your problem area, where it will deep-freeze the fat to the point where fat cells start to die off. You will feel a cold sensation and some pressure, but most patients find this tolerable enough to read, work on their laptop, or even nap during treatment.
Feel Confident
About Your Procedure
Our free cosmetic consultations include plenty of time with Dr. Parker, our patient care coordinator, and our imaging specialist. Once your procedure is booked, our nurse educator will meet with you for a special 1-hour pre-op education session.
Request a Free Consultation
Your Education Session
Is There Downtime After CoolSculpting?
There's little-to-no downtime after treatment a CoolSculpting. You can return to your normal activities, even light exercise right away. You may feel some initial numbness or tenderness, but this will subside over the next couple of days.
Our Signature
Rapid Recovery Program
Our surgical procedures, anesthesia, medications, and aftercare are tailored to minimize post-operative discomfort and accelerate recuperation.
Learn More
How Long Do CoolSculpting Results Last?
As long as you maintain a stable weight and continue your healthy lifestyle, your CoolSculpting results* should last for years to come.
"Staff members are courteous, concerned, and attentive. The office is attractive and relaxing. I was made to feel very comfortable through all stages of the procedure. Parker Center has made calls at regular intervals to check on my progress and to address any of my concerns. I am definitely planning to return for another CoolSculpting session. Parker Center is a Five-Star group."

CoolSculpting Patient
What Can I Do After CoolSculpting for the Best Results?
For every area of CoolSculpting you get at Parker Center, you will receive a free lymphatic drainage massage to enhance your results. This massage will not only help improve your post-treatment comfort; it can also improve the quality of your results.
What Areas Can I Have Treated With CoolSculpting?
CoolSculpting is FDA-cleared for fat reduction on the hips, flanks, abdomen, inner and outer thighs, back (bra rolls), upper arms, under the buttocks, and underneath the chin. We can treat non-pinchable areas such as the outer thighs with our CoolSmooth® applicator.
Will CoolSculpting Tighten My Skin or Reduce Cellulite?
CoolSculpting is only approved to reduce areas of excess fat. If you are concerned with lax skin or cellulite, you may benefit most from other treatments such as Cellfina® cellulite reduction, BodyTite skin tightening, or combination of procedures.
Is Liposuction Better Than CoolSculpting?
You may wonder how CoolSculpting compares to liposuction. Is it a substitute? Not exactly. You might think of each procedure as an excellent option for a certain patient. CoolSculpting can noticeably reduce fat in an area but won't significantly change your body shape. If you're mostly happy with your proportions but have modest fat deposits, CoolSculpting offers a non-invasive, cost-effective way to reduce these bulges.
Dr. Parker on CoolSculpting vs. Liposuction
Liposuction allows for much greater fat removal, and Dr. Parker can precisely sculpt an area to improve your overall body contour. If you have larger fat deposits or want to reshape an area, you will likely be more satisfied with the results of liposuction surgery. In addition, liposuction is better suited for fat removal on the face, knees, ankles, and other smaller areas.
---
Schedule Your Consultation
Interested in CoolSculpting? To learn more, request a free cosmetic consultation at Parker Center using the online form or by calling (201) 967-1212. We will listen to you and help you understand the benefits of CoolSculpting and what's possible for you. Contact us for your appointment today!