Parker Center for Plastic Surgery
122 East Ridgewood Ave
Paramus, NJ 07652
Phone: (201) 967-1212
Monday, Tuesday, Thursday, Friday: 9 a.m.–5 p.m.
Wednesday: 9:00 a.m.–7 p.m.
Saturday: 9 a.m.–2 p.m. (medical spa only)

Dermal Fillers
Procedure Snapshot
Soft and natural feeling, dermal fillers can help smooth wrinkles, restore volume to aging features, or enhance facial contours. Parker Center offers a variety of the latest dermal fillers in Paramus, New Jersey, to provide instant gratification for our clients. 
Cost & Recovery
$650 to $1,000 per syringe*  
Patients typically return to daily activities the day after treatment. 
Quick Facts
Filler injections are performed using a very fine needle, requiring only topical anesthetic. 
The particles in fillers are safely absorbed by the body over time. 
Results typically last from 6 months to 2 years, depending on the product and treatment area. 
812,285 injectable filler treatments were performed in 2019.** 
*Refer to our Pricing page for details.
**Statistical information listed here is drawn from 2019 The Aesthetic Society data. 
Parker Center for Plastic Surgery
Page Contents
Dermal Fillers in Your 20s to 40s
In young to middle-aged patients with minimal to moderate signs of aging, injectable fillers are often the first step in seeking facial rejuvenation. Wrinkle fillers allow younger patients to combat the first signs of visible aging without invasive surgeries. We may recommend a nonsurgical facelift alternative such as a PDO thread lift to complement the filler results. As these patients age, surgery combined with fillers and resurfacing treatments becomes the next step to maintain a youthful look.
Dermal Fillers in Your 40s to 70s
Injectable wrinkle fillers also allow middle-aged and older patients to look refreshed without the burden of the recovery time associated with more major procedures. Patients who desire the more significant improvements provided by a facelift or other surgery often choose to complement their surgical results with wrinkle fillers.
Paul M. Parker, M.D., FACS
Board-Certified Plastic Surgeon
Known for his surgical talent and caring personality, Dr. Parker has been serving the community for over 25 years. He has dedicated his practice to the education, safety, and comfort of his patients—making each one feel as important as family.
Your Dermal Filler Options
Most injectables fall into the category of temporary "fillers" and are designed to fill in or soften skin folds, some dynamic wrinkles, and depressions in the face. These injectables are either biologically derived from organic sources or consist of synthetic materials, which are naturally absorbed after a period of time.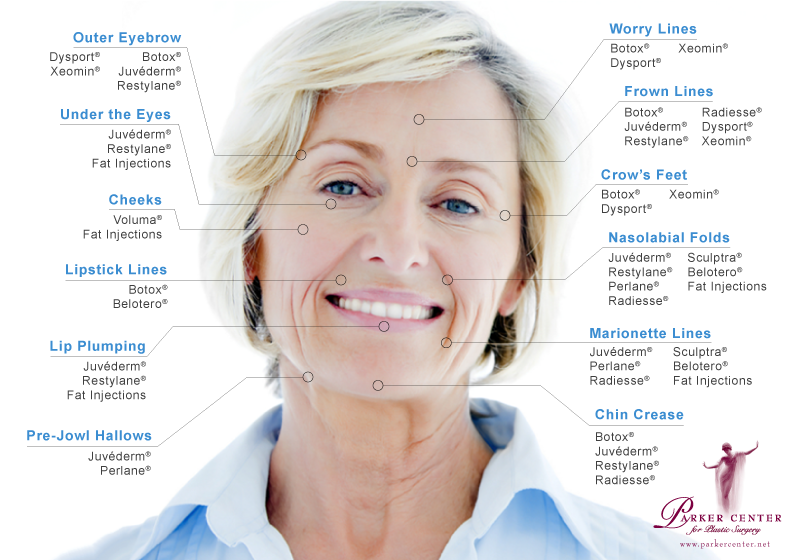 BELOTERO BALANCE®
This FDA-approved filler option is made from hyaluronic acid, a naturally occurring substance already in the skin. It is formulated to integrate into your tissues quickly and evenly, making it a good option for fine lines around the nose and mouth. Treatment takes about 15 minutes and there is no downtime. Results typically last about 6 months before your body naturally absorbs the hyaluronic acid.

JUVÉDERM® & Restylane®
These dermal fillers are based on hyaluronic acid and formulated to work with the body's own hyaluronic acid to plump up tissues under the skin. These fill wrinkles and depressions in the face to make you look younger instantly. JUVÉDERM and Restylane are effective for the nasolabial folds, under the eyes, between the eyebrows, and to raise the eyebrows, soften the chin fold, soften acne scars, and plumps lips. Studies show that results last up to 6 to 12 months.
Restylane is also FDA approved for lip enhancement in patients over 21. It offers a cost-effective, minimally invasive alternative to lip implants, and results can last up to 6 months.
JUVÉDERM Ultra Plus® & Restylane Lyft®
These fillers are designed for deeper injection to treat more severe nasolabial folds, deep marionette lines, and the pre-jowl hollows. The difference is the gel particle size; the particles of hyaluronic are larger and better suited for deep injection.
JUVÉDERM VOLUMA® XC
VOLUMA is a hyaluronic filler designed specifically to lift and restore volume to all 3 areas of the cheeks: the apple, apex, and hollow. The only filler currently FDA approved to volumize the cheeks, it can also be used to add definition and contour if your cheeks are naturally flat. Treatment takes less than 30 minutes, and the results are immediate. The results of VOLUMA can last up to 2 years, making it a cost-effective option to enhance the cheeks and rejuvenate your appearance.
RADIESSE®
This filler is made of calcium hydroxyapatite (CaHA), a primary component of teeth and bones. This product has a thicker consistency and is best for deeper nasolabial folds, marionette lines, between the eyebrows, nasal depressions, and the mental fold. The consistency of this product allows it to last longer than most fillers, up to a year or longer.
Revanesse® Versa
This hyaluronic acid-based filler is a great option for smoothing moderate-to-severe wrinkles and folds on the face, including the nasolabial folds around the mouth and nose. Offering consistent, uniform results, Revanesse has become a patient favorite for long-lasting, safe results.
Fat Injections
Fat injections using your own fat, called autologous fat transfer and fat transfer, are also considered a filler procedure that is longer lasting. Dr. Parker performs all fat transfer procedures at Parker Center.
Your Injectables Provider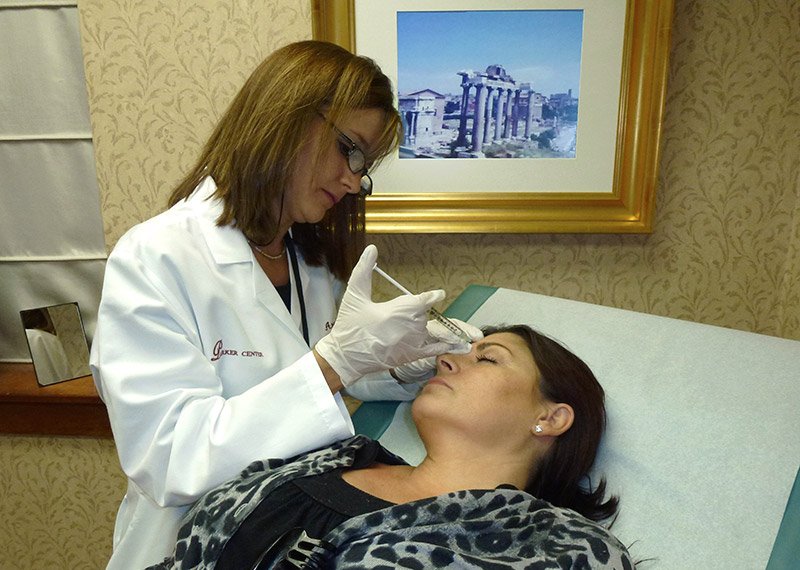 Our nurse injector Angela Parisi, RN, administers dermal filler injections at Parker Center. With over 21 years of experience working directly with our patients, Angela has developed a keen eye for aesthetic detail while undergoing specific training for performing cosmetic injections. Angela's patients are consistently delighted with their results, noting how natural they look after their treatments.
Feel Confident
About Your Procedure
Our cosmetic consultations include plenty of time with Dr. Parker, our patient care coordinator, and our imaging specialist. Once your procedure is booked, our nurse educator will meet with you for a special 1-hour pre-op education session.
Request a Consultation
Your Education Session
Curious to Learn More?
To learn more about how dermal fillers and other injectables can enhance your look instantly, request a consultation at Parker Center using our online form or call us at (201) 967-1212.