Parker Center for Plastic Surgery
122 East Ridgewood Ave
Paramus, NJ 07652
Phone: (201) 967-1212
Monday, Tuesday, Thursday, Friday: 9 a.m.–5 p.m.
Wednesday: 9:00 a.m.–7 p.m.
Saturday: 9 a.m.–2 p.m. (medical spa only)

Meet Dr. Parker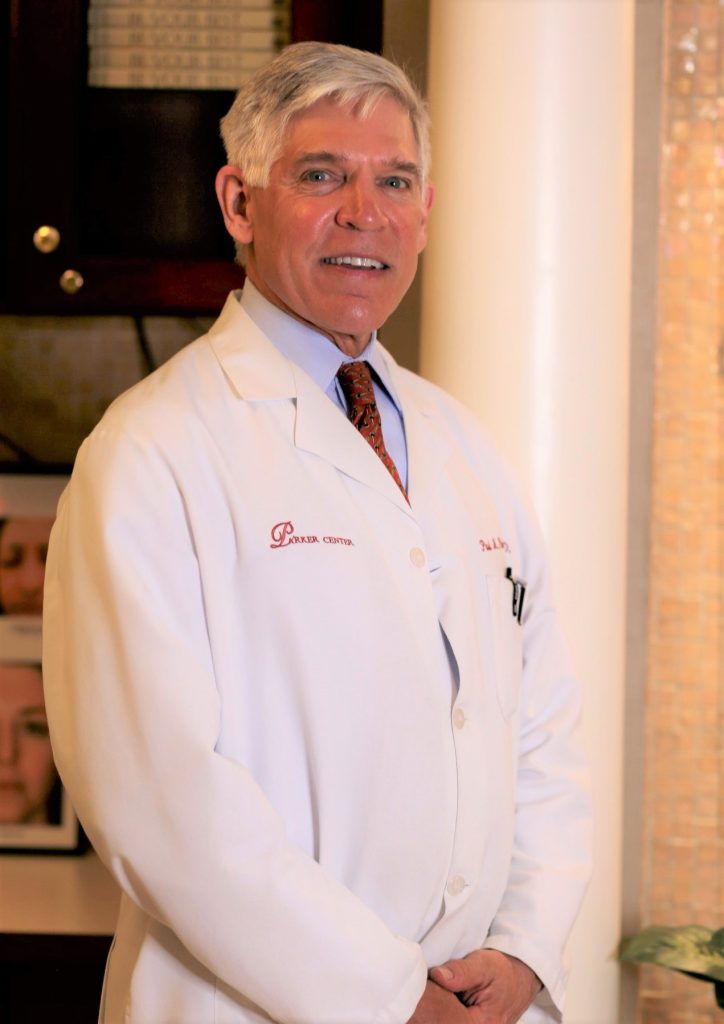 The medical director of Parker Center for Plastic Surgery, Paul M. Parker, MD, FACS, is a board-certified plastic surgeon in Paramus serving Bergen County, North New Jersey, and beyond. Having more than 25 years of surgical experience, Dr. Parker is renowned for his natural-appearing surgical results, dedication to minimizing scarring, and unwavering commitment to patient satisfaction. Under Dr. Parker's direction, the Parker Center offers the triad of a well-trained and experienced surgeon using the latest state-of-the-art technology in a comfortable, safe environment.
Education & Training
Dr. Parker graduated magna cum laude and Phi Beta Kappa from Union College in Schenectady, New York. He subsequently graduated from George Washington University of Medicine in Washington, DC, where he was the recipient of the distinguished C.V. Mosby Award of Excellence.
Dr. Parker's rigorous training also included the following:
A full 5-year residency in general surgery at NYU Medical Center, culminating in earning his board certification in general surgery.
A full 2-year residency in plastic surgery at NYU Medical Center.
6 months of plastic surgery training at Manhattan Eye, Ear, and Throat Hospital exclusively learning cosmetic surgery techniques with some of the acknowledged masters in the field.
A fellowship in microsurgery at New York University Medical Center's Institute of Reconstructive Plastic Surgery with a heavy emphasis on innovative methods of breast reconstruction.
"Dr. Parker is the kindest doctor that I have ever met. His bedside manner makes you feel that you are very important. He is very thorough and takes time listening to your problems."

Plastic Surgery Patient
Board Certification
American Board of Plastic Surgery
Dr. Parker also holds a certificate of advanced education in cosmetic surgery.
Fellow of the American College of Surgeons
Dr. Parker is a Fellow of the American College of Surgeons (ACS). This scientific and educational association of surgeons was founded in 1913 to improve the quality of care for the surgical patient by setting high standards for surgical education and practice. The letters FACS (Fellow, American College of Surgeons) after a surgeon's name mean that the surgeon's education and training, professional qualifications, surgical competence, and ethical conduct have passed a rigorous evaluation and have been found to be consistent with the high standards established and demanded by the College.
Professional Memberships
Dr. Parker holds active membership in a number of plastic and aesthetic surgery societies and foundations, including:
The Aesthetic Society (formerly ASAPS)
The Aesthetic Surgery Education & Research Foundation
The Plastic Surgery Foundation
The Northeastern Society of Plastic Surgeons
The New Jersey Society of Plastic Surgeons
The International Society of Plastic & Regenerative Surgeons
Awards & Honors
Dr. Parker has received recognition from a variety of professional organizations, including:
Selected as one of the top surgeons in his field by Consumers' Research Council of America.
Named in Castle Connolly's registry of America's Cosmetic Doctors.
Received the Patients' Choice Award, an honor given to physicians who have received near perfect scores as voted by their patients.
Served as Assistant Clinical Professor of Plastic Surgery at New York University Medical Center.
Honored by New Jersey Monthly as a top surgeon in New Jersey 2018 and 2019.
Recognized by Plastic Surgery Select in 2018 for his skill, patient care, and results with tummy tuck surgery.
Inducted into the RealSelf 100 & 500 Hall of Fame in 2018 in recognition of his status among the top-rated physicians worldwide on RealSelf.com.
Named a "Local Hero" by the Susan G. Komen Breast Cancer Foundation for his "extraordinary dedication and commitment to breast cancer patients."

Published Author
In 2018, Dr. Parker published an ebook for mothers and moms-to-be called "What to Expect When You're Done Expecting: Your guide to all the wonderful weird things having a baby does to your body." Click here for more details and to get your copy.
Areas of Expertise
While Dr. Parker's medical school honors, extensive training, and board certification affirm his knowledge, his surgical talent and pursuit of high-quality surgical results are the cornerstone of his greatest recognition. Recognized for his expertise in cosmetic plastic surgery, Dr. Parker has a particular interest in facial rejuvenation, aesthetic breast surgery, and body contouring. He is most celebrated for achieving a natural, youthful appearance for his patients with minimal postoperative scarring.
"I appreciated the fact that you were patient, you paid attention to details and you discussed thoroughly with me different aspects of the surgery…"

Facelift Patient
His strong commitment to staying on top of recent technological advances keeps him on the leading edge of cosmetic plastic surgery. Based on years of experience and thoughtful professional judgment, Dr. Parker develops an individualized surgical plan for each and every patient. Learn about your plastic surgery consultation.
Some of Dr. Parker's most popular plastic surgery procedures include rhinoplasty, eyelid lift surgery, abdominoplasty, liposuction, breast augmentation, and gynecomastia surgery. Additionally, minimally invasive and nonsurgical options such as FaceTite, AccuTite, BodyTite, Morpheus 8 radiofrequency microneedling, Cellfina™ cellulite reduction, and CoolSculpting® fat reduction are often sought after by patients who hope to improve their body contours without surgery.
Advanced Surgical Techniques
Dr. Parker is renowned for his conscientious approach to pre-operative planning, including incision placement, suturing techniques, and post-operative care in an effort to minimize scarring. While these principles are shared among virtually all of his surgeries, concrete examples are evidenced by his avoidance of inverted T scars in breast reduction and breast lift surgery, as well as his minimally invasive approach to gynecomastia correction.
Breast Reconstruction Specialist
In addition, his long-standing dedication to breast reconstruction following cancer and its significant impact on self-esteem and body image has been a great source of personal satisfaction to him. Dr. Parker was named a "Local Hero" by the Susan G. Komen Breast Cancer Foundation for his "extraordinary dedication and commitment to breast cancer patients."
Dr. Parker's Practice Philosophy
Dr. Parker and his highly educated and caring staff, some of whom have been with him for over 20 years, are dedicated to providing their patients with the highest quality plastic surgery experience possible. Dr. Parker's four-pronged practice philosophy is as follows:
Thorough patient education
Maximum safety
Excellent natural-appearing surgical results
Superior patient care
His team of dedicated professionals every day endeavors to make this philosophy a reality. This integrated team approach is pervasive throughout Parker Center and Surgiplex, their on site fully licensed operating room facility. The entire staff from the front desk, nursing personnel to the aestheticians and massage therapists. Dr. Parker's patients repeatedly say how pleased they are with their surgical results and treatment given by this group of highly trained individuals who truly care about their well-being.
"My experience with Dr. Parker was excellent. It is very important that you research your procedure as well as the individual doctor who is going to be performing it before you elect to have any type of surgery. Dr. Parker & staff were prompt, courteous and offered explanations and answers to all questions. Having Plastic Surgery is a life changing decision for most people and should be treated with care. I recommend Dr. Parker! Fantastic surgeon."

Plastic Surgery Patient
Patient & Physician Education
Dr. Parker's work in patient and physician education is also notable, conducting seminars and lecturing on all aspects of plastic surgery. He is also co-founder of Image Reborn, a breast reconstruction support group to which he donated much of his time and expertise.
"Dr. Parker was one of the kindest, most gentle doctors that I had ever encountered. His bedside manner was only surpassed by his tremendous skills as a Plastic Surgeon."

Breast Reconstruction Patient
Dr. Parker has appeared on local and national television, numerous radio talk shows, and in newspapers and magazines discussing plastic surgery and its impact on patients.
Reviews
Online reviews are one way to narrow down a list of surgeons to visit for a consult. Dr. Parker's reviews can be viewed on several different sites:
Parker Center for Plastic Surgery
Personal
Dr. Parker relaxes by playing golf, exercising, and spending time with his family. An avid photographer, his photographs can be seen throughout Parker Center in Bergen County.