Parker Center for Plastic Surgery
122 East Ridgewood Ave
Paramus, NJ 07652
Phone: (201) 967-1212
Monday, Tuesday, Thursday, Friday: 9 a.m.–5 p.m.
Wednesday: 9:00 a.m.–7 p.m.
Saturday: 9 a.m.–2 p.m. (medical spa only)

Chin Augmentation
Procedure Snapshot
Chin augmentation refines the jawline and adds balance to facial features. A custom-fit chin implant can help you add definition to a weak or receding chin.
Cost & Recovery
$6,050 - $6,350*
Patients typically return to normal activity in about 3 to 4 days
Quick Facts
Chin implants come in a variety of shapes & sizes to provide natural-looking results for any face**
The implant is inserted through a small incision, hidden under the chin
Many patients have rhinoplasty or neck contouring at the same time to enhance their results**
6,641 patients had chin augmentation in 2019***
*Refer to our Pricing page for details.
**Results may vary.
***Statistical information listed here is drawn from 2019 The Aesthetic Society data.
Parker Center for Plastic Surgery
When most people think about a beautiful face, they consider the color of the eyes, warmness of the smile, or quality of the skin. Rarely do we individually consider the chin, but this feature plays an enormous role in the balance and harmony of the face.
The reason so many with a "weak chin" feel self-conscious is that this prominent feature creates facial definition—and an ill-proportioned chin can detract from other features, negatively impact your profile, and minimize the contour between the head and neck. This can lead to the appearance of a thick or heavy neck and amplify excess skin or fat around the jawline.
Dr. Parker performs chin augmentation in Paramus to give patients from Ridgewood and throughout Bergen County, North New Jersey, and surrounding areas more chin definition and better facial harmony through the strategic placement of a custom chin implant.
Currently 6 weeks post-op from my open rhinoplasty/ chin augmentation and I love the results so far. Dr. Parker and every nurse I've met has treated me like family. A lot goes into this kind of procedure—mentally, emotionally & physically—but not once did I feel alone. That was most important to me! From pre-op to post-op, I wouldn't have wanted to experience this anywhere else!!

Actual Parker Center Patient
Is Chin Augmentation Right for Me?
Chin augmentation, performed by a skilled and experienced board-certified plastic surgeon, can be one of the most rewarding plastic surgery procedures. Patients often report a significant increase in their self-confidence. Recovery after chin implant surgery is relatively quick, especially with the Parker Center's Rapid Recovery Program.
The best way to determine if chin augmentation is the right option for you is to meet with Dr. Parker for a consultation. He'll listen to your concerns and goals, examine your chin and facial structures, and help you explore your options.
Typically, patients who get the best results from chin augmentation experience the following concerns:
Poor chin definition
Small, recessed, or weak chin
Ill-proportioned chin size compared to other features
Lack of clear contour between the neck and head
Paul M. Parker, M.D., FACS
Board-Certified Plastic Surgeon
Known for his surgical talent and caring personality, Dr. Parker has been serving the community for over 25 years. He has dedicated his practice to the education, safety, and comfort of his patients—making each one feel as important as family.
How Is Chin Augmentation Surgery Performed?
A ¾ inch incision hidden just beneath the chin is used to insert an extended, tapered clear silicone chin implant that has been custom sized for you and made out of biocompatible material. Dr. Parker has found this extraoral, well hidden, inconspicuous incision to be a much more predictable and safer approach than making an intraoral incision, which is something patients will ask about from time to time.
The tapered implant quickly adheres to the jawbone, creating a very natural look and feel. In fact, patients cannot tell the difference between one of Dr. Parker's patients with one of these implants in place versus someone with a naturally strong chin.
It takes Dr. Parker about 30 minutes to perform a chin augmentation. The procedure can be done under local anesthesia with either an oral cocktail or intravenous sedation administered by our board certified anesthesiologist. Many patients are concerned about scarring on the face, but Dr. Parker is well-known for his scar-minimizing techniques, including careful placement, meticulous suturing, and thorough post-operative scar care.
How Much Do Chin Implants Cost?
At Parker Center in Paramus, New Jersey, the cost for chin augmentation typically ranges from $6,050 to $6,350. This price includes the cost of the custom chin implant, Dr. Parker's surgeon's fee, anesthesia and administration of anesthesia, all surgical materials, and bandaging, and facility fees including OR staff members.
Chin implant surgery can be paid for out-of-pocket or through third-party cosmetic surgery financing. Learn more about your payment and financing options.
How Long Is Chin Augmentation Recovery?
Considering how dramatic an improvement chin augmentation provides, many patients are pleasantly surprised at how little pain there is after surgery. Your sutures will be removed within five days, and swelling and bruising typically subsides in about 7 – 10 days.
Most of our patients are able to return to work and most normal activities just 3 – 4 days after surgery, though exercise will need to be avoided for about 10 – 14 days and approached slowly and with the guidance of your surgeon.
The staff here is incredible. They helped me every step of the way. I recovered very quickly. Parker center gets AA PLUS!! Nobody could have done a better job! ACTUAL PARKER CENTER PATIENT
Our Signature
Rapid Recovery Program
Our surgical procedures, anesthesia, medications, and aftercare are tailored to minimize post-operative discomfort and accelerate recuperation.
Learn More
Can You Combine Chin Augmentation With Other Procedures?
Before & After: Chin Augmentation Alone*
Before & After: Chin Augmentation and Rhinoplasty*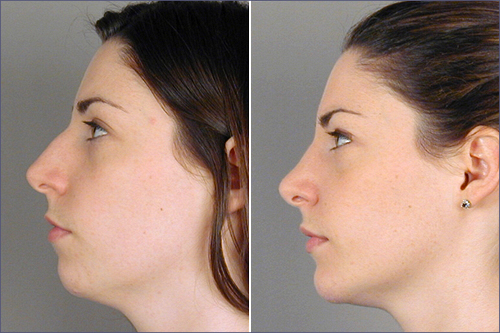 Before & After: Chin Augmentation and Facelift*
Yes! While chin augmentation alone can build out a weak chin and achieve beautiful results, many patients benefit from the addition of other procedures to truly rebalance the face. Rhinoplasty is often performed alongside chin augmentation to correct the shape of the nose and bring both features into proportion.
Chin augmentation can also be enhanced by procedures that improve the jaw and neckline, such as liposuction of the neck, facelift, or a neck lift.
Enhancing the Chin With Neck Contouring
Before & After: Chin Augmentation With Neck Contouring*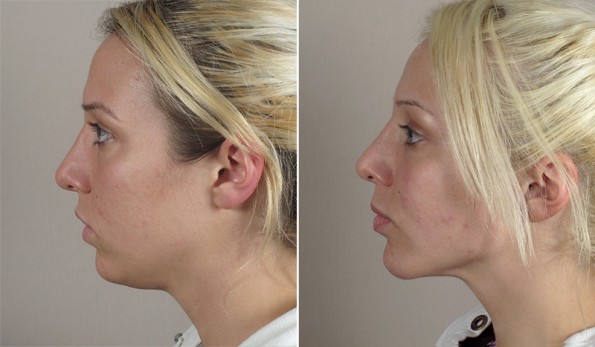 The results of a chin augmentation can be dramatically enhanced with a neck contouring procedure. Neck liposuction or a neck lift can remove excess skin and fat under the chin and/or tighten the underlying muscle, resulting in a more aesthetically pleasing neckline and chin profile. Patients who choose a chin augmentation with a neck contouring procedure are typically very pleased with the results.
Your Chin Augmentation Consultation & Imaging Session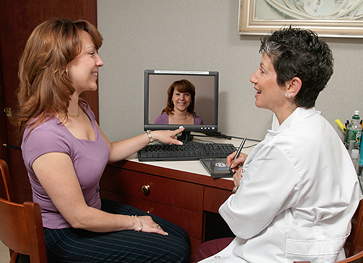 Your consultation is where the fun really begins—and the Parker Center has made the experience particularly special! During your appointment, Dr. Parker will spend extra time with you to ensure that he understands his goals and that you are fully educated about your options so you can make a well-informed decision.
In addition to your time with Dr. Parker, you'll also have the opportunity to meet with our imaging expert so you can see the possibilities of your procedure. One of the best ways to understand what chin augmentation can achieve for you is to see a picture of the possible results on your own face. Using our advanced Vectra 3D technology will give you a very good idea as to how your existing chin can be sculpted to the chin you desire.