Parker Center for Plastic Surgery
122 East Ridgewood Ave
Paramus, NJ 07652
Phone: (201) 967-1212
Monday, Tuesday, Thursday, Friday: 9 a.m.–5 p.m.
Wednesday: 9:00 a.m.–7 p.m.
Saturday: 9 a.m.–2 p.m. (medical spa only)

Procedure Snapshot
Get the beautiful, feminine contours you've always wanted! Breast augmentation is the most popular procedure at our practice in Paramus, New Jersey. Dr. Parker and our team can help you choose implants for just the right look.
Cost & Recovery
$11,545 - $12,045*
Patients typically return to work about 1 week after surgery.
Quick Facts
200 cc of breast implant volume = approximately one cup size.
Personalize your look with implant shape, size, and profile options.
Breast asymmetry can be addressed at the same time.
193,073 women had breast augmentation in 2020.**
*Refer to our Pricing page for details.
**Statistical information listed here is drawn from 2020 American Society of Plastic Surgeons® data.
Breast Augmentation

Before & After Photos
WARNING:
This feature contains nudity. Please click OK to confirm you are at least 18 years of age and are not offended by such material.
At Parker Center, It Is All About YOU
Every woman deserves to feel beautiful in her own skin. If something about your breasts is keeping you from feeling your most comfortable and confident, Dr. Paul Parker and our experienced team can help. At our practice in Paramus, breast augmentation is one of our most popular procedures. We are honored to have patients come from Ridgewood and throughout Bergen County, North New Jersey, and far beyond to have their procedures with Dr. Parker, a highly regarded breast enhancement specialist and board-certified plastic surgeon. We invite you to learn more about breast augmentation surgery at Parker Center.
What Are the Benefits of Breast Augmentation?
The immediate goal of surgery is to enlarge the breasts and improve their shape. For patients with significant asymmetry, breast augmentation can also help correct uneven breasts. While achieving these goals, patients experience an improved body image, boost in self-esteem, and the freedom to wear clothes they had avoided in the past. Here at Parker Center, we have noted a patient satisfaction rate after surgery of well over 95%.
But breast augmentation isn't just for women hoping for a dramatic size increase. In recent years, we've seen a number of patients looking for a modest increase (sometimes even just one cup size!) with a greater focus on improved shape and overall appearance. The range of available breast implants has made it easier than ever to customize a look for you, whether you're hoping to see a dramatic size increase or simply want to look a little more shapely in your clothing.
How Much Does a Breast Augmentation (Boob Job) Cost in New Jersey?
At Parker Center in New Jersey, breast augmentation costs approximately $11,795. At your consultation, we will provide a personalized, all-inclusive price quote including surgeon's fees, anesthesia, and operating room costs, your breast implants (silicone implants cost a little more than saline), and our signature Rapid Recovery program. We can also go over financing options and any specials we are offering.
What Can Breast Augmentation Do?
It's surprising to some patients just how versatile a procedure breast augmentation is. While breast augmentation can indeed help women with smaller but "normal" appearing breasts enjoy a boost in size, it's also a great option for treating several common breast concerns, including:
Breast Augmentation for Deflated Breasts
Bringing a child into the world is a magical experience (and losing weight is something to be celebrated!), though these big life events can take a toll on your body. It's common for women who have gone through pregnancy breast size changes and breastfeeding to experience breast deflation, where the upper pole of the breast noticeably lacks fullness. This same appearance can occur after significant weight loss. This can be corrected through breast augmentation alone or, in cases where breast ptosis (sagging) is also a concern, in conjunction with a breast lift.

Breast Augmentation to Correct Asymmetry
While it is completely natural and normal for one breast to be slightly differently shaped or sized, some women naturally have severely asymmetrical breasts that can make it difficult to find properly fitting bras or clothing or feel comfortable and confident. After a careful examination, Dr. Parker is able to correct breast asymmetry with breast augmentation by choosing custom implants for each breast to create a uniform, symmetrical result.

Breast Augmentation for Mild to Moderate Breast Sagging
Did you know that a breast lift may not always be needed to correct mild cases of breast ptosis? Using a special, dual plane breast augmentation technique, Dr. Parker can create a breast pocket and place breast implants in such a way that they improve breast shape and size as well as correct mild instances of sagging without surgically lifting the breast tissue.

Can Breast Augmentation Correct Tuberous Breasts?
Tuberous breast correction is often more complicated than breast augmentation. Often referred to colloquially as "snoopy breasts" or tubular breasts for their elongated appearance, tuberous breasts can be difficult to treat without specialized techniques. To correct tuberous breasts, Dr. Parker can use a variety of surgical techniques to reshape and fill out the breasts. Most often, Dr. Parker uses a combination of fibrous tissue release with the placement of breast implants to reduce the conical appearance of tuberous breasts. The diversity of breast implant shapes, sizes, and materials available today enables him to customize your surgical plan to correct tuberous breasts and provide you with beautiful, shapely results.

Feel Confident
About Your Procedure
Our cosmetic consultations include plenty of time with Dr. Parker, our patient care coordinator, and our imaging specialist. Once your procedure is booked, our nurse educator will meet with you for a special 1-hour pre-op education session.
Request a Consultation
Your Education Session
When Should I Consider a Breast Lift With My Breast Augmentation Surgery?
Breast augmentation makes the breasts fuller but does not tighten significantly lax skin. Breast implants alone may be enough to correct mild sagging, but a breast lift is needed to raise and reshape the breasts when the nipples hang below the breast crease or point downward.
What Is the Best Type of Breast Implant?
There is a myriad of breast implant choices to personalize your new look. We'll help you understand all of your options for breast implants during your consultation at our Bergen County practice, which will include a sizing session and virtual imaging! Dr. Parker is very experienced at placing saline and silicone gel breast implants. These days, silicone gel implants are preferred by most women for their softer and more natural feel.
Choosing the Right Breast Implant Size
Your physical characteristics will often dictate which implant shape is best for you—and we use 3D imaging to help you visualize your results. In terms of size, the breast increases approximately one cup size for each 200cc of implant volume. Most of our patients end up choosing implants ranging in size from 200 to 400 cc.
Size selection varies with patient desire, chest size, and the amount of breast tissue present. Don't want anyone to know you have implants? Dr. Parker specializes in natural-appearing augmentations.
Beautiful Breast Augmentation Isn't Just About Size—Shape Is Key.
We will help you see which size, shape, and profile of implant meets your goals with a Sizing and Shaping Session. This part of your consultation allows you to "try on a look" and get a better idea of your appearance after breast augmentation surgery. What may surprise you is that most patients can achieve a beautifully shaped breast with round implants! That's because Dr. Parker customizes his technique for creating the implant pocket and placing the implant to each patient's needs; these factors, plus your implant choice, work together in creating a beautiful breast.
Which Incision Is Best for Breast Augmentation?
Breast implants are inserted through small incisions that can be placed under the breast, around the lower half of the areola, or through the armpit.
Dr. Parker will consider a number of factors when deciding which option is best for you, including:
Which do you feel you'll be least likely to notice?
Which will best allow Dr. Parker to achieve your goals?
Which is least likely to hamper breastfeeding (if you hope to breastfeed in the future)?
Regardless of where the incisions are placed, they usually flatten, fade, and become inconspicuous after they heal.
Paul M. Parker, M.D., FACS
Board-Certified Plastic Surgeon
Known for his surgical talent and caring personality, Dr. Parker has been serving the community for over 25 years. He has dedicated his practice to the education, safety, and comfort of his patients—making each one feel as important as family.
What Is the Best Placement for Breast Implants?
While it's easy to get the impression that breast implant placement is a choice between "over the muscle" or "under the muscle," there's a little more to it than that. The fact is that implant placement is personalized to your needs.
Dr. Parker typically uses a partial submuscular, dual plane breast augmentation technique that allows him to place the implant more precisely for a beautiful, natural breast shape.
Learn more about your implant placement options.
Implant Placement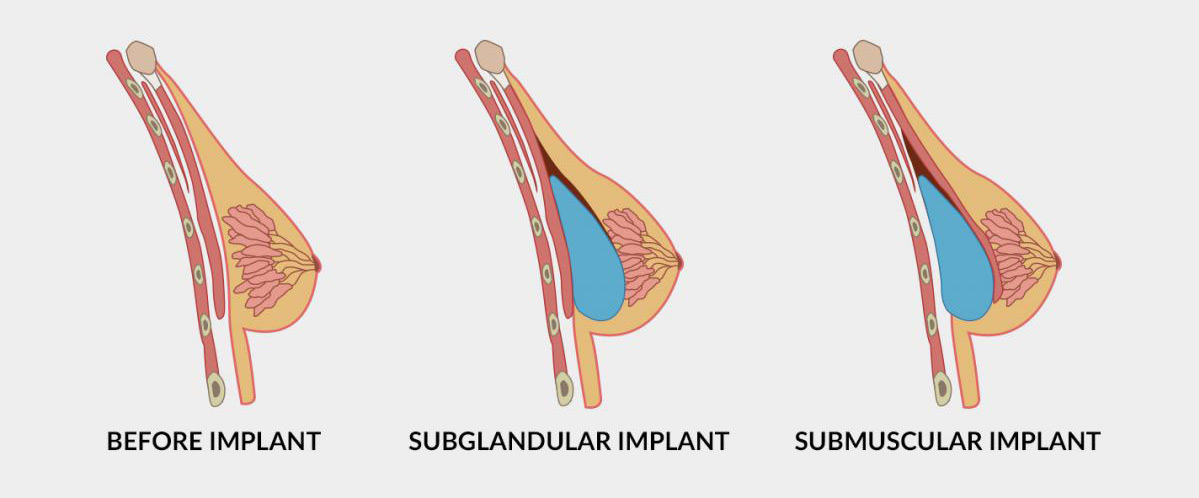 "Absolutely wonderful! Dr. Parker is very professional and makes you feel very comfortable. The staff is very thorough answering any question you may have for your procedure. I had a breast augmentation done here in 2008 and I'm so happy to have chosen this place. After my surgery they really took care of me."

Breast Augmentation Patient
What Is Involved in Breast Augmentation Surgery?
In Dr. Parker's well-trained, experienced hands, breast augmentation is a straightforward outpatient procedure with a high safety profile. At Parker Center, your breast augmentation surgery will take place in the comfort and privacy of our fully certified, onsite ambulatory surgical center. You will be asleep during the procedure, with general anesthesia administered by one of our board-certified anesthesiologists.
The procedure takes approximately 1 to 2 hours, depending on the complexity of your procedure (i.e., is there significant asymmetry to address, are you also getting a breast lift, etc.). After spending a brief period in our recovery room after surgery, you will be able to go home.
An Important Advancement: The Keller Funnel
The Keller Funnel is a soft, sterile, cone-shaped device made from nylon that makes the placement or insertion of silicone gel implants easier. It allows Dr. Parker to use the smallest possible incision—whether inframammary, periareolar, or transaxillary—while achieving proper implant placement and reducing complication rates. Dr. Parker is very experienced in its use. Studies suggest the use of the Keller Funnel reduces the risk of complications, including capsular contracture and the potential for long-term implant rupture.
Is It Safe To Combine Breast Enhancement Surgery With Other Procedures?
It is safe for most patients to combine other procedures with breast enhancement. Popular options include:
A personalized combination of breast enhancement and body procedures is often called a mommy makeover because many women choose these procedures to address the effects of pregnancy and breastfeeding.
What Is Breast Augmentation Recovery Like?
While everyone heals differently, most of our breast augmentation patients are back to work within the first week. Showering and light activities are permitted the day after surgery, and we encourage patients to get up for small periods of time to move around and keep blood flowing.
All sutures used are dissolvable, so you won't need to come to the office to have them removed. Pain is rarely an issue, but some post-operating swelling and soreness are to be expected. Some patients even feel good enough to go out to dinner the day after surgery, while others prefer to wait a few days before socializing.
Our Signature
Rapid Recovery Program
Our surgical procedures, anesthesia, medications, and aftercare are tailored to minimize post-operative discomfort and accelerate recuperation.
Learn More
Breast Augmentation FAQ
Can I still breastfeed after getting breast implants?
Dr. Parker will be careful to preserve the milk ducts and glands when performing your procedure to avoid interfering with your ability to breastfeed. It's important to let your surgeon know about your future plans during your consultation.
Is there anything I should avoid after surgery?
To steer clear of complications and optimize your results, avoid the following after breast augmentation:
Sleeping on your stomach. It's best to sleep propped up with pillows or in a recliner for the first few days after surgery to minimize swelling and keep pressure off your breasts.
Wearing underwire bras. Initially, you will need to wear a soft supportive bra. Underwires can put stress on the incisions and reduce blood flow while they are healing.
Swimming. Before taking a dip in a swimming pool or the ocean, allow the incisions to heal properly to avoid infection.
Exercising strenuously. While gentle walking is encouraged after surgery, postpone vigorous activities for at least 6 weeks.
Drinking alcohol and smoking. Focus on your health during your recovery period to help—not hinder—the healing process.
If you have any questions about restrictions during recovery, we encourage you to contact our office or ask Dr. Parker during a follow-up appointment.
How long does it take for implants to settle?
It usually takes about 6 to 8 weeks for the breasts to soften and implants to settle into a natural-looking position as tissues relax and swelling subsides.
Is breast augmentation surgery safe?
When performed in an accredited surgery center by an experienced, board-certified plastic surgeon using a board-certified anesthesiologist, breast augmentation is very safe for properly screened patients.