Parker Center for Plastic Surgery
122 East Ridgewood Ave
Paramus, NJ 07652
Phone: (201) 967-1212
Monday, Tuesday, Thursday, Friday: 9 a.m.–5 p.m.
Wednesday: 9:00 a.m.–7 p.m.
Saturday: 9 a.m.–2 p.m. (medical spa only)

Breast Lift
Procedure Snapshot
A breast lift, technically called mastopexy (which means "to tighten the breast skin"), restores a perkier, more youthful shape and firmness to sagging breasts. Dr. Parker can perform a breast lift at his Paramus, New Jersey, practice as an individual procedure or combine it with breast augmentation (to make the breasts larger) or reduction (to make the breasts smaller).
Cost & Recovery
Schedule your cosmetic consultation with Dr. Parker to get your personalized quote backed by our Price Guarantee.
Patients typically return to normal activities within 10 days after surgery.
Quick Facts
A breast lift alone will not substantially change breast size.
Areolas can be reduced in size during a breast lift procedure.
A breast lift with implants or fat injections can restore lost volume as well as reshape.
87,051 women had a breast lift in 2020.**
**Statistical information listed here is drawn from 2020 ASPS data.
Breast Lift

Before & After Photos
WARNING:
This feature contains nudity. Please click OK to confirm you are at least 18 years of age and are not offended by such material.
Parker Center for Plastic Surgery
Breast lift surgery has always been a very popular cosmetic procedure among women from Ridgewood and throughout Bergen County, North New Jersey, and surrounding areas because it helps correct breast sagging and improves breast shape and symmetry after pregnancy, weight loss, or aging.
Dr. Parker has performed thousands of breast lift procedures over the years and has found it to be one of the most rewarding procedures for patients. Breast lift benefits include improved symmetry and proportion, a more comfortable and attractive fit with bras and swimsuits, and enhanced self-confidence. We invite you to learn more about breast lift surgery at Parker Center.
What Causes the Breasts to Sag?
Breasts are composed of glandular tissue and fat (together called parenchyma) connected to the skin by suspensory ligaments. Hormonal changes, pregnancy, and weight gain all cause the parenchyma to increase in size, stretching the surrounding skin and suspensory ligaments. Breasts sag (medically, we call this "ptosis") due to a combination of the following issues:
A decrease in the amount of parenchyma causes a loss of breast volume.
The breast skin and suspensory ligaments are stretched, lose their elasticity, and cannot contract proportionally, which causes a downward descent of the nipple and areola.
The degree of ptosis, or sagging, will vary from patient to patient based on their individual genetics and the amount of weight gained and lost over time. Plastic surgeons use a classification system (see illustration) to categorize the degree of breast ptosis, which helps determine the breast lift technique that will achieve the most aesthetically pleasing result.
Breast Ptosis: Measuring Your Degree of Sagging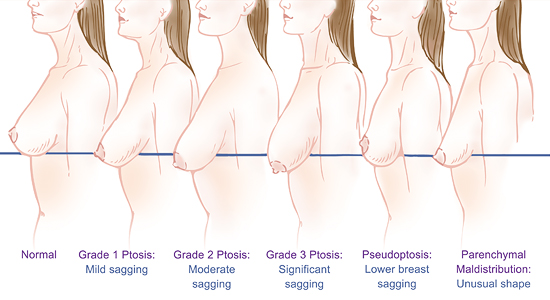 Normal breast: the nipple and parenchyma (glandular tissue and fat which compose the breast) of the breast sitting above the crease underneath the breast (inframammary fold).
Grade 1 ptosis: mild sagging in which the nipple lies at the level of the inframammary fold and the parenchyma below it.
Grade 2 ptosis: moderate sagging in which the nipple lies below the level of the inframammary fold but remains above the lowest hanging (or most dependent) part of the parenchyma.
Grade 3 ptosis: severe sagging in which the nipple lies well below the inframammary fold at the bottom of the breast and the lowest hanging part of the parenchyma along the inferior contour of the breast.
Pseudoptosis: not true ptosis because the nipple lies above or at the level of the inframammary fold. However, the majority of the breast parenchyma has descended below the level of the fold.
Parenchymal maldistribution: involves a lack of fullness in the lower portion of the breast, a high inframammary fold, and a relatively short distance from the fold to the nipple, seen in conditions such as a tuberous breast.
What Is the Difference Between a Breast Lift and a Breast Reduction?
While it is true that larger breasts are often more prone to sagging, a breast lift is a very different procedure than a breast reduction.
Breast lift surgery is designed to address breast sagging without dramatically altering the size of the breasts. Rather, this procedure removes excess skin and lifts the breasts higher on the chest for a more youthful appearance. A breast lift can be performed on breasts of all sizes, and many women with smaller breasts benefit from a breast lift after weight loss, pregnancy, and breastfeeding, or the natural impact of aging. In fact, breast lift surgery is often combined with breast augmentation to correct deflation and improve breast shape.
Breast reduction surgery reduces natural breast tissue to create a smaller breast mound. While the majority of breast reduction patients also benefit from lifting, the primary goal of a breast reduction is not to correct breast sagging. Instead, a breast reduction reduces excess breast tissue to a more manageable size, shape, and position.
Paul M. Parker, M.D., FACS
Board-Certified Plastic Surgeon
Known for his surgical talent and caring personality, Dr. Parker has been serving the community for over 35 years. He has dedicated his practice to the education, safety, and comfort of his patients—making each one feel as important as family.
What Are My Breast Lift Options?
A breast lift will help your breasts sit higher on your chest and look perkier in and out of clothing. A breast lift alone does not substantially change the size of your breasts but will tighten the skin, lift them, and make them appear more youthful. Options include:
Breast lift
Breast lift with implants
Breast lift without implants
Breast lift and reduction
Dual Plane Breast Augmentation
Breast Lift With Implants


If you wish to restore lost volume to the upper portion of your breast or increase the size of your breasts in addition to lifting them, you can have the breast implants of your choice added at the same time as your breast lift. This procedure is called an augmentation mastopexy, or breast lift with implants.
Breast Lift Without Implants


A breast lift will help you breasts sit higher on your chest and look perkier in and out of clothing. A breast lift, or mastopexy, alone does not substantially change the size of your breasts but will tighten the skin, lift them and make them appear more youthful.
Breast Lift and Reduction


If you would like smaller, lighter, and perkier breasts, a breast reduction, also known as reduction mammoplasty, can achieve all three. Dr. Parker includes a breast lift as part of all breast reduction procedures he performs.
Dual Plane Breast Augmentation

What Is Involved With Breast Lift Surgery?
Breast lift surgery is usually performed under general anesthesia, administered by one of our board-certified anesthesiologists, in our fully certified onsite ambulatory surgical center, Surgiplex, LLC. Typically, the surgery takes 2 to 4 hours to perform, depending on the extent and complexity of the procedure. You will be able to go home about 1 hour after surgery, wearing a soft, supportive bra.
What Do Breast Lift Scars Look Like?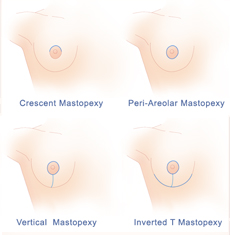 Dr. Parker makes every effort to use limited incisions and minimize scarring while achieving an aesthetically pleasing breast shape. The extent of incisions necessary is determined by the amount of skin to be removed and how much the nipple must be raised. Visit our Breast Lift Options page to learn more.
We will show you before-and-after pictures of patients like you who have undergone breast lift surgery to help educate you about the possibilities. We are committed to patient education at Parker Center, having found it to be a major factor in giving our patients the best surgical experience possible.
How Much Does a Breast Lift Cost in New Jersey?
The total cost will depend on your anatomy, desired results, and the complexity of the procedure, (i.e., a lift with implants or breast lift/reduction). Your total price will depend on your goals and the extent of surgery needed to achieve your desired results. At your cosmetic consultation, we will provide an all-inclusive, individualized price quote that includes:
Surgeon's fees
Operating room and anesthesia costs
Pre- and post-op visits
Surgical garments
Breast implants (if applicable)
What Is Breast Lift Recovery Like?
Showering and light activities are permitted the day after surgery; pain is usually minimal. All sutures dissolve and do not need to be removed. Sedentary work can be resumed in several days and most normal activities in 10 days. Upper body exercises can be started within 3 to 4 weeks and fully resumed by 4 to 6 weeks.
"After going on 2 other consultations, Dr. Parker was definitely the right choice. His office is gorgeous, his staff is friendly, courteous, and personable, and his bedside manner was extremely professional. From my first to last visit I was treated with care. I would recommend this surgeon to any one of my friends and family, and my results are amazing! I could not be happier with my breast lift and I plan to return to the Parker Center."

Breast Lift Patient
Our Signature
Rapid Recovery Program
Our surgical procedures, anesthesia, medications, and aftercare are tailored to minimize post-operative discomfort and accelerate recuperation.
Learn More
How Long Do Breast Lift Results Last?
After breast lift surgery, you can expect your results to last for many years. Remember, that excess, sagging skin is gone. Dr. Parker's surgical techniques, which involve layers of internal sutures for support, help to ensure your new breast shape continues to look beautiful and natural. Scars should also fade significantly during the first year with proper care.
What Is My Next Step?
To meet with Dr. Parker and his team in Paramus, New Jersey, and learn more about breast lift surgery, request a cosmetic consultation using our online form or call (201) 967-1212 for an appointment.