Parker Center for Plastic Surgery
122 East Ridgewood Ave
Paramus, NJ 07652
Phone: (201) 967-1212
Monday, Tuesday, Thursday, Friday: 9 a.m.–5 p.m.
Wednesday: 9:00 a.m.–7 p.m.
Saturday: 9 a.m.–2 p.m. (medical spa only)

Rhinoplasty
Procedure Snapshot
This procedure reshapes the nose to bring facial features into better balance. Dr. Parker is experienced in a variety of rhinoplasty techniques in Paramus, NJ, to help men change the shape, size or symmetry of their nose.
Cost & Recovery
Schedule your cosmetic consultation with Dr. Parker to get your personalized quote backed by our Price Guarantee.
Patients typically return to normal daily activities about 7 to 10 days after surgery.
Quick Facts
Dr. Parker retains these masculine features during surgery**
Rhinoplasty can be performed after the nose is finished developing, typically age 15 to 16 for boys
Chin augmentation is frequently performed at the same time
65,121 men had rhinoplasty in 2020***
**Results may vary
***Statistical information listed here is drawn from 2020 ASPS data
Parker Center for Plastic Surgery
Dr. Parker performs rhinoplasty (nose job) for men from Ridgewood and throughout Bergen County, North New Jersey, and surrounding areas who want to change the shape of their nose. He may also correct breathing problems at the same time by correcting the patient's deviated nasal septum and other related internal nasal structures.
Page Contents
Anatomic Differences Between a Male and Female Nose
Anatomically, the nose is a complicated structure. The skin is draped over the nasal framework, which is what gives the nose its shape and support. The upper 40% of the framework is composed of paired nasal bones that are not movable. The lower 60% of the nose consists of cartilage and is movable. Dr. Parker takes the following anatomical differences into account in performing male rhinoplasties:
The male dorsum is wider and straighter with less concavity at the superciliary ridges (the part of the nose between the eyes) than the female nose.
The male nasal dorsum should remain straight, whereas a female nose may have 1–2 mm of aquilinity (curvature) and a supratip break.
The angle of the nasal columella to the upper lip should be 90 degrees in men versus 95 degrees in women.
The chin is more prominent in men, projecting to a plumb line drawn from a point at one half the ideal nasal length tangential to the upper lip versus a line 2–3 mm posterior to this plumb line in women.
The nasal tip is broader and more bulbous in men versus that of a more refined tip in women.
The nasal skin in men is usually thicker, limiting the amount of change that can be achieved.
Paul M. Parker, M.D., FACS
Board-Certified Plastic Surgeon
Known for his surgical talent and caring personality, Dr. Parker has been serving the community for over 35 years. He has dedicated his practice to the education, safety, and comfort of his patients—making each one feel as important as family.
Types of Rhinoplasty Surgeries
Closed Rhinoplasty
Closed rhinoplasty, which involves incisions hidden on the inside of the nostrils, is indicated for relatively minor shape adjustments to the nasal bone and cartilage.
Before & After: Closed Rhinoplasty*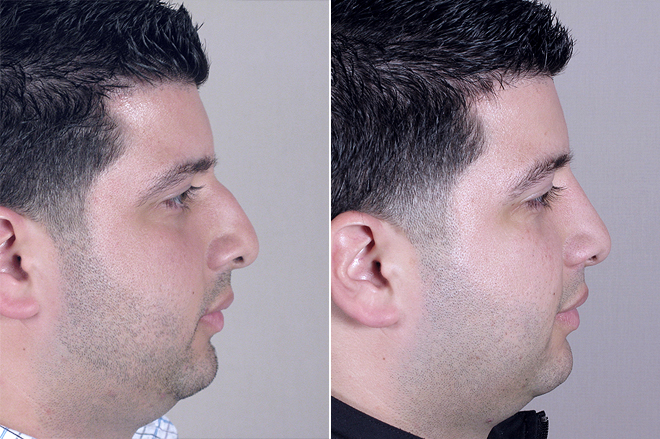 Open Rhinoplasty
Open rhinoplasty involves a small and inconspicuous incision underneath the tip of the nose and between the nostrils. This is connected to incisions inside the nostrils. These cleverly hidden incisions allow Dr. Parker to "open" the nose and sculpt the underlying bone and cartilage very precisely under direct vision.
Before & After: Open Rhinoplasty*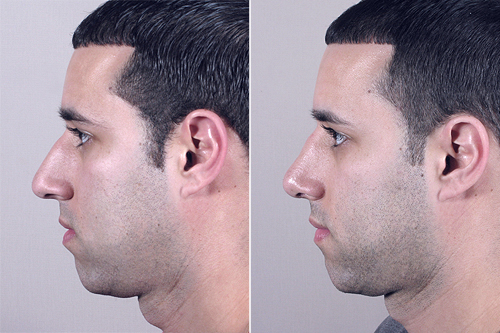 Tip Plasty
A tip plasty involves improving only the tip of the patient's nose. Almost always, Dr. Parker will use an "open" approach to achieve the most natural-looking, symmetric tip he can.
Your Personalized Surgical Plan
During your consultation in the office or online, Dr. Parker will listen carefully to your concerns about the appearance of your nose. He will then explain to you his recommended surgical plan to improve it. His discussion with you will be supplemented by reviewing computer images of what your nose should look like after surgery.
Rhinoplasty Surgery & Recovery
Rhinoplasty is most safely performed with general anesthesia. Surgical time varies from 30 minutes to 2 hours depending on the degree of complexity. Patients are discharged about an hour after surgery. There is usually little pain. Sutures and a light plastic splint used to protect the nose are removed within a week.
Our Signature Rapid Recovery Program
Most of our male rhinoplasty patients lead active lives and are anxious to return to their activities as soon as possible after surgery. With that in mind, we have tailored our surgical procedures, anesthesia, and medications, and developed our Rapid Recovery peri-operative program to accelerate patients' recuperation after surgery. While everyone heals differently, most of our New Jersey rhinoplasty patients are able to return to work within 7 days.
Swelling and discoloration subside within 10 days and most patients can resume exercise at 2 weeks. During both your consultation with Dr. Parker and in your pre-op education visit with our Nurse Educator, your anticipated recovery will be discussed in detail.
Our Signature
Rapid Recovery Program
Our surgical procedures, anesthesia, medications, and aftercare are tailored to minimize post-operative discomfort and accelerate recuperation.
Learn More
Rhinoplasty With Chin Augmentation
Together, the nose and chin determine your profile. Chin augmentation is sometimes suggested at the time of rhinoplasty to achieve better facial balance.
Before & After: Rhinoplasty & Chin Augmentation*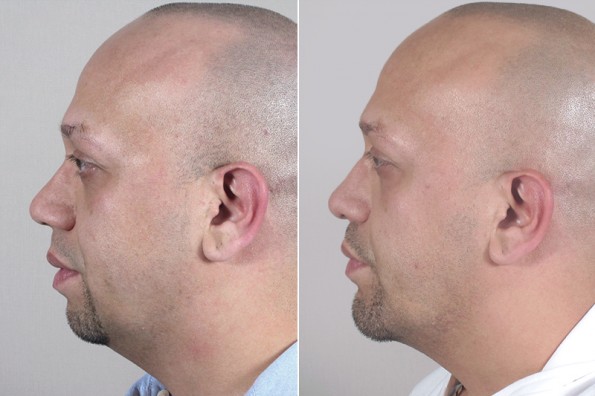 Rhinoplasty procedures can be performed in combination with other procedures, such as a face lift, blepharoplasty, liposuction, otoplasty, or chin augmentation. The patient shown here had liposuction of his neck performed in addition to an open secondary rhinoplasty.
Before & After: Secondary Rhinoplasty & Neck Liposuction*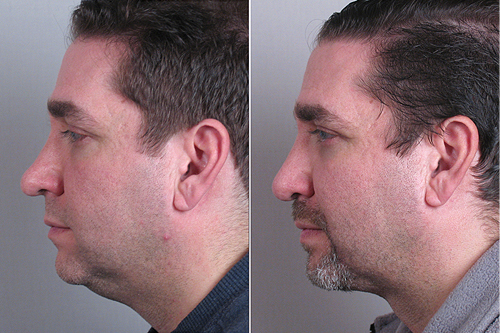 This allows the patient to have multiple areas corrected during one surgery with only one anesthesia and recovery. Usually, the recovery is similar when one or more procedures are performed.