Before & After: Aspen Ultrasound Treatment*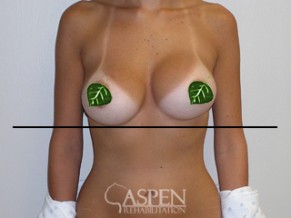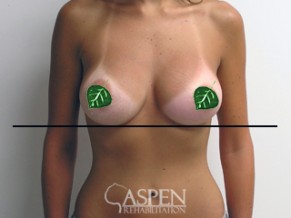 How Much Do Aspen Ultrasound Treatments Cost?
At our practice in Paramus, New Jersey, Aspen capsular contracture treatments cost $175 per session. Patients typically need a series of 5 to 10 treatments.
What Happens During Capsular Contracture Surgery?
Surgical capsular contracture removal is often best for more progressive cases. If we catch it early, non-surgical treatment is usually successful in correcting capsular contracture and preventing it from reoccurring. However, in more developed or severe cases, or if a patient has not responded well to the non-surgical Aspen treatment, surgery will be the most effective option. Dr. Parker is highly experienced in breast implant revision procedures and will tailor the procedure to fully treat the problem while also achieving the most aesthetically pleasing outcome possible.
Breast Capsulectomy With Breast Implant Replacement
During this procedure, Dr. Parker will surgically remove the old implants and the surrounding capsule, and then place new breast implants during the same surgery. He will also address any other concerns and make improvements as necessary, such as:
Adjusting the breast pocket to improve implant position
Switching from saline to silicone
Changing from over-the-muscle to under-the-muscle or dual plane implant placement
Changing implant size to better fit your personal preferences and proportions
Before & After: Breast Implant Revision for Capsular Contracture*
Treating Capsular Contracture With Acellular Dermal Matrix (ADM)
One particularly exciting advancement in capsular contracture treatment in recent years is the use of acellular dermal matrix, or ADM, in breast augmentation revision. ADM is a strong, sterile, biocompatible sheet of material that Dr. Parker can place around the new breast implant to reinforce the surrounding breast tissue. Incorporating ADM into breast revision surgery not only helps to support the breast implant, but has also been shown to significantly reduce the risk of capsular contracture happening again.