Parker Center for Plastic Surgery
122 East Ridgewood Ave
Paramus, NJ 07652
Phone: (201) 967-1212
Monday, Tuesday, Thursday, Friday: 9 a.m.–5 p.m.
Wednesday: 9:00 a.m.–7 p.m.
Saturday: 9 a.m.–2 p.m. (medical spa only)

Wrinkle Treatments
Procedure Snapshot
Nonsurgical treatments can be the ideal choice to smooth wrinkles, rejuvenate dull skin, and restore vibrancy to aging facial features. BOTOX® Cosmetic, dermal fillers, or skin resurfacing in Paramus, NJ, can help men look and feel more youthful with little to no downtime.
Cost & Recovery
BOTOX $16 per unit*
Most nonsurgical treatments require little to no downtime.
Quick Facts
Neurotoxins like BOTOX are the most popular injectables for men
Skin resurfacing treatments can improve skin tone and smooth fine lines**
Fat injections can last for years and are commonly used to enhance facelift results**
303,221 men had nonsurgical cosmetic treatments in 2019***
*Refer to our Pricing page for details
**Results may vary
***Statistical information listed here is drawn from 2019 The Aesthetic Society data
Parker Center for Plastic Surgery
It's often said that men grow more refined as they age; however, if wrinkles, thinning features, and sagging skin leave your face looking tired or simply older than you feel, you may not welcome the aging process so readily. Injectable neurotoxins and dermal fillers can help you restore a more youthful, vibrant appearance with quick, non-surgical treatments that require little to no downtime.
Page Contents
Paul M. Parker, M.D., FACS
Board-Certified Plastic Surgeon
Known for his surgical talent and caring personality, Dr. Parker has been serving the community for over 25 years. He has dedicated his practice to the education, safety, and comfort of his patients—making each one feel as important as family.
Your Skin Consultation
Maintaining healthy skin requires ongoing attention. The first step in determining the best approach for your facial rejuvenation is a thorough skin evaluation to identify special problems. We specifically look for:
Different types of wrinkles
Skin roughness
Loss of skin vitality
Discolorations
Large pores
Feel Confident
About Your Procedure
Our cosmetic consultations include plenty of time with Dr. Parker, our patient care coordinator, and our imaging specialist. Once your procedure is booked, our nurse educator will meet with you for a special 1-hour pre-op education session.
Request a Consultation
Your Education Session
Determining the Best Approach: Surgical or Nonsurgical
Typically, fine lines and textural problems of the skin are addressed non-surgically. Skin texture and tone can be improved with the use medical-grade skincare products at home, as well as resurfacing treatments such as chemical peels, intense pulse light (IPL), and microdermabrasion.
Dynamic wrinkles, such as "frown lines," result from repeated facial expressions. They are most commonly seen on the forehead, between the eyebrows, around the corners of the eyes, or around the lips. Injectable neurotoxins, such as BOTOX, are excellent for treating dynamic wrinkles on the upper face, while those of the lips are most effectively treated by resurfacing the area with microdermabrasion or laser and chemical peels.
Dermal fillers or fat injections are ideal for treating static wrinkles that form as the skin loses volume and elasticity over time. Most common treatment areas are the nasolabial folds, the cheek area, or around the mouth.
Your Injectable Options at Parker Center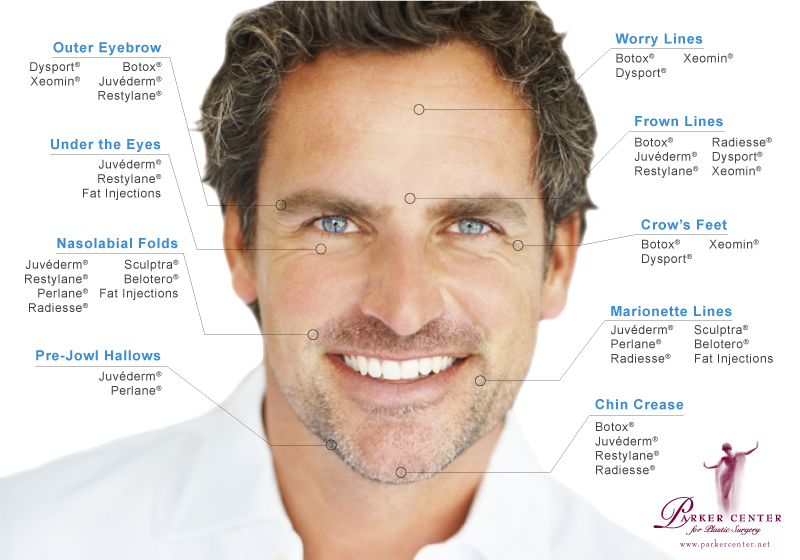 Patients bothered by jowling and sagging neck skin may have the option of minimally invasive skin tightening with FaceTite[link]. Significant concerns are best treated with a surgical [link pid="124"]facelift or neck contouring. Cosmetic surgery procedures alone can remove excess, sagging skin to improve heavy skin folds and reduce jowling.
BOTOX® Cosmetic & Xeomin®
There are currently 3 FDA-approved products available. BOTOX® Cosmetic is a purified protein injected into the wrinkle lines that "relaxes" the underlying muscles, causing the wrinkles to soften or disappear. Xeomin, the newest available option, does not have protein buffers around the botulinum, which is purported to lessen the risk of allergic reaction. Which is the best choice depends on the individual.
All of these products are effective in treating dynamic wrinkles on the forehead, between the brows, and in the crow's feet around the eyes.
Injections take 5 to 10 minutes to perform and typically become effective within 24 to 48 hours
The results will usually last three to six months and seem to last longer and longer with repeated treatments
Dermal Fillers
Fillers raise skin fold wrinkles to the level of the surrounding skin, making them less noticeable and creating a glowing appearance. Dr. Parker offers a number of filler options at the Parker Center in Paramus, NJ.
Juvéderm & Restylane
Both Restylane® and Juvéderm are composed of hyaluronic acid, a naturally occurring substance in the body, using slightly different formulations. The soft, gel-like substance is injected into folds or wrinkles, sitting just beneath the skin to fill smooth wrinkles and restore lost volume. Treatment take about 10 to 15 minutes, and is performed after the application of a topical anesthetic and ice. No pre-treatment skin testing is required, and results usually last 6 months before a repeat injection is required.
Juvéderm VOLUMA XC
VOLUMA is a hyaluronic filler designed specifically to add long-lasting volume and shape to the cheek area. For men, VOLUMA can help to add definition to the cheekbones and restore a more youthful, vibrant appearance to sunken or hollowed cheeks. It is formulated to be injected more deeply underneath the skin and achieve a mild lift. Treatment takes less than 30 minutes and the results are instant. Mild bruising and swelling are the most common side effects, and typically subside within 2 weeks. The results of VOLUMA can last up to 2 years.
Belotero®
This is a newer FDA approved filler option, also made from hyaluronic acid. It is formulated to integrate into the skin quickly and evenly, making it a good option for fine lines around the nose and mouth. Treatment takes about 15 minutes, and there is no downtime. Results typically last about 6 months.
Radiesse®
Radiesse® is made from calcium hydroxylapatite, a synthetically derived compound that has been used in Europe as a filler for a number of years. Like other fillers, it is injected into folds and wrinkles. The calcium hydroxylapatite particles encourage your skin to produce more natural collagen, helping to prolong your results even after the particles are eventually absorbed by the body.
Fat Injections
Fat injections were used more frequently as a filler before the arrival of Restylane and Radiesse. Now they're used when the wrinkles or folds require more volume than a commercially available filler can give. Fat injections require harvesting or removal of fat from elsewhere on the body (such as the abdomen). The fat is then purified and re-injected to add volume to the desired area. While the treatment is a little more involved, the results can last for many years.
If you are unhappy with your wrinkles, call the Parker Center for Plastic Surgery today. We will analyze your skin needs and recommend the best treatment options for you. These treatments are very safe and quick, and they can make you appear years younger. Wrinkle Treatment procedures are often combined with other face surgeries.
Additional Parker Center Resources
To learn more about the wrinkle treatment procedure, read about our consultation process. If you have further questions or comments, please contact us.
Our Signature
Rapid Recovery Program
Our surgical procedures, anesthesia, medications, and aftercare are tailored to minimize post-operative discomfort and accelerate recuperation.
Learn More