Parker Center for Plastic Surgery
122 East Ridgewood Ave
Paramus, NJ 07652
Phone: (201) 967-1212
Monday, Wednesday, Friday: 9 a.m.–5 p.m.
Tuesday, Thursday: 9:00 a.m.–7 p.m.
Saturday: 9 a.m.–2 p.m. (medical spa only)

The Parker Tummy Tuck
Procedure Snapshot
Dr. Parker's signature "Parker Tummy Tuck" combines liposuction of the hips, back, and abdomen with abdominoplasty to achieve dramatic, seamless improvements in body contour.
Cost & Recovery
$9,190 to $13,334
Depending on the extent of surgery, patients typically return to their jobs after 2 to 3 weeks
Quick Facts
Incorporating liposuction helps improve abdominal shape better than a tummy tuck alone*
Recovery is usually quicker with less postoperative discomfort
Combining liposuction with a tummy tuck is also called "lipoabdominoplasty"
Results in a shorter scar for most patients*
* Results may vary
** Statistical information listed here is drawn from 2018 ASAPS data
Tummy Tuck

Before & After Photos
WARNING:
This feature contains nudity. Please click OK to confirm you are at least 18 years of age and are not offended by such material.
OK
Tummy Tuck

Before & After Photos

Keep in mind that each patient is unique and your results may vary.

Keep in mind that each patient is unique and your results may vary.
Abdominoplasty, better known as tummy tuck surgery, is the classic procedure to achieve a flatter, firmer, and more youthful midsection. Popular with both men and women in New Jersey, a tummy tuck can address common unwanted changes to following weight loss or pregnancy, including stretched, protruding abdominal muscle, loose and sagging skin on the belly, and excess fat.
We personalize tummy tuck surgery to meet your unique needs. Our goal is to provide the improvements that best meet your expectations with the least involved surgery possible. Choose from the list below to learn more about tummy tuck surgery with Dr. Parker:
Page Contents
---
What Type of Tummy Tuck Do I Need?
Which procedure is best for you will depend on the amount of excess skin & fat you have to address, your personal goals, and what type of recovery you are okay with. At your free cosmetic consultation, Dr. Parker will go over the following options:
Liposuction (or CoolSculpting) alone
Mini abdominoplasty (mini tummy tuck)
Classic abdominoplasty
The Parker Tummy Tuck (Modified Lipoadominoplasty)
How Much Does a Tummy Tuck Cost in New Jersey?
Tummy tuck prices range from $9,190 to $13,334 at Parker Center, depending on the severity of your concerns. A mini tummy tuck typically costs $7,360. Your total cost of surgery will depend on your goals, anatomy, and the extent of surgery needed to achieve your desired result. For example, a classic or extended abdominoplasty to repair severe muscle separation will cost more than abdominal liposuction alone.
At your free cosmetic consultation, you will receive a detailed, personalized price quote including all associated costs: surgeon's fees, anesthesia and operating room costs, post-surgical compression garments, and pre- and post-op care at The Parker Center.
Is Liposuction or a Tummy Tuck Right for Me?
Liposuction alone is used in patients with excess fat but good skin and muscle tone. Two tiny incisions in the pubic hair area and one inside the naval are used. Recovery is usually uncomplicated and quick. If you just have a modest amount of fat to address, non-surgical fat reduction with CoolSculpting may be a good option.
Before & After: Abdominal Liposuction Only*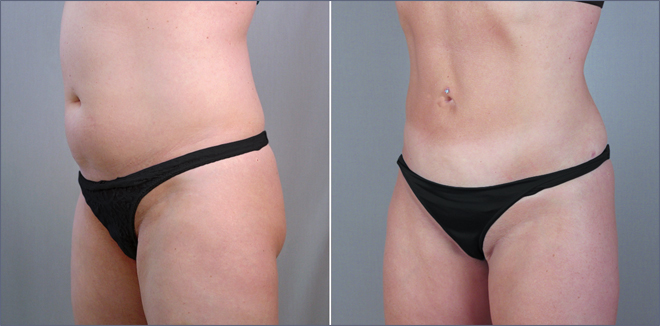 Are you a mom or mom-to-be? Be sure to check out Dr. Parker's ebook, "What to Expect When You're Done Expecting: Your Guide to All the Wonderfully Weird Things Having a Baby Does to Your Body."
Download here
.
Mini Tummy Tuck
Patients with limited excess skin and muscle laxity in their lower abdomen are candidates for "mini abdominoplasty." A low horizontal incision, similar to that used in a C-section, provides excess for skin removal and muscle tightening.
Before & After: Mini-Tummy Tuck*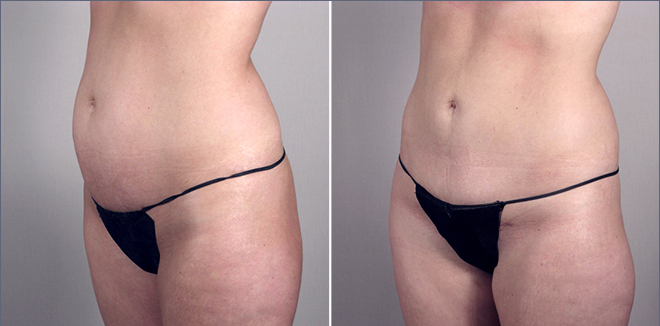 Classic Abdominoplasty (Standard Tummy Tuck)
Classic abdominoplasty allows maximal removal of excess skin, fat and tightening of the lax "abs" along their entire length. The incision is similar to that for a mini abdominoplasty but is longer in that the outer ends curve up to the hipbones. The incision may be designed so that it is hidden by high cut swimwear. A second small incision encircles the naval. Though the scars are permanent, they usually fade within the first year of surgery.
Before & After: Classic Abdominoplasty*
The Parker Tummy Tuck
The Parker Tummy Tuck, or modified lipoabdominoplasty, is a relatively new procedure that combines aggressive liposuction of the abdomen with many of the principles of a classic or traditional abdominoplasty. Dr. Parker first learned this technique from international colleagues several years ago. He has since modified and improved the procedure to provide even better results with a quicker recovery.
Before & After: Parker Tummy Tuck*

The procedure begins with liposuction of the entire abdomen. The skin below the umbilicus is excised similar to a classic abdominoplasty, although lymphatic vessels are preserved to minimize postoperative swelling and promotes a more rapid recovery from surgery. Next, limited undermining of the upper abdominal skin flap is performed, preserving many blood vessels and nerves to the abdominal wall. The rectus abdominus muscles are then plicated to improve their shape. The upper abdominal flap is advanced and closed with multiple layers of dissolvable sutures that minimize scar tension and postoperative scar spreading. Many absorbable sutures are inserted in the soft tissues of the upper and lower abdomen as well as the umbilicus to help create greater definition of the abdomen and umbilical area.
What Are the Benefits of The Parker Tummy Tuck?
Improved abdominal shape due to aggressive liposuction.
Lower rate of postoperative complications such as seroma.
A shorter, less noticeable scar in many patients
Quicker postoperative recovery with less swelling, bruising and pain.
The Parker Tummy Tuck may be combined with other procedures such as liposuction of hips, back and extremities, body lifts, aesthetic breast and/or facial surgery. Lipoabdominoplasty should be delayed if future pregnancies are planned. Although pregnancy can proceed normally after surgery, the benefits of the procedure may be lost.
"The treatment I received was top notch. Dr. Parker listened to my concerns and gave me exactly what I was looking for. I am so happy with my results."

Tummy Tuck Patient
What Is Involved in Tummy Tuck Surgery?
Patients undergoing liposuction and mini abdominoplasty can be treated with local anesthesia and intravenous sedation. Surgery time ranges from 1 to 2 hours. Patients are discharged within one hour after surgery wearing an abdominal binder. All sutures are dissolving.
Classic abdominoplasty and The Parker Tummy Tuck are performed under general anesthesia and take 2½ to 3½ hours, depending on the size of the patient. Post-op monitoring will be required overnight in our aftercare facility or in the comfort of your own home by a private duty nurse. An abdominal binder is applied shortly after surgery and worn for approximately one week. Tummy tuck procedures are commonly combined with liposuction of hips, back and extremities, body lifts, and/or breast augmentation.
Is Muscle Repair Always Needed With a Tummy Tuck?
Even though our patients recover quickly after tummy tuck surgery, recovery can be even quicker and easier if the rectus abdominus muscles, or "abs" are not tightened. This is something that can be discussed with Dr. Parker at your consultation after he examines you. He will want to be sure that your "abs" are in good shape and not too loose, particularly after having had children.
Your Tummy Tuck Consultation & Imaging Session
Consultations at the Parker Center are special. Dr. Parker will spend extra time with you, ensuring that he understands your goals and that you are fully educated about each potential solution. Additionally, our imaging expert will help you see the possibilities with digital photo imaging or Vectra 3D imaging technology, depending on your interests. Patients who are comparing providers often tell us our consults are the most thorough and informative they've ever experienced!
Learn more about consultations at the Parker Center »
Read about imaging at the Parker Center »
Our Signature
Rapid Recovery Program
Our surgical procedures, anesthesia, medications, and aftercare are tailored to minimize post-operative discomfort and accelerate recuperation.
Learn More