Parker Center for Plastic Surgery
122 East Ridgewood Ave
Paramus, NJ 07652
Phone: (201) 967-1212
Monday, Tuesday, Thursday, Friday: 9 a.m.–5 p.m.
Wednesday: 9:00 a.m.–7 p.m.
Saturday: 9 a.m.–2 p.m. (medical spa only)

Neck Contouring
Procedure Snapshot
Neck contouring can address excess fat or loose, sagging skin & muscles on the neck, adding definition to facial features and helping you look younger, fitter, or even as though you have lost weight.
Cost & Recovery
Schedule your cosmetic consultation with Dr. Parker to get your personalized quote backed by our Price Guarantee.
Most men return to normal activity 3 to 4 days after neck liposuction and 10 to 14 days after a neck lift.
Quick Facts
Neck liposuction removes excess fat to help reduce a double chin**
A cervicoplasty, or neck lift, reduces excess, hanging skin to help reduce jowling
Chin augmentation can be paired with neck contouring to refine the results**
Scars are typically very small and hidden behind the ears or underneath the chin
5,020 men had neck lift surgery in 2019***
**Results may vary
***Statistical information listed here is drawn from 2019 The Aesthetic Society data
Parker Center for Plastic Surgery
If you feel you that your neck has become a problem area, neck contouring may be a great method for you to get back to looking and feeling your best. At your consultation, Dr. Parker will discuss surgical options such as liposuction or cervicoplasty with you.
Page Contents
Paul M. Parker, M.D., FACS
Board-Certified Plastic Surgeon
Known for his surgical talent and caring personality, Dr. Parker has been serving the community for over 35 years. He has dedicated his practice to the education, safety, and comfort of his patients—making each one feel as important as family.
Neck Liposuction
Patients who have good skin elasticity but excessive fat in the neck are often good candidates for liposuction. Once the fat is removed, the neck appears tighter and younger looking.
Neck Liposuction Surgery
The procedure works by making a three- to four-millimeter incision under the chin and behind each earlobe.
The area to be sculpted is then infiltrated with our "super wet" solution.
VASER ultrasonic liposelection is then performed in about 30 minutes time, usually with light intravenous sedation.
Liposelection is a better alternative than traditional liposuction because it allows for a smaller area to be precisely targeted. The end result is often better than traditional liposuction. Plastic surgeons like Dr. Parker have to be specially trained to use this advanced technology. By using liposelection by VASER, patients can achieve the look they want, with a minimally invasive surgery.
Recovery From Neck Liposuction
The recovery from neck liposuction is virtually painless. Swelling and discoloration usually subside within seven to 10 days, and the few sutures required will dissolve on their own. You can generally return to normal activities within three to four days, and can resume exercise in 10 to 14 days.
Before & After: Neck Liposuction
Neck Lift Surgery: Cervicoplasty
Patients who have extra fat in the neck area and loose or excessive neck skin will require more than liposuction to get the look they desire. The procedure that needs to be done in these cases is called a cervicoplasty, platysmaplasty, neck lift, or lower facelift.
Neck Lift Surgery
Cervicoplasty can be performed as a stand-alone procedure or in conjunction with a facelift
Intravenous sedation or general anesthesia is employed
A cervicoplasty involves limited incisions beneath the chin and behind the ears to remove loose skin and fat
During the procedure Dr. Parker will also tighten the underlying platysma muscle to ensure the area will remain firm and smooth
The time for surgery ranges from 45 minutes to 2 hours depending on the extent of skin laxity
The results* of this surgery can be stunning. The change not only enhances the facial profile but also creates a more youthful appearance. It is a great solution for those with excess skin, droopy skin or those who want a tighter, firmer look.
Neck Lift Recovery
Depending on the extent of your procedure (i.e., whether or not you also had a full facelift), you may be able to go home after surgery or you may need monitoring overnight either in our aftercare facility or at home with a private duty nurse. Stitches are removed within one week of surgery. There is a feeling of "tightness" under the neck initially, but that will subside during the healing process. Swelling and discoloration subside within 10 to 14 days and you may return to all normal activities after two weeks
Before & After: Neck Lift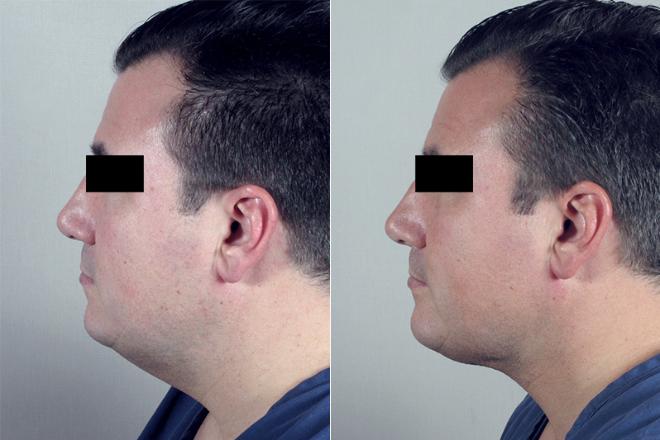 Combining Procedures for Enhanced Results*
When it comes to our facial appearance, our features work together to create balance and proportion. Combining procedures can often achieve an attractive balance more effectively than one procedure alone. Neck contouring is frequently combined with a facelift, rhinoplasty, or chin augmentation.
Feel Confident
About Your Procedure
Our cosmetic consultations include plenty of time with Dr. Parker, our patient care coordinator, and our imaging specialist. Once your procedure is booked, our nurse educator will meet with you for a special 1-hour pre-op education session.
Request a Consultation
Your Education Session
Our Rapid Recovery Program
Most of our patients lead active lives and are anxious to return to their activities as soon as possible after surgery. With that in mind, we have tailored our surgical procedures, anesthesia, and medications, and developed our Rapid Recovery peri-operative program to optimize the recovery process. During both your consultation with Dr. Parker and in your pre-op education visit with our Nurse Educator, your anticipated recovery will be discussed in detail.
*Results may vary
Our Signature
Rapid Recovery Program
Our surgical procedures, anesthesia, medications, and aftercare are tailored to minimize post-operative discomfort and accelerate recuperation.
Learn More