Parker Center for Plastic Surgery
122 East Ridgewood Ave
Paramus, NJ 07652
Phone: (201) 967-1212
Monday, Tuesday, Thursday, Friday: 9 a.m.–5 p.m.
Wednesday: 9:00 a.m.–7 p.m.
Saturday: 9 a.m.–2 p.m. (medical spa only)

|
|
|

Surgiplex, LLC Operating Suite
Surgiplex, LLC Operating Suite
Northern New Jersey Plastic Surgery
Dr. Parker performs his surgical procedures in Surgiplex, LLC, a 2300 square foot ambulatory surgical facility accredited by the American Association for Accreditation of Ambulatory Surgery Facilities, Inc. (AAAASF). Surgiplex is physically integrated in the Parker Center for Plastic Surgery. It is a state-of-the-art facility which duplicates the safety of a hospital in a more relaxed, aesthetic, calming atmosphere. Over 25,000 surgeries have been performed by Dr. Parker in Surgiplex; it is re certified by AAAASF every three years.
The advantages of having our own onsite ambulatory facility to our patients are several. First, since Dr. Parker is the only surgeon operating here and performs plastic surgery procedures only, our entire team is specialized in what we do; this promotes a very high level of patient care. Second, Dr. Parker is not under any time constraints to rush through his procedures as one might be in a multi-physician facility. He does not leave the operating room until everything looks perfect to him. Third, our limited patient flow help us maintain a germ-free facility which minimizes the risk of resistant bacteria, a problem that can occur in more heavily-traveled facilities, such as in hospitals. Finally, Dr. Parker has admitting privileges at Valley Hospital, its new facility immediately adjacent to ours.
Design and Equipment
Patient safety was foremost in our design of Surgiplex, LLC. Features include a dedicated HVAC system with high grade filtration to maximize air purification, piped in anesthesia gas from a remote storage tank room to the operating room, high capacity compressed air and vacuum pumps as well as an emergency generator to provide electricity in the event of a power failure.
"Surgiplex, LLC is a very modern, well equipped facility where good quality, safe intra and postoperative care can be provided."

Facelift Patient
Our operating room lights, procedure table, anesthesia, monitoring and other equipment are all state of the art. Additional safety precautions are taken such as the routine use of mechanical calf compression and warm air body blankets.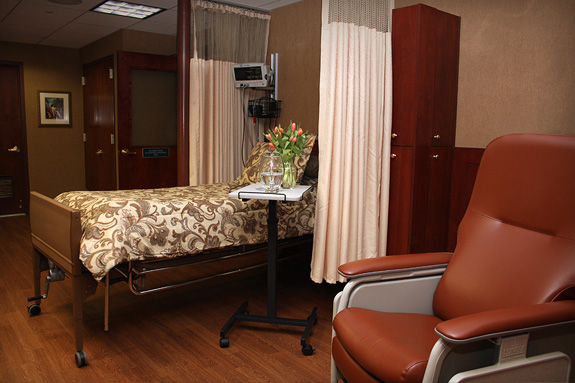 Patient comfort has been assured by the use of an experienced designer to provide a warm and cozy feeling in our recovery area. Soft lighting, attractive wall coverings and fabrics along with cherry wood cabinets create a soothing environment. Scenic photographs taken by Dr. Parker are displayed throughout the facility.
Operating Room Staff
We are proud of our highly educated, well-trained and experienced medical staff. Our well-trained, experienced team of anesthesiologists are board certified and have worked with Dr. Parker for many years.
Our well-trained, experienced, nurturing and comforting nursing staff is specifically trained in the care of our plastic surgery patients.
Our operating room staff are Advanced Cardiac Life Support certified.
"Everyone is so warm & caring. I got a call from the nurse on Sunday after my procedure… Please don't change anything!!!"

Parker Center Patient
Procedures
The full spectrum of cosmetic plastic surgical procedures including facelifts, breast augmentation, breast reduction, tummy tuck, liposuction and more are performed in our facility.
"It was a pleasure to come to your office. From the start, how beautifully and clean your office was, to the information given from the video and your staff. I was very happy with my visit.

Plastic Surgery Patient
Anesthesia
Patients having surgery in Surgiplex have three options for anesthesia and these will be discussed with the patient by Dr. Parker at their initial consultation. Many of our procedures such as facelifts, breast augmentation, breast reduction, tummy tuck, and liposuction will require our anesthesiologists to administer general anesthesia or monitored monitored sedation (like what is commonly given for a colonoscopy).
Upper eyelid blepharoplasty
Some lower eyelid blepharoplasties
Some brow lift procedures
Otoplasty
Lip lift
Buccal fat removal
Peri oral dermabrasion
TCA peel
Chin augmentation
Liposuction of the neck
Minimal incision neck lift
Inverted nipple correction
Nipple reduction
Gynecomastia surgery
Short scar arm lift
Expense
It is necessary to charge a separate fee for the use of the facility which is in addition to the anesthesia and surgical fees. The duration and type of procedure determine the facility fee. It is substantially less than what a hospital would charge and there is no additional fee if surgery should take longer than the estimated time. Hospitals and other ambulatory facilities commonly charge extra for this. We'll include the facility fee in your individualized plastic surgery fee quote at your consultation.