Parker Center for Plastic Surgery
122 East Ridgewood Ave
Paramus, NJ 07652
Phone: (201) 967-1212
Monday, Tuesday, Thursday, Friday: 9 a.m.–5 p.m.
Wednesday: 9:00 a.m.–7 p.m.
Saturday: 9 a.m.–2 p.m. (medical spa only)

Liposuction
Procedure Snapshot
One of the most popular cosmetic surgeries for men and women alike, liposuction in Paramus, New Jersey, reduces areas of excess fat and sculpts a better body shape. Dr. Parker prefers the advanced SAFElipo® technique with which he provides consistently natural-looking improvements in contour and skin retraction.
Cost & Recovery
$5,000 to $8,495*
Most patients return to work within several days of surgery.
Quick Facts
Results can be long-lasting, as long as you maintain your body weight**.
Liposuction can address fat deposits nearly anywhere on the body, including the face, trunk, and legs.
Liposuction is often used to refine the results of other procedures.
BodyTite or FaceTite can be combined with liposuction for nonsurgical skin tightening if needed.
211,067 patients had liposuction in 2020.***
*Refer to our Pricing page for details.
**Results may vary.
***Statistical information listed here is drawn from 2020 American Society of Plastic Surgeons® data.
Excess fatty tissue is deposited in certain areas of the body based on our genetics, body weight, and gender. You can change your size through weight loss, but your shape will stay relatively the same.
Liposuction is an excellent way to reduce these diet- and exercise-resistant fatty deposits and improve your size and shape. Improving your contours with liposuction allows you to look more proportional and wear clothes you previously could not. Psychologically, after liposuction, our patients from Hackensack, Ridgewood, Mahwah, and Somerset, NJ, and other nearby areas often experience improved self-esteem and an enhanced body image. They also feel more self-confident.
Liposuction

Before & After Photos
WARNING:
This feature contains nudity. Please click OK to confirm you are at least 18 years of age and are not offended by such material.
Parker Center for Plastic Surgery
What Are the Benefits of Liposuction?
Liposuction is equally effective in men and women and is one of the most versatile and precise fat reduction methods available. Do not confuse liposuction with bariatric surgery or a method of weight loss. It is for body contouring—strictly to improve the shape of areas of the body.
How Much Does Liposuction Cost in New Jersey?
At Parker Center in Paramus, NJ, the price of liposuction surgery ranges from $5,000 to $8,495. Your total price will depend on the areas treated and the extent of surgery needed to achieve your desired results. We will provide an all-inclusive, individualized price quote at your consultation that includes:
Surgeon's fees
Operating room and anesthesia costs
Pre- and post-op visits
Surgical garments
Technique used
Visit our Pricing page for detailed information about the costs for various treatment areas.
Commonly Treated Areas
Dr. Parker uses liposuction to address unwanted fat in most areas, including:
Abdomen
Double chin and neck
Back
Hips
Inner and outer thighs
Knees
Upper arms
He also frequently uses liposuction to enhance the results of facial surgery, breast enhancement, and other body contouring procedures.
Liposuction of the Neck
Liposuction of the neck can offer an immediate reduction of existing excess fat below the chin and on the neck. Following their procedures, our patients tell us that they feel more confident in their appearance and that others tell them they look as though they have lost weight.
We invite you to view the real patient examples below to learn more about your options for neck liposuction. For more information, see our blog post on neck liposuction vs. neck lift surgery.

Liposuction of the Back
Liposuction of the back can provide immediate reduction of existing fat. Many men and women tend to carry fat on the torso, and while hip and abdominal fat are often primary areas of concern, excess fat on the back can also have a dramatic effect on the overall shape of the body.
There are numerous reasons a person will tend to carry extra diet- and exercise-resistant fat around the back, including weight gain and/or loss, age, and genetics. Removing excess back fat with liposuction can help patients get rid of unwanted "rolls" of fat, helping clothing fit better. Liposuction of the back is often performed to enhance the results of liposuction of the abdomen or hips to create a more aesthetically pleasing overall silhouette.
Liposuction takes out fat cells from the treated areas. During liposuction, Dr. Parker uses techniques that not only reduce fat pockets but actually sculpt the tissue in these areas to create an improved shape. After the procedure, patients have reported increased self-confidence with their new, slimmer look.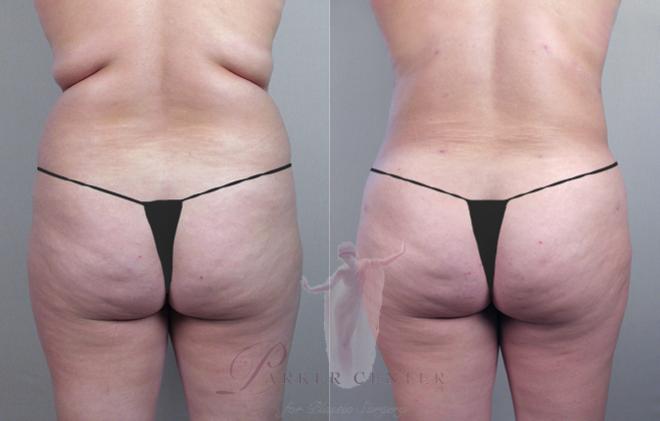 Liposuction of the Abdomen
Liposuction of the abdomen can offer an immediate reduction of excess fat deposits on the abdomen. Many people tend to carry fat around the waist, and diet and exercise alone often cannot reduce this localized belly fat. Liposuction is an effective way to improve the midsection by reducing unwanted fat cells.
Slimming the waist produces a more pleasing overall shape for your body. Patients report feeling more comfortable and confident in clothes and swimwear following liposuction of the abdomen and enjoy seeing a more svelte side view in the mirror. Abdominal liposuction is often combined with liposuction of the hips or thighs to complete the picture.

Liposuction of the Hips
Liposuction of the hips is a surgical procedure intended to provide immediate reduction of existing fat. Fatty deposits on the hips impact the body's contours dramatically; slimming the hips can, therefore, improve your entire shape. For women, slimmer hips make breasts appear larger. Women appreciate the lessening of love handles, thus getting rid of the undesirable "muffin top" effect when wearing low-rise jeans and swimwear.
There are numerous reasons a person will tend to carry extra fat around the hips, including pregnancy, age, and genetics. Liposuction reduces fat in the treated areas. After the procedure, patients have reported increased self-confidence with their new, slimmer look.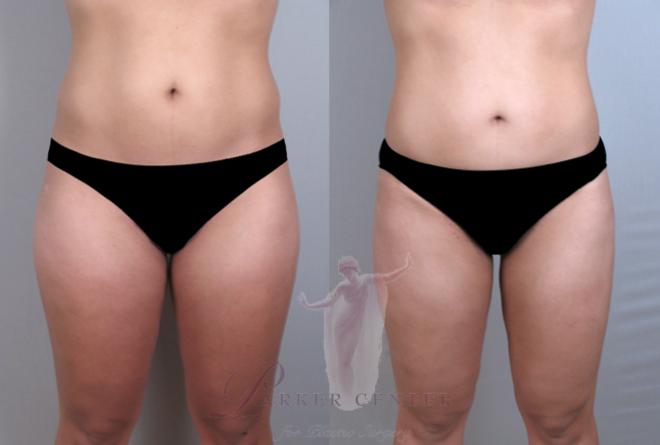 Liposuction of the Thighs
Liposuction of the thighs is a surgical procedure intended to provide immediate reduction of existing fat. Some patients present with fatty deposits on both the inner thighs and outer thighs.

Liposuction of the Knees
Liposuction is a long-lasting solution for removing existing excess fat around the knees. Women often feel self-conscious due to the presence of excess fat, especially fat that cannot be reduced through exercise.
Treatment of the knees varies somewhat based on an individual patient's anatomy. Fat is most frequently removed from the inner aspect of the knee but can also be removed from just above the knee. This is done through one or two small incisions hidden behind the knee. It can be performed as a standalone procedure or done in conjunction with liposuction of other areas.
A person does not need to be overweight to have fatty deposits around bones such as the knees. Genetics can be the reason for having fat deposits that are not proportional to one's figure.


Liposuction of the Arms
Liposuction of the arms can offer an immediate reduction of excess fat that develops between the shoulder and the elbow. Patients report satisfying changes following liposuction of the arms to reduce these fatty deposits – long-sleeved shirts are no longer too tight around the upper arms, and patients feel more confident in sleeveless tops too.
Liposuction alone is great for treating moderate deposits of excess fat on the upper arms. Ideal patients for liposuction of the arms possess good skin elasticity. After the procedure, the skin responds nicely to the new shape of the arms, and patients are delighted with their new look. Older patients, or more extreme cases, may require an upper arm lift to achieve the desired result.

Who Is a Good Candidate for Liposuction?
The best candidates for liposuction are patients near their ideal body weight with localized fat deposits and good skin elasticity. Liposuction can't help with generalized obesity, intra-abdominal fat, or very loose skin. It is complementary to diet and exercise, not a substitute for it.
If you don't fit this perfect profile and still want to consider liposuction, don't worry. Although the ideal patient will usually achieve an excellent result, patients with less than ideal criteria often obtain a very good result. Liposuction can provide an incentive for further weight loss in those patients who are slightly or moderately overweight.
Does Lipo Tighten Loose Skin?
Good skin tone is one of the mainstays of successful liposuction results.* The better the skin tone, the better the skin will contract to fit the newly contoured fat following the procedure. Liposuction can improve overall shape in patients with loose skin, but it will not reduce their skin laxity. In these cases, removal of excess skin with or without liposuction is more appropriate than liposuction by itself. Dr. Parker can also perform nonsurgical skin tightening with BodyTite for the appropriate candidates. This minimally invasive treatment can be combined with liposuction to reduce fat and tighten the skin without the linear incisions created by surgical skin tightening.
How Do I Know If I Need Liposuction or a Tummy Tuck?
Liposuction removes areas of excess fat. If you have any of the following concerns, you will need a tummy tuck :
Moderate to significant laxity of the abdominal skin
Stretched or separated abdominal muscles that cause a belly bulge
Enlarged or misshapen bellybutton
Dr. Parker combines liposuction with tummy tuck surgery in his signature Parker Tummy Tuck to provide a more complete abdominal rejuvenation than either procedure on its own.
How Is Liposuction Surgery Done?
Dr. Parker performs liposuction in our fully accredited, on-site ambulatory surgical facility, Surgiplex, LLC. The procedure takes anywhere from 30 minutes to several hours, depending on how many areas are being treated. Patients are made comfortable with monitored intravenous sedation or general anesthesia.
For each treatment area, Dr. Parker will make two tiny access incisions, each about ⅛ inch long. The tiny incisions are closed with dissolvable sutures that do not have to be removed. Although these tiny scars are permanent, they are almost always inconspicuous. You will most likely be able to go home about 1 to 2 hours after surgery, wearing a snug-fitting surgical garment to add support, promote skin contraction, and help optimize the final contour.
If you have a significant amount of fat removed, we will discuss post-op monitoring of you overnight in our aftercare facility or in the comfort of your own home by a private duty nurse.
What Is Lipo 360?
Lipo 360, also called circumferential liposuction, is a technique Dr. Parker uses to remove fat all the way around the abdomen (360 degrees). Instead of removing fat from the front and the back separately, he sculpts around the entire torso—the abdomen, waist/flanks, sides, and back—for balanced, natural-looking contours. Dr. Parker adjusts the technique to create attractive results for women and men.
For patients who need comprehensive abdominal contouring, Dr. Parker can combine his Parker Tummy Tuck with lipo 360, called lipo abdominoplasty 360, to remove excess fat all the way around the torso, tighten lax skin, and repair the abdominal muscles.
"I had liposuction to my flanks (love handles) and chest early in 2012. Dr. Parker produced the exact results I was hoping for. The information provided by Dr. Parker and his staff was right on the money in terms of what it would look like and what to expect during post-surgery. The facility and staff were everything I would hope for. My wife also had work done by Dr. Parker and we are both very pleased with the results. I would strongly recommend Dr. Parker to anyone considering cosmetic surgery."

Liposuction Patient
Feel Confident
About Your Procedure
Our cosmetic consultations include plenty of time with Dr. Parker, our patient care coordinator, and our imaging specialist. Once your procedure is booked, our nurse educator will meet with you for a special 1-hour pre-op education session.
Request a Consultation
Your Education Session
What Is SAFELipo®?
Since 2012, Dr. Parker has been using a 3-phase technique called SAFELipo over VASER® Lipo ultrasound-assisted liposuction in most cases. The "SAFE" in SAFELipo is an acronym for Separation, Aspiration, and Fat Equalization. This newer liposuction method was developed by Dr. Parker's friend and colleague, Dr. Simeon Wall Jr., in Louisiana.
The separation phase uses a specifically designed cannula to gently separate, or loosen, the fat cells from one another. This allows Dr. Parker to aspirate, or take out, the unwanted fat cells more easily using fine cannulas. The final fat equalization phase allows Dr. Parker to smooth out the area, leaving behind a thinner layer of separated healthy fat cells. Dr. Parker and his patients like the consistently natural-looking improvements in contour and skin retraction that SAFELipo provides. By and large, it has become his procedure of choice in performing liposuction.
How Does VASER® Lipo Work?
VASER Lipo is an ultrasound-assisted liposuction system that utilizes ultrasonic energy to loosen up the fat cells in the area being treated. Once the cells are loosened, they are removed by Dr. Parker with thin tubes called cannulas, allowing him to sculpt a naturally attractive contour.
While the VASER system is very helpful to Dr. Parker, it is his extensive training, experience, and judgment that allows him to create beautiful contours and excellent results.* Dr. Parker was one of the first surgeons to begin using VASER Lipo a number of years ago. He will still use it from time to time but now prefers using SAFELipo (www.safelipo.com).
How Long Do Liposuction Results Last?
Fat removal with liposuction is long-lasting. While it is still possible to gain weight after liposuction, the absolute number of cells remains the same, and the fat is deposited more evenly throughout the body. Fat does not selectively relocate to the areas where you had liposuction. Think of liposuction as a body re-proportioning procedure.
Is CoolSculpting® as Effective as Liposuction?
As CoolSculpting has entered the mainstream, patients naturally want to know if it's a good substitute for liposuction. While both procedures target unwanted fat, each serves a distinct purpose. CoolSculpting effectively shrinks fatty deposits, but it doesn't have the sculpting capabilities of liposuction. It's best for modest bulges on the hips, thighs, back, belly, and under the chin, but it cannot be used on the face. For the patient who doesn't need extensive reshaping, CoolSculpting can be a cost-effective, convenient way to improve body shape.
Liposuction vs. CoolSculpting
Treatment Attribute
Liposuction
CoolSculpting®
Best for
Significant fat reduction,
precise reshaping,
extensive contouring
Modest fat reduction
Treatment areas
Face, double chin, neck, chest, back, abdomen, love handles
Double chin, back, abdomen,
love handles
Recovery
Back to work in a few days
Exercise in 1 to 2 weeks
Small scars
No downtime required
See Results
Immediate (improve as swelling subsides)
Gradual over 8 to 12 weeks
With a skilled, experienced plastic surgeon at the helm, liposuction can address a precise amount of fat, sculpt an area, and dramatically improve your proportions. If you have more than one area you'd like to treat, you have a larger amount of fat to address, or you want to treat small areas such as the face, neck, or knees, liposuction will typically be the better option.
Our Signature
Rapid Recovery Program
Our surgical procedures, anesthesia, medications, and aftercare are tailored to minimize post-operative discomfort and accelerate recuperation.
Learn More
Liposuction FAQ
Does liposuction hurt?
During the procedure, Dr. Parker ensures the patient is comfortable by using IV sedation or general anesthesia. Targeted fat is infused with a local anesthetic so patients are numb during and after surgery. For the first week or so, treated areas are typically sore but not painful. Compression garments and prescription medication are enough to control discomfort in the majority of cases.
How much weight can you lose with liposuction surgery?
While many patients look like they've lost weight after liposuction, the difference on this scale is not substantial. Liposuction is not a weight-loss procedure; it is used to remove areas of fat that do not shrink with weight loss.
Will liposuction get rid of cellulite?
Liposuction alone will not improve cellulite. Cellfina® is an effective, minimally invasive cellulite treatment.
Is liposuction safe?
Yes, when performed in an accredited facility by an experienced, board-certified plastic surgeon who takes appropriate safety precautions that include limiting the amount of fat removed during a single surgery.
What Is My Next Step?
To meet with Dr. Parker and his team in Paramus, New Jersey, and review your liposuction options, request a cosmetic consultation using our online form or call (201) 967-1212 for an appointment.