Parker Center for Plastic Surgery
122 East Ridgewood Ave
Paramus, NJ 07652
Phone: (201) 967-1212
Monday, Wednesday, Friday: 9 a.m.–5 p.m.
Tuesday, Thursday: 9:00 a.m.–7 p.m.
Saturday: 9 a.m.–2 p.m. (medical spa only)

New Jersey Laser Skin Resurfacing
Introducing the ScitonPro: Multiple Treatment Options for Smooth, Youthful & Beautiful Skin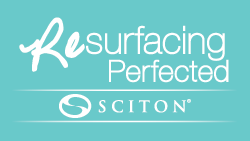 There are few non-surgical skin treatments as effective and versatile as laser therapy. At the Parker Center, we can treat a number of skin conditions, including acne and surgical scars, fine lines and wrinkles, vascular lesions, and sun damage, all with one laser platform, the ScitonPro. In addition to skin resurfacing, we can also help tighten sagging skin, reduce cellulite, and remove unwanted hair.
ProFractional Therapy for Wrinkles, Acne Scars & Age Spots
One of the most popular laser treatments, ProFractional resurfacing, effectively smoothes and diminishes wrinkles, lines, scars, and other blemishes while only disturbing a fraction of the skin's surface in the treatment area. The laser creates a grid of microscopic holes to remove damaged skin and encourage fresh collagen production. It uses a tunable erbium laser, rather than CO2, so it achieves results efficiently without overheating tissues. It's less invasive than other laser options, requires very little downtime, and is safe for most skin types.
Laser Hair Removal
Laser treatments can remove unwanted hair from the face and body, lessening your need to shave, wax or use depilatories to keep the unwanted hair at bay. The laser absorbs melanin in the hair follicle, causing enough heat to damage the hair follicle without harming the surrounding skin. Because our laser can treat many hairs at once, we are able to treat even large areas of unwanted hair. Typically, a 4 to 6 treatment series is enough to remove the hair, leaving the area smooth and hair-free.
BBL Photo Rejuvenation for Redness, Vascular Lesions & More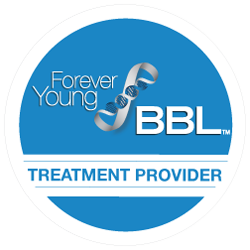 Discolored patches of skin, such as a freckles, age spots, redness and broken capillaries can be greatly diminished with non-ablative resurfacing – light treatments that do not break the skin's surface.
We use specific wavelengths of light energy that dismantle the pigment underneath the skin. After treatment, your skin will be smoother, clearer, and more vibrant, with a more balanced youthful appearance.
Skin Firming & Cellulite Reduction
The ScitonPro also has attachments that allow us to treat sagging skin or lumpy cellulite without the downtime of surgery. By using the CelluSmooth application, we can actually break up the fibrous bands that cause cellulite, followed by treatments to help reduce fat and tighten the skin for smoother, more attractive thighs.
The SkinTyte mechanism uses infrared light to heat the tissue deep underneath the skin, promoting collagen production for firmer, tighter skin. Laser skin tightening is effective for reducing jowling on the lower face, tightening loose skin on the belly, or firming areas anywhere on the body.
Learn More About Your Skin With Visia

Learn More at a Consultation
If you are interested in learning more about your options for non-surgical skin resurfacing, contact us! Dr. Parker will be happy to discuss these and other treatments possible using the ScitonPro laser system at a consultation.
Paul M. Parker, M.D., FACS
Board-Certified Plastic Surgeon
Known for his surgical talent and caring personality, Dr. Parker has been serving the community for over 25 years. He has dedicated his practice to the education, safety, and comfort of his patients—making each one feel as important as family.