Parker Center for Plastic Surgery
122 East Ridgewood Ave
Paramus, NJ 07652
Phone: (201) 967-1212
Monday, Tuesday, Thursday, Friday: 9 a.m.–5 p.m.
Wednesday: 9:00 a.m.–7 p.m.
Saturday: 9 a.m.–2 p.m. (medical spa only)

Neck Contouring
Procedure Snapshot
A graceful neckline is a hallmark of youth. Neck contouring with liposuction or neck lift surgery can remove excess fat or tighten loose, sagging skin & muscles on the neck, helping you look younger or even as though you have lost weight.
Cost & Recovery
Neck lift: $10,035 - $14,720*
Neck liposuction: $5,500 to $6,500*
Patients typically return to normal activity 3 to 4 days after neck liposuction and 10 to 14 days after a neck lift
Quick Facts
Neck lift surgery is usually a standard part of a facelift
Neck liposuction alone can help reduce a double chin by removing excess fat**
Chin augmentation can enhance neck contouring results**
Scars are typically very small and hidden behind the ears or underneath the chin
30,688 patients had neck lift surgery in 2019***
*Refer to our Pricing page for details.
**Results may vary.
*** Statistical information listed here is drawn from 2019 The Aesthetic Society data.
Parker Center for Plastic Surgery
An attractive neck is perceived as very desirable by women and men alike. In its ideal form, an aesthetically pleasing female neck is graceful: a long, slender "swan's" neck with a smooth skin surface and a well-defined jawline and chin. This appearance connotes youth, beauty, and femininity. Fashion designers understand the significance of a beautiful female neck and help draw attention to its appealing contour with their jewelry and clothing.
Dr. Parker performs neck contouring in Paramus to help his patients, who visit from Ridgewood and throughout Bergen County, North New Jersey, and surrounding areas, appear rejuvenated while still looking natural.
Is Neck Contouring Right for Me?
As we age, our skin loses collagen and elastin, which causes the skin to loosen. Not all patients' necks have the same shape, nor do their necks age at the same rate or in the same way. Depending on genetics and other factors, such as weight gain, patients can develop fullness under the chin (a "double chin"). The aging process also causes the platysma muscles to lose their structural support over time. People often say they have developed a "turkey neck" to describe such changes.
Dr. Parker's approach is individualized to each patient to optimize the result of neck contouring. During your consultation, Dr. Parker will listen to your concerns, evaluate the skin and support structures of your face and neck, and discuss the options you have to improve the shape and appearance of your neck.
"I have been a patient for the past 15 years Dr. Parker is a gifted surgeon. And his staff is top notch. I had a face and neck lift 7 weeks ago and I'm beyond thrilled. Thank you Dr. Parker!"

Face and Neck Lift Patient
Do I Need a Neck Lift or Neck Liposuction?
The most common procedures that fall under the umbrella of neck contouring are neck liposuction and platysmaplasty, or "neck lift" surgery. Dr. Parker will help you determine the best approach for you at your consultation. Typically, neck liposuction is excellent for younger patients who have excess fat under the chin but fairly good skin elasticity. Neck lift surgery is often the best approach for patients with loose, hanging skin and muscle laxity.
Can You Tighten the Neck Without Surgery?
Before & After: FaceTite at Parker Center
While surgical lifting and fat removal continue to be the most effective options for addressing severely sagging neck tissues and providing a dramatic improvement, we now have access to incredible non-surgical tightening technologies that are a great option for many patients.
FaceTite is a radiofrequency-assisted lipolysis technology that can be used for targeted tightening of mild to moderate neck sagging and reduction of small areas of fat. By boosting collagen production, remodeling deep tissues, reducing fat, and causing the skin to contract and tighten, FaceTite can delay the need for surgical intervention in patients who aren't quite ready for liposuction or a neck lift. Patients love that FaceTite is an in-office procedure with minimal downtime, barely noticeable scarring, and dramatic improvements after just one treatment. Learn more about FaceTite »
Morpheus8 RF microneedling can be used to address mild to moderate jowls, tighten skin on the neck, and provide a dramatically smoother and firmer skin texture for a naturally youthful look. Morpheus8 is a fantastic option for patients who are specifically concerned by more extensive skin laxity alone (not fat deposits). Learn more about Morpheus8 »
Should I Have a Neck Lift With a Facelift?
Before & After: Neck Contouring*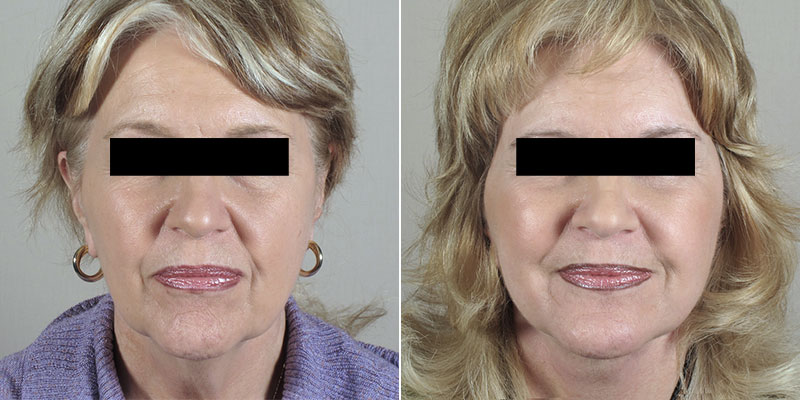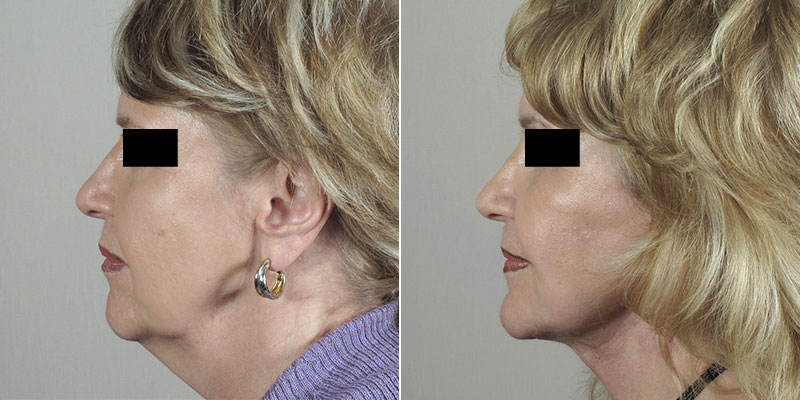 A facelift addresses the lower two thirds of the face and is often combined with a neck lift. During your consultation with Dr. Parker, he will evaluate your face and neck together, then discuss treatment options to address them with either a facelift, neck lift, or both.
Paul M. Parker, M.D., FACS
Board-Certified Plastic Surgeon
Known for his surgical talent and caring personality, Dr. Parker has been serving the community for over 25 years. He has dedicated his practice to the education, safety, and comfort of his patients—making each one feel as important as family.
Can Chin Implants Improve Neck Contouring Results?
Before & After: Neck Liposuction With Chin Augmentation*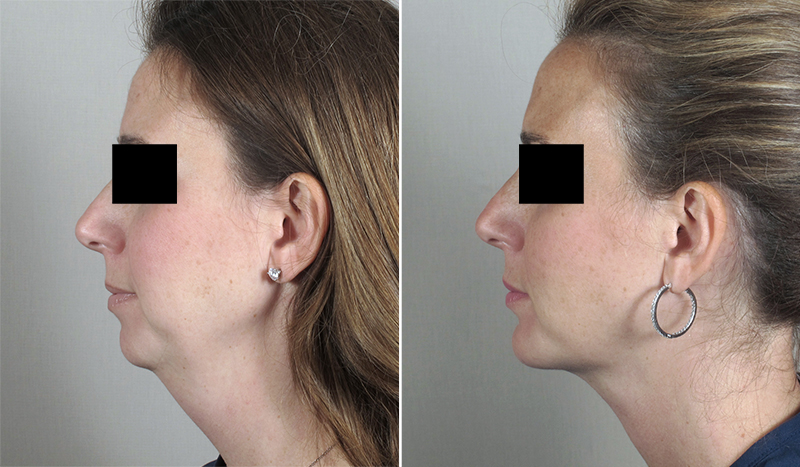 The results of neck contouring can be dramatically enhanced with a chin augmentation. In a patient with a weak chin undergoing liposuction of the neck, a neck lift, or both, Dr. Parker performs a chin augmentation. Using a ¾ inch incision hidden just beneath the chin, Dr. Parker places an extended, tapered silicone chin implant along the jaw. The implant is held in place with sutures and quickly adheres to the jawbone. It looks and feels just like a real chin. It creates a stronger, natural looking chin, which adds to the aesthetics of a cleaner jaw line in a neck contouring patient.
It takes about 20 minutes to perform a chin augmentation. Swelling and discoloration subside within several days. Patients can return to normal activities in three to four days and exercise in 10 to 14 days.
Our Signature
Rapid Recovery Program
Our surgical procedures, anesthesia, medications, and aftercare are tailored to minimize post-operative discomfort and accelerate recuperation.
Learn More
Your Neck Contouring Consultation & Imaging Session
Additionally, our imaging expert will help you see the possibilities with digital photo imaging or Vectra 3D imaging technology, depending on your interests. Patients who are comparing providers often tell us our consults are the most thorough and informative they've ever experienced!
Feel Confident
About Your Procedure
Our cosmetic consultations include plenty of time with Dr. Parker, our patient care coordinator, and our imaging specialist. Once your procedure is booked, our nurse educator will meet with you for a special 1-hour pre-op education session.
Request a Consultation
Your Education Session