Parker Center for Plastic Surgery
122 East Ridgewood Ave
Paramus, NJ 07652
Phone: (201) 967-1212
Monday, Tuesday, Thursday, Friday: 9 a.m.–5 p.m.
Wednesday: 9:00 a.m.–7 p.m.
Saturday: 9 a.m.–2 p.m. (medical spa only)

Abdominoplasty
Procedure Snapshot
This procedure tightens loose or protruding abdominal muscles and sagging, excess skin to create a flatter, tighter, and firmer abdomen.
Cost & Recovery
$13,250 to $17,750*
Depending on the extent of surgery, patients typically return to work after 2 to 3 weeks.
Quick Facts
Abdominoplasty scars can be hidden fairly easily beneath swimsuits or shorts
Liposuction alone can improve abdominal shape for men with good skin & muscle tone
A partial or mini abdominoplasty improves the lower abdomen with a shorter scar and quicker recovery**
3,740 men had abdominoplasty in 2020***
*Refer to our Pricing page for details
**Results may vary
***Statistical information listed here is drawn from 2020 ASPS data
Men come to Parker Center for abdominoplasty (tummy tuck) from Ridgewood and other Bergen County cities and North New Jersey to reclaim their abdominal areas. As they grow older, busy schedules and slower metabolism rates can cause weight gain around the midsection. This can lead to a protruding waistline that is difficult to combat with diet and exercise alone. If this sounds like you, a tummy tuck in Paramus with Dr. Paul Parker could be the best solution.
Parker Center for Plastic Surgery
Page Contents
What Does Abdominoplasty Do?
While the basic goal of an abdominoplasty is to flatten the abdomen, the extent of the procedure will vary depending on the severity of your condition. If you have good skin and muscle tone, a less involved procedure, such as liposuction, BodyTite, or CoolSculpting®, may achieve the results you desire.
If you have excess, sagging skin or a weakened abdominal wall, a mini or full tummy tuck procedure may be necessary. Dr. Parker will help you weigh your options based on his evaluation of your current condition and your personal goals.
Besides the removal of excess fat, abdominoplasty can include:
Removal of excess skin
Smoothing of stretch marks
Tightening of loose abdominal muscles or "abs"
Learn more by visiting our main Tummy Tuck page.
Paul M. Parker, M.D., FACS
Board-Certified Plastic Surgeon
Known for his surgical talent and caring personality, Dr. Parker has been serving the community for over 25 years. He has dedicated his practice to the education, safety, and comfort of his patients—making each one feel as important as family.
Liposuction Alone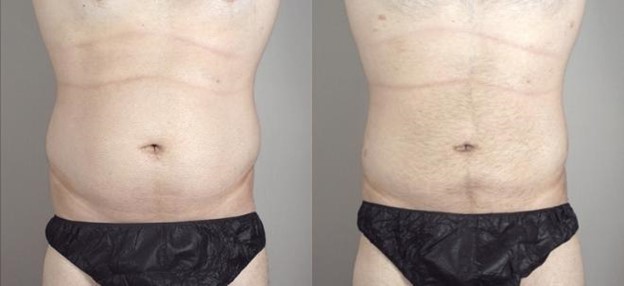 Liposuction alone is used for patients who have excess fat in the abdominal region, but also have good skin elasticity and muscle tone. When the patient has mild to moderate skin laxity, BodyTite can often be used to tighten the skin after the fat is removed with liposuction. In some cases, BodyTite is enough to address the excess fat and tighten the skin.
Abdominal liposuction is performed with local anesthesia and intravenous sedation. Dr. Parker makes 3 tiny incisions: 2 in the pubic hair area and 1 inside the navel. It takes about 1 to 2 hours to complete the procedure.
Abdominal Liposuction Recovery
Patients who undergo liposuction recover quickly.
The abdomen may be somewhat sore for the first 3 to 4 days
You will need to wear an abdominal binder
You should be able to move about on the day of surgery
You can usually return to full activities within a week
Exercise may begin in 2 weeks
Our Signature
Rapid Recovery Program
Our surgical procedures, anesthesia, medications, and aftercare are tailored to minimize post-operative discomfort and accelerate recuperation.
Learn More
Mini Abdominoplasty
If you have muscle laxity and limited amounts of extra skin in the lower abdomen, you could be a good candidate for mini abdominoplasty. Patients with a moderate amount of stretched skin and no muscle laxity can often get the improvements they want from the minimally invasive BodyTite procedure.
Mini abdominoplasty is performed with local anesthesia and intravenous sedation, and surgery time ranges from 1 to 2 hours. Dr. Parker will make a low horizontal incision, just above the pubic bone. He will remove fat and excess skin and tighten the underlying muscles. You can be discharged within one hour after surgery to continue your recovery at home.
Mini Tummy Tuck Recovery
You'll need to wear an abdominal binder to minimize swelling & keep the area tight
There is slightly more pain compared to liposuction alone because of the muscle-tightening component
Pain medication can be used to minimize discomfort
The sutures will dissolve on their own
Regular activity can be resumed after 2 weeks
Complete Abdominoplasty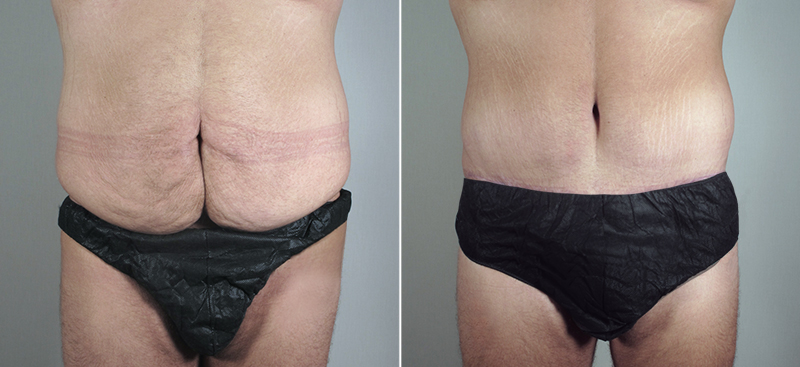 A complete abdominoplasty allows for maximum removal of excess skin and fat, and for tightening of the lax "abs" along their entire length. This procedure option is common for men following massive weight loss.
Complete abdominoplasty is the most uncomfortable of the three methods due to the extent of muscle tightening, but the rewards of a flatter, firmer abdomen, such as fitting into clothing more comfortably and enhanced self-confidence, are worth the recovery for many men.
Complete abdominoplasty is performed under general anesthesia and takes 2½ to 3½ hours. The main incision is similar to that for a mini abdominoplasty, but is longer in that the outer ends curve up to the hip bones. This incision is designed so that it is hidden by swimwear. A second small incision is also made encircling the navel. These incisions are used to remove the fat and skin and tighten the rectus abdominus muscles
Complete Abdominoplasty Recovery
Patients will need to be monitored overnight in our aftercare facility or in the comfort of their own homes by a private duty nurse.
An abdominal binder is applied several days after surgery and worn for approximately two weeks.
Though the scars are permanent, they usually fade within the first year of surgery.
The pain during recovery can be relieved by our pain management protocol. The addition of a pain pump, which slowly infuses local anesthesia into the operative area for three days, significantly reduces pain.
You can begin walking the day after surgery and can resume normal activities within 7 to 10 days.
Light exercise can often begin at two weeks and return to full exercise at 6 weeks.
Combination Procedures
Male tummy tuck procedures can also be combined with other plastic surgery procedures, including:
Liposuction of the abdomen, waist, flanks (love handles), and back—called lipo abdominoplasty 360
The results of these procedures are spectacular for many men, as they greatly improve overall appearance and self-esteem. Our patients have told us time and time again that overall results are well worth it.
Feel Confident
About Your Procedure
Our cosmetic consultations include plenty of time with Dr. Parker, our patient care coordinator, and our imaging specialist. Once your procedure is booked, our nurse educator will meet with you for a special 1-hour pre-op education session.
Request a Consultation
Your Education Session
To learn more about the liposuction procedure, read about our consultation process. If you have further questions or comments, please contact us.