Parker Center for Plastic Surgery
122 East Ridgewood Ave
Paramus, NJ 07652
Phone: (201) 967-1212
Monday, Tuesday, Thursday, Friday: 9 a.m.–5 p.m.
Wednesday: 9:00 a.m.–7 p.m.
Saturday: 9 a.m.–2 p.m. (medical spa only)

Fat Injections
Procedure Snapshot
Also called a fat transfer, this two-step procedure involves liposuction to remove fat from one area of your body, which is then re-injected to restore lost facial volume or to enhance body contours.
Cost & Recovery
$6,495 to $7,095*
Recovery time varies depending on the nature and location of the procedure and the amount of fat transferred.
Quick Facts
Since your own fat is used, results feel completely natural**
Dr. Parker performs all fat transfer procedures at Parker Center
A fine needle is used to re-inject the fat, so there are no scars in the area of injection**
43,177 patients had facial fat injections in 2019***
*Refer to our Pricing page for details
**Results may vary
***Statistical information listed here is drawn from 2019 The Aesthetic Society data
Fat Injection

Before & After Photos
WARNING:
This feature contains nudity. Please click OK to confirm you are at least 18 years of age and are not offended by such material.
Removing fat from one part of your body and injecting it to another is called fat injection. It is also known by a number of other terms: autologous fat grafting, fat transfer, fat re-injection, microfat grafting, micro-lipoinjection, structural fat grafting, and lipostructure. In Paramus, NJ, Dr. Parker performs all autologous fat injection procedures at Parker Center for his patients from Ridgewood and throughout Bergen County, North New Jersey, and surrounding areas.
Page Contents
The Fat Transfer Procedure
During treatment, Dr. Parker will liposuction fat from one part of your body, purify it and then re-inject it into your subcutaneous and/ or muscle layers to increase volume in that area. In the face, fat is injected into the cheeks, nasolabial folds, marionette lines, hollows above and below the eyes, and along the jawline and chin. It can also be used for nose reshaping.
Before & After: Fat Injections to the Face*
Paul M. Parker, M.D., FACS
Board-Certified Plastic Surgeon
Known for his surgical talent and caring personality, Dr. Parker has been serving the community for over 35 years. He has dedicated his practice to the education, safety, and comfort of his patients—making each one feel as important as family.
Fat Injections for Body Contouring
In the body, fat is injected into the buttocks and for correction of liposuction irregularities, chest contouring, hand rejuvenation, and the correction of scars. A fat transfer is also surgical technique Dr. Parker uses during a Brazilian butt lift procedure. Fat grafting has recently been performed by some plastic surgeons in the breasts, but its use in this area remains controversial at this point.
Before & After: Fat Injections for Scar Treatment*

Before & 11 Years After: Fat Injections to the Buttocks*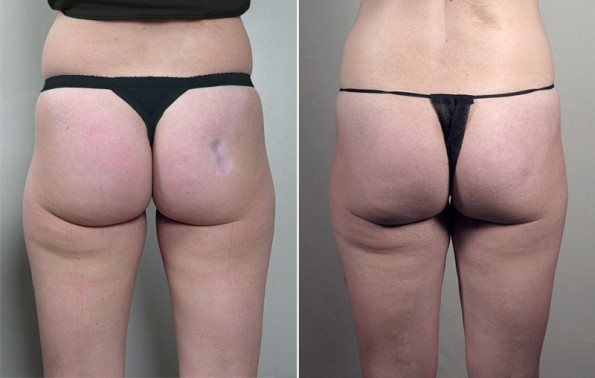 Fat Injections With Facelift Surgery
Dr. Parker will often include fat grafting as part of a standard facelift procedure. This allows him to restore youthful volume & help smooth facial contours without over-tightening the skin. Using fat instead of temporary fillers means the patient does not have to return every few months for re-treatment.
Before & After: Fat Injections With Facelift*

Feel Confident
About Your Procedure
Our cosmetic consultations include plenty of time with Dr. Parker, our patient care coordinator, and our imaging specialist. Once your procedure is booked, our nurse educator will meet with you for a special 1-hour pre-op education session.
Request a Consultation
Your Education Session
Hand Rejuvenation
Dr. Parker also uses fat grafting for hand rejuvenation. He feels that autologous fat transfer achieves the most natural results, which can last for many years. He skillfully injects very precise amounts of purified fat to restore lost volume to thin, aging hands.
Before & After: Hand Rejuvenation With Fat Transfer*

Our Signature
Rapid Recovery Program
Our surgical procedures, anesthesia, medications, and aftercare are tailored to minimize post-operative discomfort and accelerate recuperation.
Learn More