Parker Center for Plastic Surgery
122 East Ridgewood Ave
Paramus, NJ 07652
Phone: (201) 967-1212
Monday, Tuesday, Thursday, Friday: 9 a.m.–5 p.m.
Wednesday: 9:00 a.m.–7 p.m.
Saturday: 9 a.m.–2 p.m. (medical spa only)

BodyTite
Procedure Snapshot
BodyTite is a minimally invasive skin tightening and fat reduction procedure for patients from Hackensack, Ridgewood, Mahwah, and Somerset, NJ, who want to improve their contours on larger areas such as the abdomen, chest, back, and thighs.
Cost & Recovery
$8,145 to $11,796*
Patients are typically ready to return to regular daily activities within 1 to 3 days
Quick Facts
BodyTite uses bipolar RF energy for thorough, rapid results.
FaceTite and AccuTite are smaller versions of the BodyTite applicator used for the face and delicate areas.
May be used instead of a tummy tuck in patients with mild to moderate skin laxity and good abdominal muscle tone.**
Can be combined with liposuction for minimally invasive skin tightening.**
*Refer to our Pricing page for details.
**Results may vary.
BodyTite Before & After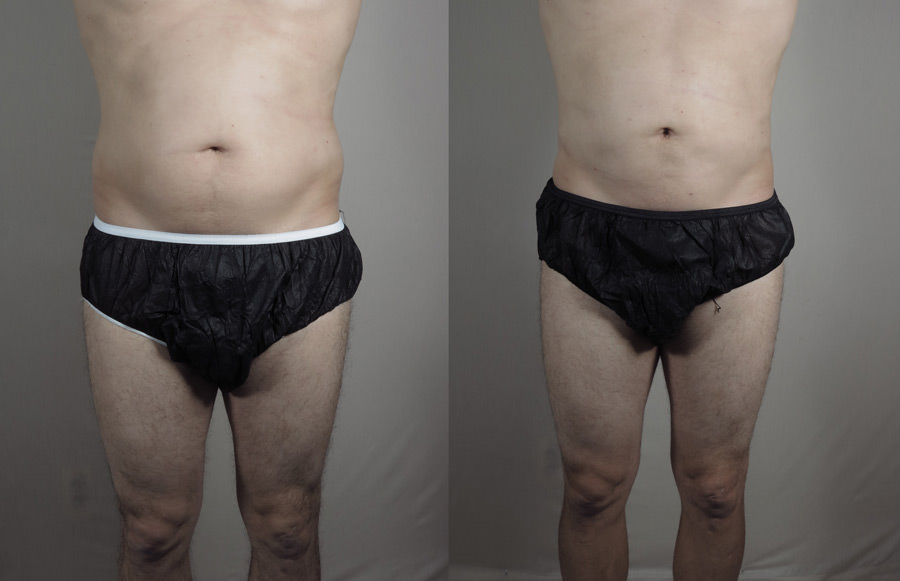 Minimally Invasive Fat Reduction Plus Skin Tightening in One Quick Procedure
When we envision losing fat, be it through diet and exercise or liposuction, we also envision smooth, firm body contours. Achieving this goal requires both fat reduction and skin tightening. With FDA-cleared BodyTite in Paramus, New Jersey, at Parker Center for Plastic Surgery, we help people from Ridgewood and throughout Bergen County, North New Jersey, and surrounding areas achieve both in a single minimally invasive procedure with little to no downtime.
Page Contents
What Is BodyTite?
BodyTite uses focused radiofrequency (RF) energy to melt fat and stimulate the body to form collagen, resulting in skin tightening. While there are other RF devices available, BodyTite (along with its smaller probe siblings, FaceTite and AccuTite, used for smaller treatment areas) is unique in its bipolar system that applies RF energy above and below the skin, resulting in more thorough body reshaping.
Paul M. Parker, M.D., FACS
Board-Certified Plastic Surgeon
Known for his surgical talent and caring personality, Dr. Parker has been serving the community for over 25 years. He has dedicated his practice to the education, safety, and comfort of his patients—making each one feel as important as family.
What Are the Benefits of BodyTite?
BodyTite is useful nearly anywhere on the body, including the abdomen, arms, chest, back, hips, knees, and thighs. It offers a variety of benefits, which include:
Reduces fat and tightens skin with one procedure
Involves local anesthesia only
Requires minimal downtime—most patients need 3 days or fewer
Virtually scarless
Provides desired results with a single treatment in most cases
How Much Does BodyTite Cost in Paramus, NJ?
The cost for a BodyTite procedure at our Paramus, New Jersey, practice ranges from $8,145 to $11,796, depending on the specific treatment areas. Visit our Pricing page for details. You will be given a personalized cost estimate during your consultation with Dr. Parker.
How Does BodyTite Work?
Dr. Parker will first numb the treatment area with a local anesthetic just before employing the BodyTite bipolar treatment applicator. This applicator consists of a very thin probe inserted underneath the skin and an external RF transmitter that is run along the skin of the area being treated. RF energy is emitted between the internal probe and the external transmitter. The sophisticated BodyTite instrumentation monitors the internal and external temperatures, allowing precise heating of the tissues beneath the skin. The RF energy melts fat, induces immediate skin contraction, and stimulates the body to form collagen for several months after the procedure is finished.
Here at Parker Center, we have all the latest technology to customize your treatment, including:
BodyTite for larger areas.
FaceTite for the cheeks, jawline, and neck.
AccuTite, the smallest FDA-cleared radiofrequency device on the market, allows us to safely and accurately tighten skin and treat small and delicate areas, such as around the knees, between the breasts, and around the underarms.
Feel Confident
About Your Procedure
Our cosmetic consultations include plenty of time with Dr. Parker, our patient care coordinator, and our imaging specialist. Once your procedure is booked, our nurse educator will meet with you for a special 1-hour pre-op education session.
Request a Consultation
Your Education Session
What Is Recovery Like After BodyTite?
Patients typically experience some relatively minor discomfort, swelling, and little bruising in the treatment areas. A compression garment is worn for a variable period of time depending on the area being treated and patient needs. Dr. Parker will discuss this with you at the time of your consultation. Patients are up and walking the day of surgery, can shower the next day, and are ready to return to activities of daily living within 1 to 3 days.
How Long Does It Take To See BodyTite Results?
Results are often visible shortly after BodyTite, and they continue to improve over the next 3 to 6 months as skin contracts to your slimmer contours and new collagen is produced.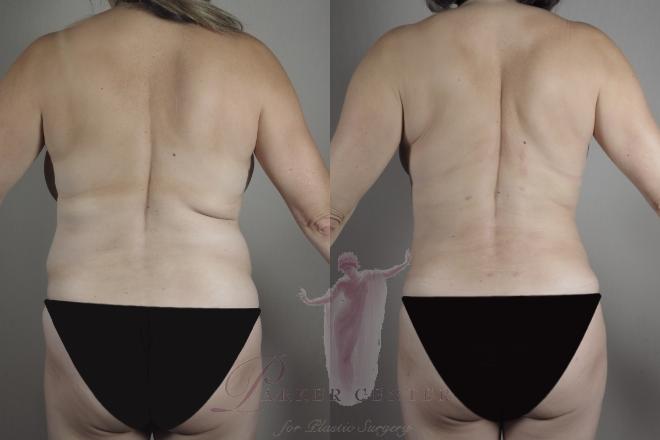 Is BodyTite Permanent?
Results from BodyTite should last as long as you maintain your weight and lead a healthy lifestyle.
Is BodyTite a Type of Liposuction?
While BodyTite does reduce fat, it is mainly a skin tightening procedure. Here is how they compare:
Liposuction is excellent for reshaping multiple areas, reducing larger amounts of fat, and sculpting a feature in detail. However, liposuction cannot tighten skin—and in some cases removing fat can actually make stretched skin look worse. Liposuction also usually requires general anesthesia and several days of downtime to recover. While Dr. Parker takes care to place liposuction incisions where they are not easy to see and scars usually fade significantly, liposuction does leave a small scar.
BodyTite offers an alternative to liposuction for patients who want to reduce fat but have less-than-perfect skin elasticity. In fact, for patients seeking a modest fat reduction, BodyTite can be a better option than liposuction. It can be done with local anesthesia, and most patients need only a day or two of downtime.
Our Signature
Rapid Recovery Program
Our surgical procedures, anesthesia, medications, and aftercare are tailored to minimize post-operative discomfort and accelerate recuperation.
Learn More
Take the Next Step
If you would like to firm, slim, and tone—and you're having a hard time doing it with diet and exercise alone, we'd love to help you understand what's possible with BodyTite. Request a personal consultation at Parker Center using our online form or call us at (201) 967-1212.