Parker Center for Plastic Surgery
122 East Ridgewood Ave
Paramus, NJ 07652
Phone: (201) 967-1212
Monday, Wednesday, Friday: 9 a.m.–5 p.m.
Tuesday, Thursday: 9:00 a.m.–7 p.m.
Saturday: 9 a.m.–2 p.m. (medical spa only)

BOTOX® & Jeuveau®
Procedure Snapshot
In Paramus, injectable neurotoxins including BOTOX and Jeuveau are the #1 nonsurgical cosmetic treatment with people from Hackensack, Ridgewood, and Mahwah, NJ, and other nearby cities. It's no wonder: these simple injections are famously good at smoothing lines and wrinkles formed by facial movements, called dynamic wrinkles, that unfairly age our faces.
Cost & Recovery
BOTOX: $16 per unit*
No downtime needed. Patients can return to most activities immediately.
Quick Facts
These wrinkle relaxers all offer quick treatments with no downtime.
Results last 3 to 4 months on average.
Neurotoxins have been the #1 aesthetic procedure performed by plastic surgeons since 1999.**
4,401,536 neurotoxin treatments were performed in 2020.**
*Refer to our Pricing page for details.
**Statistical information listed here is drawn from 2020 American Society of Plastic Surgeons® data.
Nonsurgical Face Procedures

Before & After Photos

Before & After
Case #90
This 60 year old patient was first referred to Dr. Parker 3 years ago by her primary care physician with concerns about the heaviness of her upper eyelids. Dr. Parker performed an upper lid blepharoplasty on the patient to remove her excess skin and a small amount of herniated fat. She healed well after the surgery. She returned 3 years later...
Read More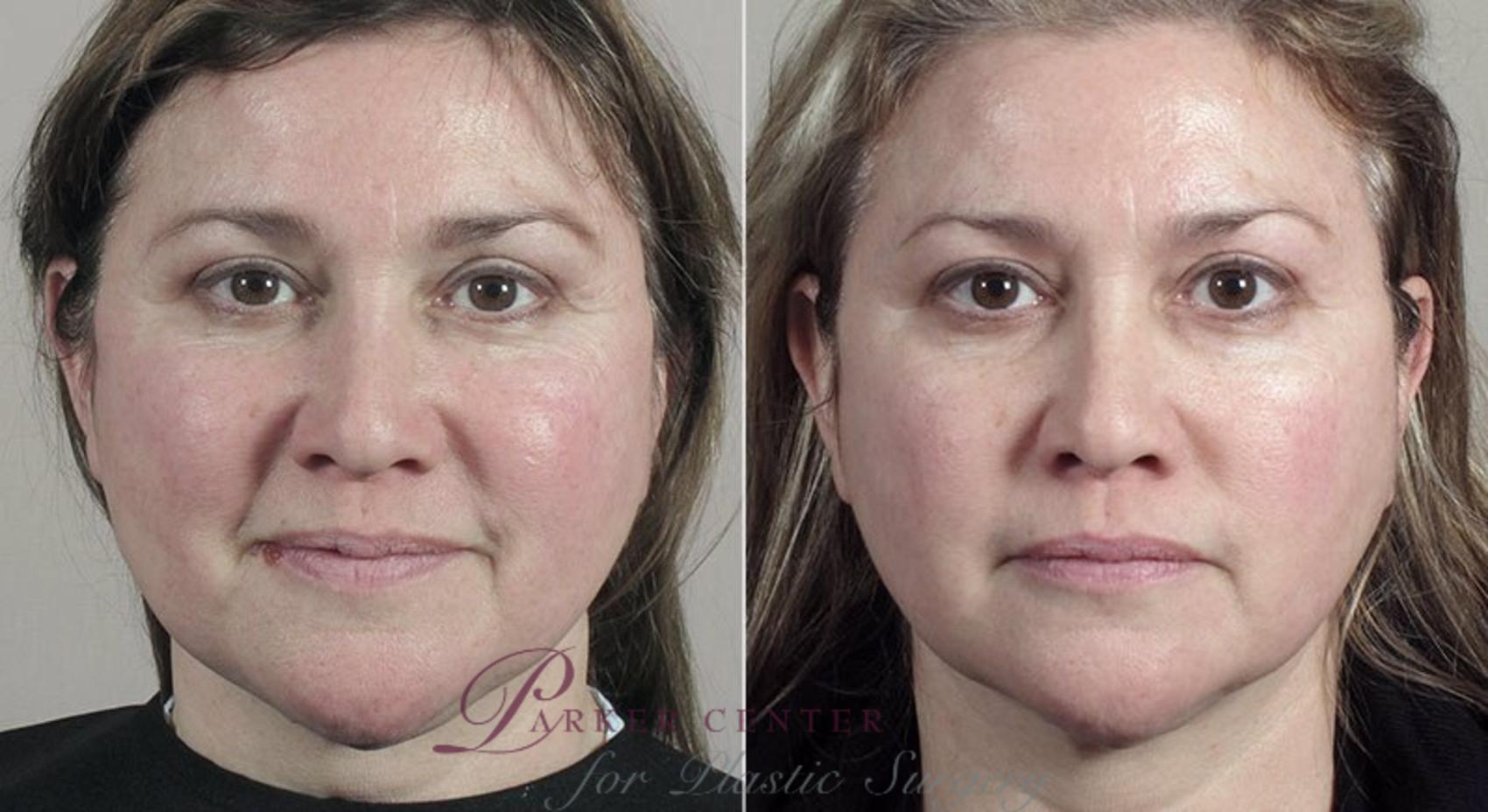 Before & After
Case #324
Patient images shown 6 months post Halo treatment and 3 months post Ulthera treatment.

Before & After
Case #267
This 41 year old patient was bothered by wrinkling of her forehead, glabella (area between the eyebrows) and crow's feet areas. Dr. Parker injected Botox into those areas with a nice, natural improvement.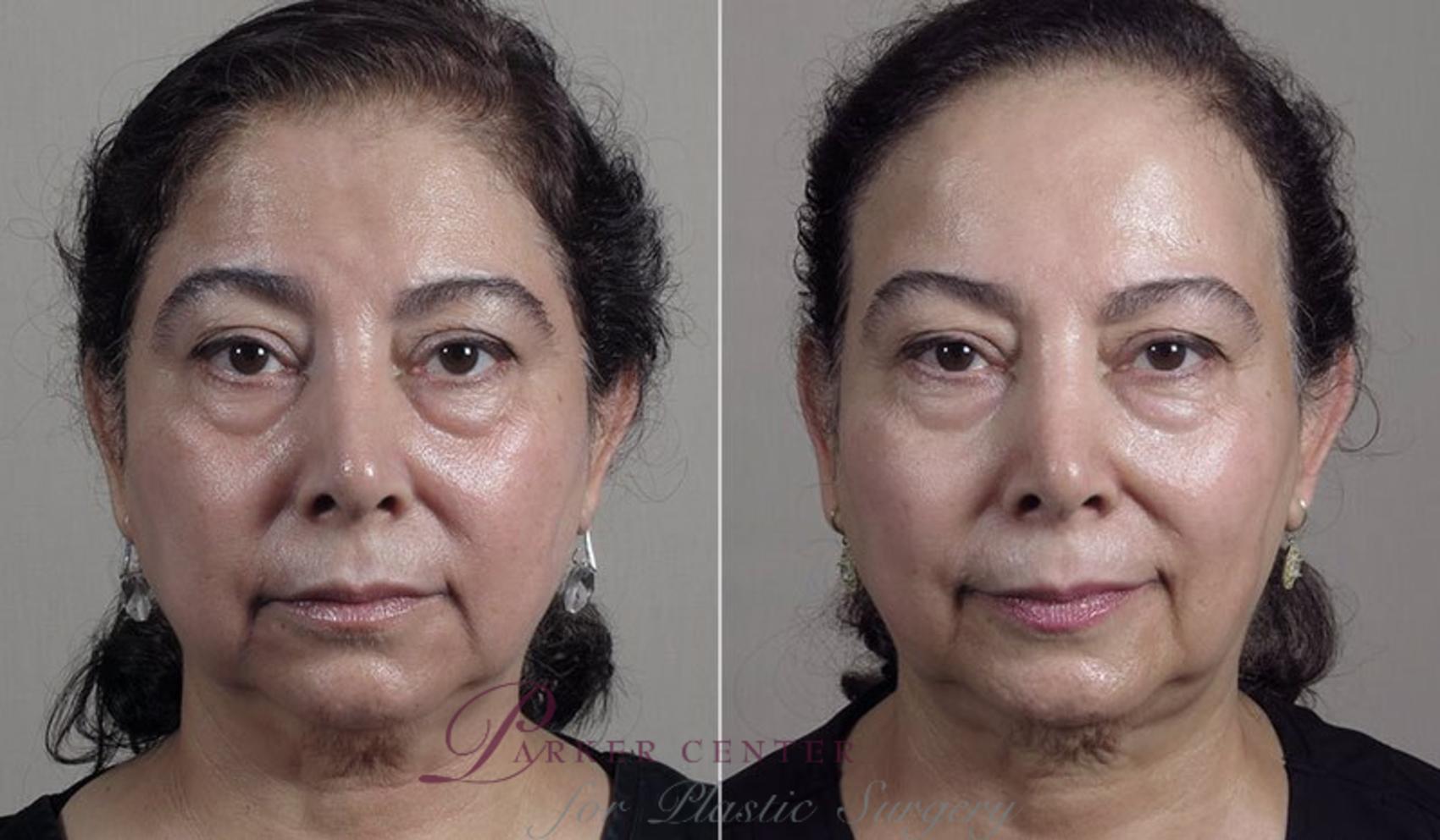 Before & After
Case #344
2 years post Infini RF microneedling procedure.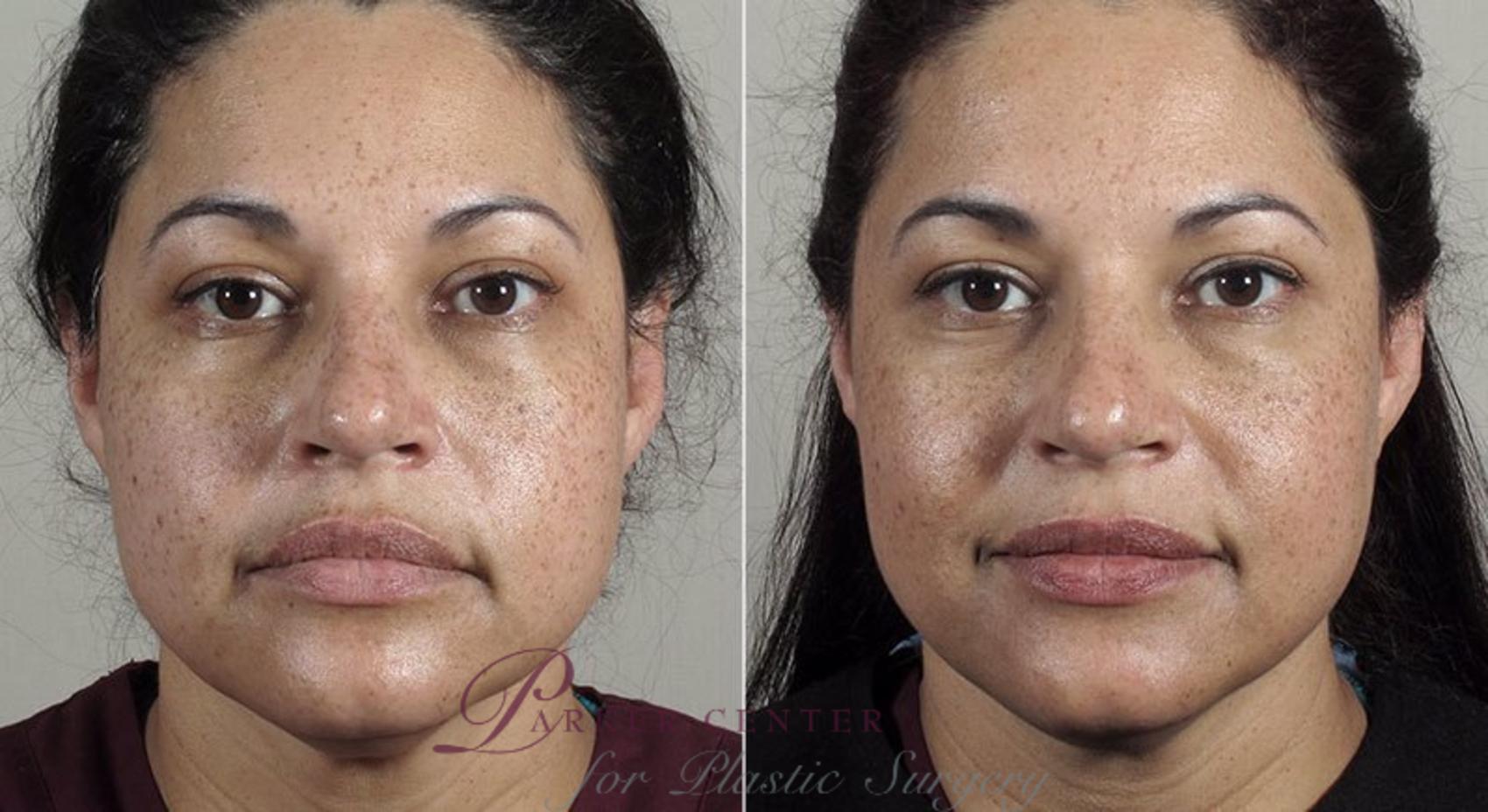 Before & After
Case #309
I wanted to try Halo to treat my skin pigmentation. I used lidocaine cream to prepare for the treatment, which took about 50 minutes. The treatment felt like light zapping on my skin, and it took a few minutes for my face to cool. After treatment, I just tried to stay hydrated and keep out of the sun. I looked like I had a slight sunburn for...
Read More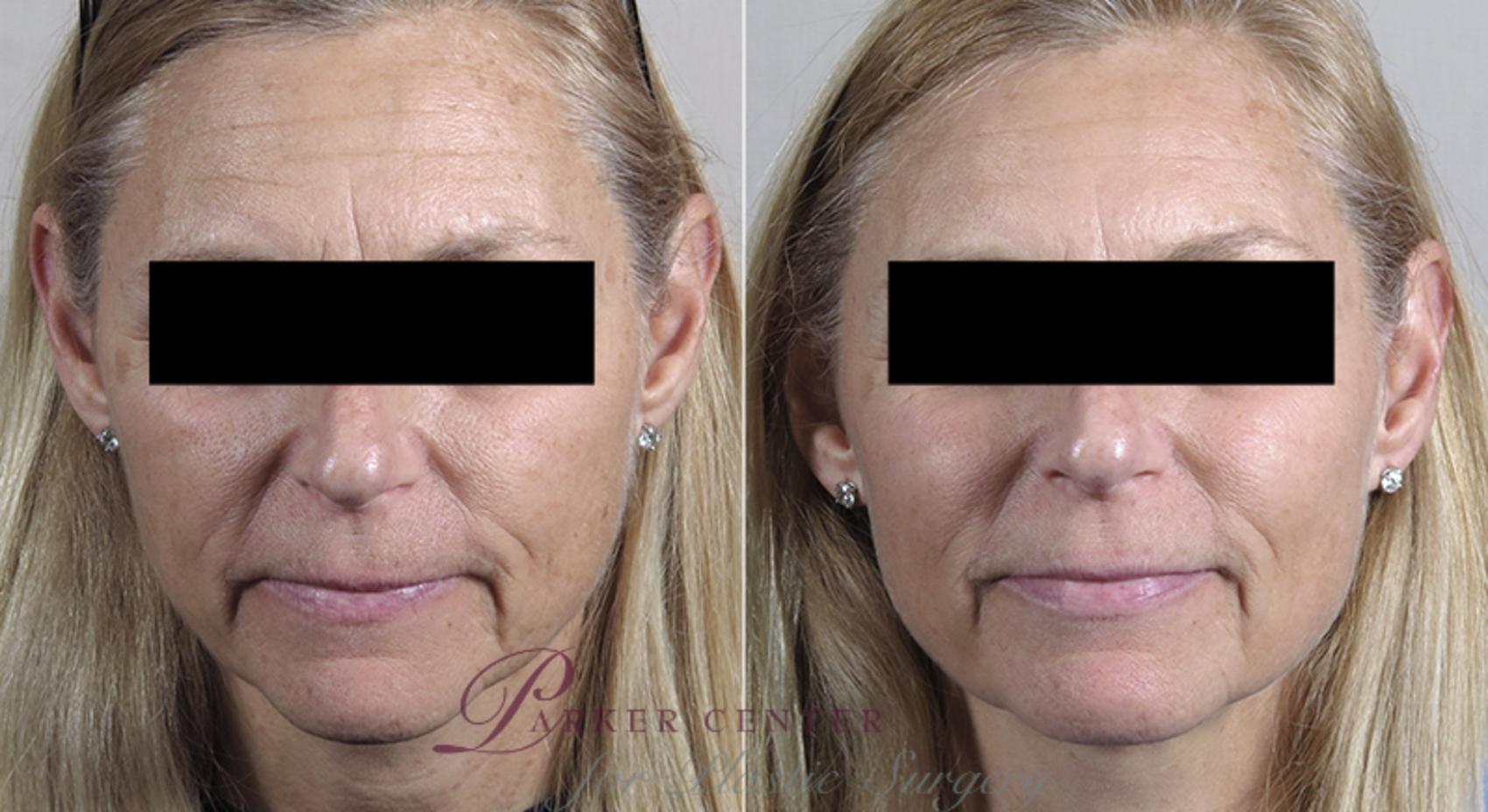 Before & After
Case #340
This patient had a Broadband light treatment on her face.  After Photos shown 3 weeks post treatment.

Before & After
Case #321
*Patient Story coming soon!

Before & After
Keep in mind that each patient is unique and your results may vary.
Parker Center for Plastic Surgery
How Do Neurotoxins Like BOTOX Work?
BOTOX and Jeuveau are all injectable neurotoxins made with purified botulinum toxin type A, but in different formulations (think Pepsi and Coke). When injected, they treat wrinkles by temporarily blocking nerve pulses in facial muscles, allowing them to relax.
How Much Does BOTOX Cosmetic Cost in New Jersey?
At Parker Center in Paramus, NJ, BOTOX treatments are priced by the number of units injected—with each unit costing $16. Because the number of units needed varies for each patient and treatment area, we cannot provide specific pricing on our website. We encourage you to come in for a consultation during which you will receive a personalized price quote.
Paul M. Parker, M.D., FACS
Board-Certified Plastic Surgeon
Known for his surgical talent and caring personality, Dr. Parker has been serving the community for over 25 years. He has dedicated his practice to the education, safety, and comfort of his patients—making each one feel as important as family.
What Are the Benefits of Neurotoxins Like BOTOX?
Women and men often choose these injectables to treat the following concerns:
Horizontal forehead lines
Frown lines between the eyebrows (called the glabella)
Crow's feet around the outer corners of the eyes
Additional benefits of neurotoxin injections include:
Softening vertical lines around the lips
Elevating the corners of the mouth
Smoothing out dimpling of the chin (cobblestoning)
Correcting vertical muscle bands in the neck
Can BOTOX Be Used for a Nonsurgical Brow Lift?
Yes. Precise injections of one of these neurotoxins into the muscles beneath the outer aspect of a drooping eyebrow will relax these muscles. This results in "lifting" the eyebrow's outer aspect and is sometimes referred to as a nonsurgical brow lift. Results are impressive but not as dramatic as a surgical brow lift.
Feel Confident
About Your Procedure
Our cosmetic consultations include plenty of time with Dr. Parker, our patient care coordinator, and our imaging specialist. Once your procedure is booked, our nurse educator will meet with you for a special 1-hour pre-op education session.
Request a Consultation
Your Education Session
Is Jeuveau Better Than BOTOX?
The main difference between Jeuveau and BOTOX (and other BOTOX alternatives) is the formulation of the botulinum toxin. Jeuveau (prabotulinumtoxinA-xvfs) is purified using a unique, proprietary Hi-Pure™ Technology. It is also vacuum dried rather than freeze-dried, which is thought to reduce the breakdown of proteins in the product and preserve more of the active ingredients. Additionally, while BOTOX is FDA approved to treat a variety of concerns such as excessive sweating, Jeuveau was designed solely as a cosmetic medication.
In the end, Jeuveau and BOTOX work almost exactly the same for treating expression lines, although we do see a slight variation in results for certain patients.
BOTOX vs. Dermal Fillers
While both BOTOX and dermal fillers are injectable treatments used to treat wrinkles, they work differently and offer different benefits.
How They Work
BOTOX smooths out wrinkles by preventing the associated facial muscles from contracting and creasing the skin.
Fillers add or restore volume beneath the skin.
Benefits of BOTOX & Fillers
BOTOX corrects dynamic wrinkles, relaxes vertical neck bands, enhances the upper lip (lip flip), and lifts sagging brows.
Fillers smooth out smile lines (nasolabial folds), fill in hollows under the eyes and in the temples, add volume to the cheeks and jawline, and plump up the lips.
See Results
BOTOX results begin in about 3 to 5 days and continue for about 10 days.
Filler results begin right after treatment.
Duration of Results
BOTOX results last 3 to 5 months.
Filler results last 6 months to 2 years depending on the treatment area and product used.
Many people benefit from a combination of BOTOX and fillers, which can be performed during the same appointment.
Can You Get BOTOX and Fillers at the Same Time?
BOTOX and other neurotoxins can be used alone or in conjunction with dermal fillers like JUVÉDERM. This combination of injectables has come to be referred to as a "liquid facelift." For example, neurotoxin injectables can be used along with fillers to treat static and dynamic deep vertical lines between the eyebrows.
What Are Neurotoxin Treatments Like?
During a thorough face and skin evaluation, our nurse injector Angela Parisi will determine the number and location of injections needed for your treatment, as well as the best product to fit your needs. Angela has over 21 years of experience working directly with patients at Parker Center, and she has specific training in performing cosmetic injections of neurotoxins as well as dermal fillers.
After reviewing your goals and numbing the area with ice, Angela will inject small amounts of neurotoxin into the specific muscles responsible for your concerns. Treatment takes about 10 to 15 minutes in total.
When Will I See Results From My BOTOX or Other Neurotoxin Treatment?
Results begin to show at different times depending on the particular neurotoxin injected. Here are approximate times listed from earliest to latest:
BOTOX: 3 to 5 days
Jeuveau 3 to 5 days
Regardless of when they start appearing, final results for all neurotoxins are typically reached 2 weeks after treatment. If you are planning treatment in preparation for a special event, we recommend scheduling your neurotoxin treatment at least 1 to 2 weeks in advance.
How Long Do BOTOX and Other Neurotoxins Last?
None of the neurotoxins provide permanent results. All last a similar amount of time, approximately 3 to 4 months before gradually fading. Scheduling follow-up treatments in this time window or as necessary when you notice your concerns forming again can help you maintain your results.
Are BOTOX and Other Neurotoxins Safe?
The FDA approved BOTOX in 2002 and Jeuveau in 2019 as cosmetic treatments to correct visible signs of stress and aging. Millions of people undergo these treatments every year. Very few of our patients have had side effects from any of these treatments. Occasionally, patients will report a headache after treatment or slight, temporary bruising that goes away in a few days. More rarely, there can be a slight drooping of an eyelid or asymmetry.
Contact Us for a Cosmetic Consultation
To visit Parker Center in Paramus, New Jersey, for BOTOX, Jeuveau, and other neurotoxins, request a personal consultation using our online form or call us at (201) 967-1212.