Parker Center for Plastic Surgery
122 East Ridgewood Ave
Paramus, NJ 07652
Phone: (201) 967-1212
Monday, Tuesday, Thursday, Friday: 9 a.m.–5 p.m.
Wednesday: 9:00 a.m.–7 p.m.
Saturday: 9 a.m.–2 p.m. (medical spa only)

Dr. Parker Serves as Plastic Surgery Expert
Dr. Parker serves as a plastic surgery expert in Be Your Best: A Comprehensive Guide to Aesthetic Plastic Surgery.
Expert advice on all aspects of cosmetic plastic surgery from the nation's leading authorities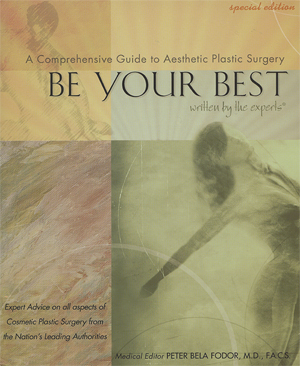 Selected by the Consumers Research Council of America and named one of "America's Top Doctors" by Castle Connolly, Dr. Parker serves as the Medical Director of the Parker Center for Plastic Surgery in Paramus, New Jersey. Specializing for over 20 years in surgical and nonsurgical procedures of the face, breast, and body, he has received numerous awards for his generosity and charitable surgeries.
Dr. Parker is certified by the American Board of Plastic Surgery, a member of the American Society of Plastic Surgeons and the American Society for Aesthetic Plastic Surgery, and a Fellow of the American College of Surgeons.
"I try to use minimal incisions whenever I can," says Paul M. Parker, MD, of Paramus, New Jersey. "The best way to achieve a natural-looking result is by restoring volume, moving fat from where it is now to where it should be, or where it used to be. Recently I had a patient who said that she had chosen not to tell her coworkers about her surgery, and they really couldn't tell. She said that they think she's lost weight, or changed her hairstyle, or just gotten more rest. She just looks better – rejuvenated – and they don't know why. I consider that a success."
"Whether a patient needs an augmentation, a mastopexy (breast lift), or both depends on a variety of factors, the patient's goals being primary among them," offers Paul M. Parker, MD, of Paramus, New Jersey. "When I see patients in consultation and do an examination, I try to get a sense from them of how much volume they have, how much they had when they were younger, and how much they're seeking. I want a clear understanding of their goals, and then we talk about how to achieve them. I don't just describe the different techniques and possibilities; I get the patient involved. We use computer imaging to convey visually what they might look like and show them PowerPoint presentations of similar patients to see the results of a lift, augmentation, or both. Then we work out a plan together."
"We have always counseled body contouring patients about diet and exercise," says Paul M. Parker, MD, of Paramus, New Jersey. "We have a personal trainer design a specific plan for each patient, which they can carry out under supervision in our own gym. This is great for helping them reach their best body weight and condition prior to surgery, and ideal for helping them maintain the good results they've achieved."
Paul M. Parker, M.D., FACS
Board-Certified Plastic Surgeon
Known for his surgical talent and caring personality, Dr. Parker has been serving the community for over 25 years. He has dedicated his practice to the education, safety, and comfort of his patients—making each one feel as important as family.