Parker Center for Plastic Surgery
122 East Ridgewood Ave
Paramus, NJ 07652
Phone: (201) 967-1212
Monday, Tuesday, Thursday, Friday: 9 a.m.–5 p.m.
Wednesday: 9:00 a.m.–7 p.m.
Saturday: 9 a.m.–2 p.m. (medical spa only)

Lip Lift
Procedure Snapshot
If your upper lip is too long, thin, or saggy, a lip lift can improve these issues and create a more balanced upper lip. The Parker Center offers lip lift procedures for men and women in Paramus, NJ, who want to elevate and add fullness to their upper lip.
Cost & Recovery
$7,585 to $8,585* 
Typically, stitches are removed 5 to 6 days after surgery, but patients can return to regular activities within a few days.
Quick Facts
A lip lift can enhance the vermillion border of your lips and allow you to show more teeth when you smile.
If you prefer a non-surgical option, a BOTOX® Cosmetic lip flip makes your upper lip look subtly fuller and poutier.
 
More than 34,000 people had lip augmentation surgery, including lip lifts, in 2020.**
Refer to our [link pid="228"]Pricing Page[/link] for details.
**Statistical information listed here is drawn from 2020 The Aesthetic Society data.
Lip Lift

Before & After Photos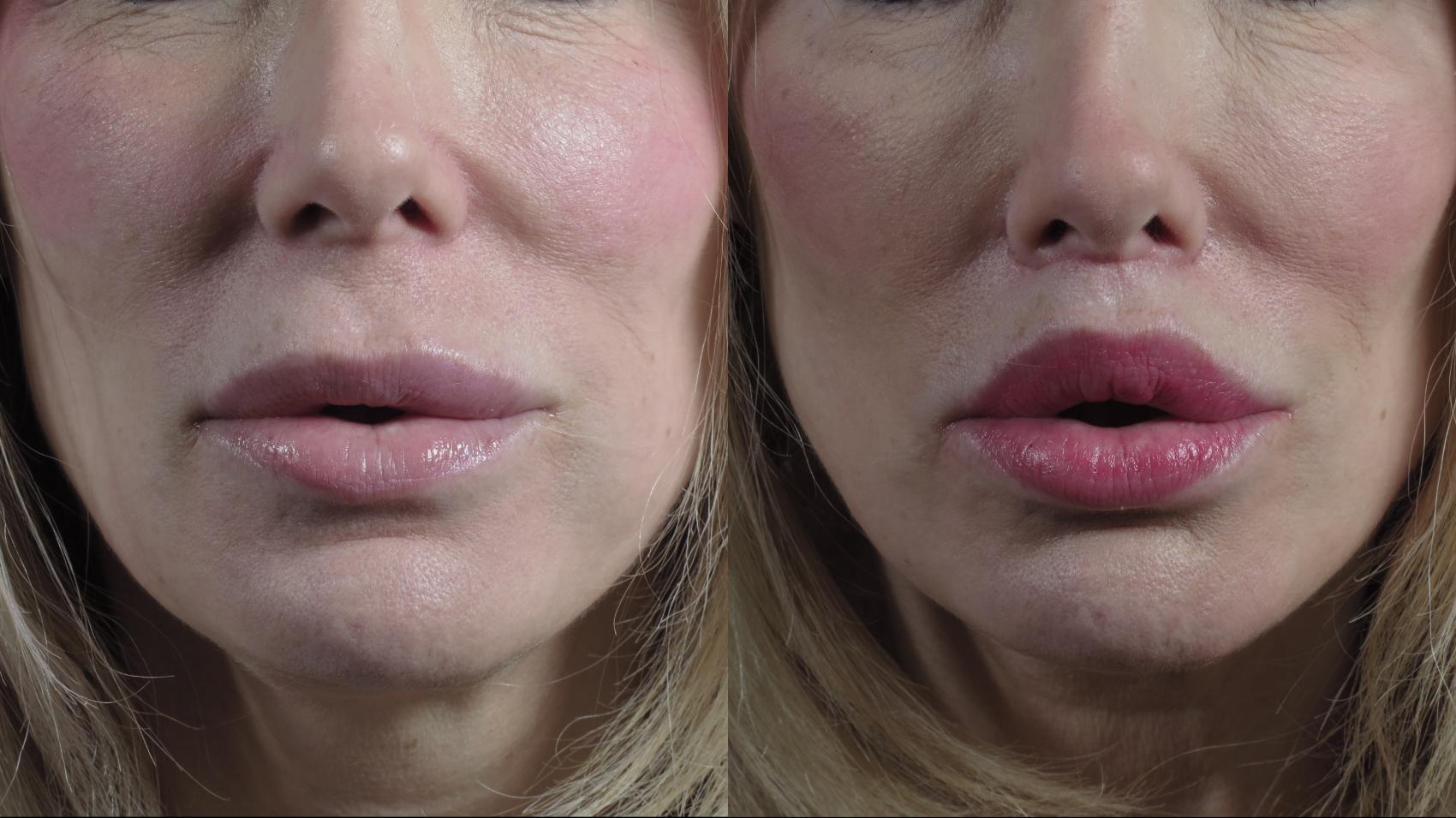 Before & After
Case #1230
This 61 year old requested a lip lift to help rejuvenate her peri oral area. She said her lip has progressively lengthened as she has gotten older, making her look older than she feels. Looking in a mirror, Dr. Parker had the patient lift her lip to the desired height and measured the precise amount of skin to be removed to raise the lip to t...
Read More
Before & After
Case #1279
This 72 year old very energetic patient asked Dr. Parker to perform a lip lift to help rejuvenate this area which has lengthened over time and makes the patient look older than she feels. Dr. Parker had the patient look into a mirror and lift her lip into the height she desired. After administering local anesthesia to the area, Dr. Parker exc...
Read More
Keep in mind that each patient is unique and your results may vary.
For many people, the natural aging process leads to sagging or lengthening of the area above the top lip. Some people have a naturally low or thin upper lip even when they are younger. Dr. Parker offers lip lift surgery to help people from Ridgewood and throughout Bergen County, North New Jersey, and surrounding areas look naturally more attractive and youthful.
How Does a Lip Lift Work?
During the most common lip lift procedure, called a subnasal or bullhorn lip lift, Dr. Parker will make an incision along the base of your nose, remove a strip of skin, and pull the skin above the lip upward. Other types of lip lifts may involve lifting the corners of the mouth (a corner lip lift) or removing a thin strip of skin directly above the lip and then pulling it up (a direct lip lift). The amount of skin Dr. Parker will remove depends on the shape of your lips and face and your desired results.
A lip lift can be performed under local anesthesia and takes roughly one hour to complete. Some people pair their lip lift procedure with dermal fillers to add volume to the lower lip as well.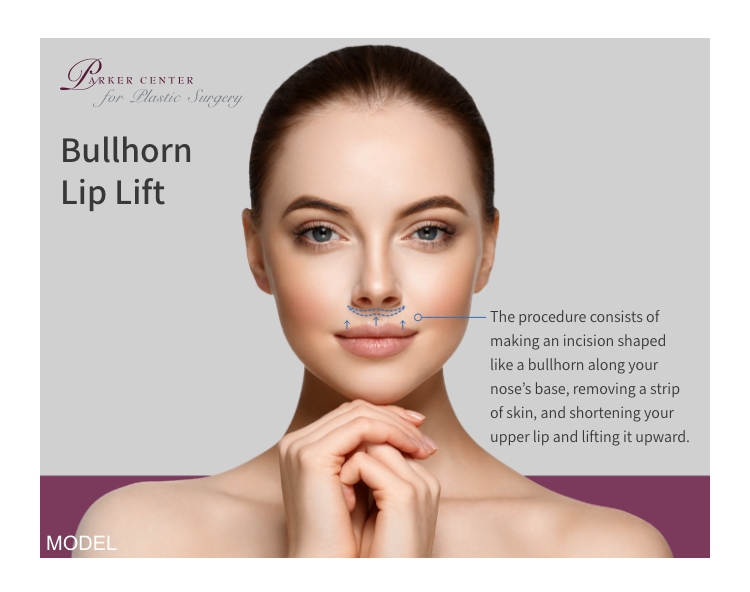 What Is Recovery Like After a Lip Lift?
You will experience some swelling, soreness, and bruising around your lip area for about 5 to 7 days after surgery. You should get plenty of rest for the first few days and stick to soft foods such as yogurt and applesauce. Most patients can return to work 3 to 4 days after the procedure.
Your incision is closed by quite a number of absorbable sutures internally, allowing the skin stitches to be removed roughly 5 days after the procedure. You should continue to refrain from strenuous activities for up to 2 weeks to avoid straining your lips.
How Painful Is a Lip Lift?
Most people experience minimal discomfort after a lip lift. You will have some tightness, bruising, and swelling in your upper lip, but that should mostly subside within a couple of weeks. Ice and over-the-counter pain medication will help relieve discomfort and swelling.
How Long Does a Lip Lift Last?
Your lip lift is a permanent surgery, and your results will last for many years. To maintain your results, make sure to moisturize your lips daily and protect them from the sun with a lip moisturizer containing sunscreen.
Is a Lip Lift Worth It?
A lip lift is an excellent option if you want to add volume and shape to your lips without needing repeated lip filler injections. Dr. Parker and his team will use the right techniques to give you radiant and natural-looking results. Additionally, a lip lift has minimal recovery and downtime, so it's perfect for busy individuals.
What Is My Next Step?
To meet with Dr. Parker and his team to discuss a surgical lip lift, please request a consultation or call us at (201) 967-1212 to schedule an appointment.