Parker Center for Plastic Surgery
122 East Ridgewood Ave
Paramus, NJ 07652
Phone: (201) 967-1212
Monday, Tuesday, Thursday, Friday: 9 a.m.–5 p.m.
Wednesday: 9:00 a.m.–7 p.m.
Saturday: 9 a.m.–2 p.m. (medical spa only)

Brazilian Butt Lift
Procedure Snapshot
In Paramus, New Jersey, a Brazilian butt lift (BBL) procedure involves a combination of liposuction and fat transfer to reshape a rounder, more aesthetically pleasing hip and buttock area. 
Cost & Recovery
$12,495 to $15,495
Although you'll have to modify how you sit for about 3 weeks, you can expect to return to work within 2 weeks after surgery.  
Quick Facts
Your own fat is used to reshape the buttocks for long-lasting, natural results.* 
Fat is typically removed from the hips, lower back or abdomen with liposuction. 
Dr. Parker uses advanced technology to ensure a higher "take" rate and more predictable results.
Once healed, scars are very small and virtually undetectable to others.
34,086 patients had buttock augmentation with fat transfer in 2019.**
* Results may vary
** Statistical information listed here is drawn from 2019 The Aesthetic Society data.
Brazilian Butt Lift

Before & After Photos
WARNING:
This feature contains nudity. Please click OK to confirm you are at least 18 years of age and are not offended by such material.
Parker Center for Plastic Surgery
In recent years, the buttocks have received an increasing amount of attention. Well-known actresses such as Jennifer Lopez and Kim Kardashian have popularized the appeal of full and curvaceous buttocks.
However, it's not easy to get a full, accentuated buttock contour through diet and exercise. Dr. Parker offers buttock augmentation, often called a Brazilian butt lift, in Paramus to help patients from Ridgewood and throughout Bergen County, North New Jersey, and surrounding areas do this by augmenting and reshaping the buttocks with their own fat.
What Is a Brazilian Butt Lift?
In well-trained hands, a Brazilian butt lift is a safe and effective procedure that most often combines liposuction from one or more areas (most commonly, the abdomen, hips, waist, outer thighs, and/or lower back) with the injection of purified fat from these areas, called fat transfer, into the buttocks.
It creates a "win-win" situation for you because fat is reduced where you don't want it and put where you do. A Brazilian butt lift provides a long-lasting enhancement of your buttocks and surrounding areas, giving you a younger, firmer, and perkier look.
What Are the Benefits of a Brazilian Butt Lift?
If you're unhappy with the shape of or lack of definition in your hips and buttocks, a Brazilian butt lift can help you:
Improve the shape of the areas surrounding the buttocks—most commonly the abdomen, hips, waist, outer thighs, and lower back
Get fuller, larger, rounder, uplifted buttocks
Achieve more aesthetically pleasing symmetry of the buttocks
Enjoy a more sensual body profile
Paul M. Parker, M.D., FACS
Board-Certified Plastic Surgeon
Known for his surgical talent and caring personality, Dr. Parker has been serving the community for over 25 years. He has dedicated his practice to the education, safety, and comfort of his patients—making each one feel as important as family.
How Much Does a Brazilian Butt Lift Cost?
In Paramus, New Jersey, the cost for a Brazilian butt lift typically ranges from $12,495 to $15,495.
Who Is a Good Candidate for a Brazilian Butt Lift?
The best candidates for this procedure have an adequate amount of fat in the surrounding areas such as the abdomen, hips, waist, outer thighs, and lower back. Reshaping these areas with liposuction will make a significant improvement in their appearance alone. In addition, there will be adequate fat to build out the buttocks as desired by the patient.
Very thin patients can be more difficult to treat, as they will typically not have much fat to transfer. In these cases, patients may consider buttock implants. Dr. Parker is reluctant to utilize buttock implants because of the risks associated with the procedure, including infection, poor positioning of the implants, capsular contraction, and implant extrusion. Instead, the combination of liposuction with fat grafting is a safer technique whereby we consistently achieve excellent aesthetic outcomes resulting in happy patients.
How Is a Brazilian Butt Lift Performed?
Buttock augmentation surgery with liposuction usually takes 2 to 3 hours, depending on the amount of liposuction performed. The surgery is performed as an outpatient procedure in Surgiplex, LLC, our fully certified ambulatory surgical facility, under either intravenous sedation or general anesthesia. You should be able to go home after spending an hour or two in our recovery suite.
While there is some variation among individual patients, liposuction is most commonly performed on the abdomen, hips, waist, outer thighs, and lower back. This alone creates a better framework around the buttocks and improves their appearance.
Next, Dr. Parker separates out the favorable fat cells for reinjection. Once it is prepared, he meticulously injects this fat into the subcutaneous tissue of the buttocks. In keeping with "best practices," Dr. Parker will inject only this more superficial layer and not the deeper tissues such as muscle to avoid the complication of fat embolism. Dr. Parker will usually inject from 300 cc to 600 cc of fat per buttock. In doing so, Dr. Parker augments the size and shapes the buttocks so they will appear fuller, perkier, and more uplifted.
How Long Is the Recovery After a Brazilian Butt Lift?
Patients immediately notice their fuller buttocks and the improved shape of the surrounding areas that have undergone liposuction. There is very little, if any, pain from the fat injections to the buttocks. While everyone is a little different, patients typically feel somewhat sore and uncomfortable in the areas that have undergone liposuction. They often describe it feeling like they "over-exercised at the gym."
You'll be sent home in a compression garment that can be removed to shower the day following surgery. Depending on your individual skin tone and areas of the body treated, you can expect to wear the compression garment for 1 to 3 weeks. We ask patients to sit on a soft "doughnut" for several weeks after a butt lift to minimize pressure on the buttocks and protect the fat injection sites. Typically, patients return to daily living activities within several days, including a return to work. Exercise usually begins within several weeks.
Our Signature
Rapid Recovery Program
Our surgical procedures, anesthesia, medications, and aftercare are tailored to minimize post-operative discomfort and accelerate recuperation.
Learn More
How Long Do the Results of a Brazilian Butt Lift Last?
Our experience in performing many of these procedures over the years has shown us that approximately 50 to 60% of the fat injected into the buttocks by Dr. Parker becomes integrated with the original buttock fat. Once this transferred fat has been incorporated into the existing fat, it seems to survive and live on like the rest of the fat. Therefore, the results are long-lasting. Dr. Parker has had patients come back to see him 10 years after a Brazilian butt lift and their results look like they did several months after surgery.
Before & After Brazilian Butt Lift*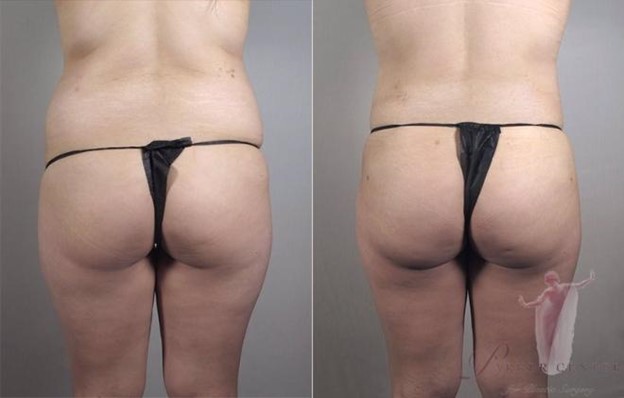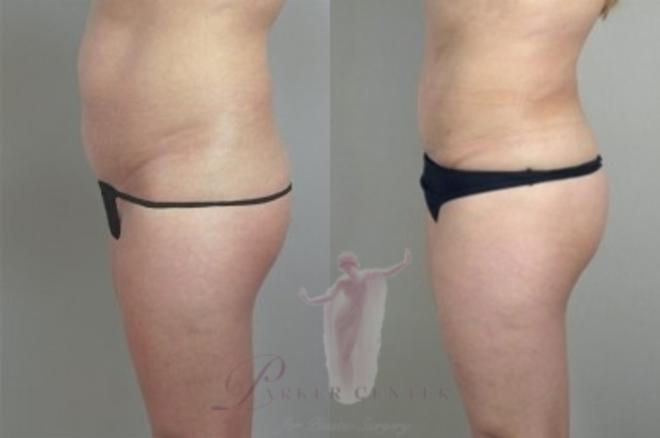 Feel Confident
About Your Procedure
Our cosmetic consultations include plenty of time with Dr. Parker, our patient care coordinator, and our imaging specialist. Once your procedure is booked, our nurse educator will meet with you for a special 1-hour pre-op education session.
Request a Consultation
Your Education Session
What Is My Next Step?
To meet with Dr. Parker and his team in Paramus, New Jersey, and find out if you're a good candidate for a Brazilian butt lift, request a cosmetic consultation using our online form or call (201) 967-1212 for an appointment.