Parker Center for Plastic Surgery
122 East Ridgewood Ave
Paramus, NJ 07652
Phone: (201) 967-1212
Monday, Tuesday, Thursday, Friday: 9 a.m.–5 p.m.
Wednesday: 9:00 a.m.–7 p.m.
Saturday: 9 a.m.–2 p.m. (medical spa only)

Facelift
Procedure Snapshot
This procedure lifts and firms sagging facial tissues to smooth deep creases and folds, reduce jowls, tighten sagging neck tissues, and restore a more youthful appearance. A facelift in Paramus, New Jersey, with Dr. Parker can help you "turn back the clock."
Cost & Recovery
Schedule your cosmetic consultation with Dr. Parker to get your personalized quote backed by our Price Guarantee.
Most patients return to normal activity within 10 to 14 days after surgery.
Quick Facts
A mini facelift is a less invasive procedure that can address minor jowling and skin laxity.
Dr. Parker uses fat injections to restore volume and achieve a naturally youthful contour.
Results age naturally with you, so you continue to look several years younger than you are.**
68,983 patients had a facelift in 2019.***
**Results may vary.
***Statistical information listed here is drawn from 2019 The Aesthetic Society data.
Parker Center for Plastic Surgery
Growing older does not mean you have to look older. You may have noticed that some people age more gracefully than others. Often, there's more to this than just "good genes." Many patients here in New Jersey owe their youthful looks to facelift surgery. When our patients, who visit from Ridgewood and throughout Bergen County, North New Jersey, and surrounding areas, look younger, they often feel younger too.
When Is It Time for a Facelift?
Because gravity and the aging process affect individuals at different times, there is no "right time" to start thinking about a facelift. Both men and women concerned about improving the signs of facial aging are potential candidates for a facelift. You may be a candidate for a facelift if you experience the following:
Loss of skin elasticity and muscle tone of the face and neck
Jowls and deep creases between the base of the nose and corners of the mouth (known as the nasolabial folds)
Loss of youthful chin, jawline definition, and neck contours
Tired facial appearance
Before & After*: Mini Facelift & Fat Injections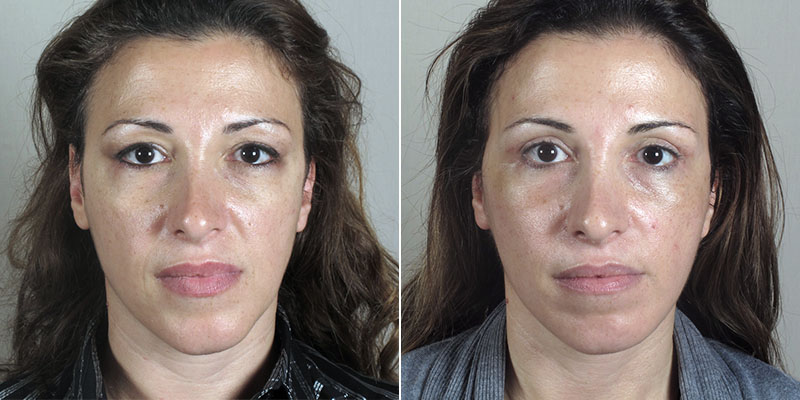 At Parker Center, we tailor your facial rejuvenation to meet your specific needs. This may include injectable fillers and wrinkle treatments, facelift or mini facelift surgery, or a combination of procedures. Review this blog post to learn about the options for treating facial aging.
What Can I Do Instead of a Facelift?
If you have mild to moderate skin laxity of the lower face and neck, you may be a candidate for FaceTite instead of facelift surgery. This minimally invasive treatment uses radiofrequency energy to tighten the skin and reduce small areas of fat for facial rejuvenation with minimal downtime.
"Dr. Parker did a beautiful job on my face. I look 10 years younger, but best of all… not one person noticed I had anything done. Everyone tells me that I look really good. The staff was wonderful. The nurses are very caring and they gave out their cell phone numbers in case I needed them."

Facelift Patient
Does a Facelift Include a Brow Lift and Eyelid Surgery?
No, but Dr. Parker often performs these procedures together. Medical terminology can sometimes be confusing. A facelift, or rhytidectomy, is an operation that addresses the lower 2/3 of the aging face and is often combined with a neck lift. A brow lift, otherwise known as a forehead lift, corrects the aging forehead and eyebrows; that is, the upper 1/3 of the face. Eyelid surgery, otherwise known as a blepharoplasty, rejuvenates the aging eyelids.
Before & After*: Facelift, Browlift & Blepharoplasty
Paul M. Parker, M.D., FACS
Board-Certified Plastic Surgeon
Known for his surgical talent and caring personality, Dr. Parker has been serving the community for over 35 years. He has dedicated his practice to the education, safety, and comfort of his patients—making each one feel as important as family.
How Is a Facelift Done?
A facelift or mini facelift is performed in our on-site, fully certified ambulatory surgery center called Surgiplex, LLC, under monitored intravenous sedation or general anesthesia administered by one of our board-certified anesthesiologists. The time of surgery will vary based on what type of facelift procedure is being performed as well as any additional surgeries. A classic facelift typically involves the following steps:
Step 1: Tightening the SMAS & Restoring Volume
In performing a facelift, Dr. Parker makes carefully concealed incisions in front of and behind the ear that allow him to address the lower 2/3 of the face and neck. He separates the skin along with a 3 to 4 mm thickness of fatty tissue from the deeper fatty tissue, the underlying muscles and their covering layer, also known as the submusculoaponeurotic system (SMAS). Dr. Parker next lifts and tightens the SMAS, which elevates the deep facial fat into a more youthful position and gets rid of the jowls.
Dr. Parker addresses the loss of facial fat with fat injections. He uses liposuction to remove fat from the patient's abdomen or another area, purifies it, then judiciously injects it into the areas of atrophy to help create more youthful contours.
Step 2: Lifting & Tightening the Neck Tissues
If also performing a neck lift, Dr. Parker lifts and tightens the fascia overlying the broad, paired platysmal muscles in the neck through the same incisions. This allows him to tighten and better define the jawline, as well as reduce a double chin and correct a "turkey neck."
Step 3: Reducing Excess Skin
The last step in performing a facelift is removing the excess skin from in front of and behind the ears. Dr. Parker then very carefully closes all of the incisions with sutures to make the resultant scars inconspicuous. In performing this type of state-of-the-art, two-layer facelift, Dr. Parker achieves a natural-looking, long-lasting lift in both the face and neck.
What Can I Expect After a Facelift?
Facelift patients are monitored overnight in our aftercare facility or in the comfort of their own home by a private duty nurse. After surgery, there is very little pain and most patients do not request medication. Stitches are removed within one week. Swelling and discoloration subside within 10 to 14 days. Camouflage makeup may be applied after one week.
How Long Is Recovery After a Facelift?
Patients may return to normal activities in 10 to 14 days and exercise in 2 to 3 weeks.
Our Signature
Rapid Recovery Program
Our surgical procedures, anesthesia, medications, and aftercare are tailored to minimize post-operative discomfort and accelerate recuperation.
Learn More
"I would like to thank you for the wonderful job you did on my face. Being a doctor, I know a lot about these procedures, and I also know a couple of very good plastic surgeons whom I could have chosen. Choosing you was therefore not an easy decision for me, but the results show that I wasn't wrong….I have no reservations in recommending you to any person interested in having plastic surgery."

Facelift Patient
How Long Do Facelift Results Last?
A facelift does not stop the aging process. If Dr. Parker performed a facelift on one of two aging twins, the patient who had the facelift will always look younger as they both continue to age. It is said that a biplane SMAS facelift should last approximately 8 to 12 years. This number will vary based on an individual's genetics, how well they maintain their health, and whether they smoke, tan excessively, or have substantial weight fluctuations.
Before & After: 10 Years After a Facelift
Next Steps
To meet with Dr. Parker and his team in Paramus, New Jersey, to learn more about facelift surgery and other facial rejuvenation options, request a cosmetic consultation using our online form or call (201) 967-1212 for an appointment.