These days, you have a number of options to help you rejuvenate your appearance, no matter what age you are. During your initial consultation with Dr. Parker, he will listen to your concerns and examine your face to assess your skin quality, soft tissue laxity and volume. He will then customize a treatment plan along with you based on your age, individual anatomy, particular desires, resources and time for recovery.
Understanding the Facial Aging Process
As we age, our faces change in predictable ways. Our skin, as well as the soft tissues beneath it, loses some of its key biochemical components such as collagen and elastin. This loss of structural support allows gravity, in addition to years of facial expression, to loosen and stretch this framework. People often say that they have developed "jowls" or a "turkey neck" to describe some of these changes.
The fatty tissue beneath the skin, called subcutaneous tissue, atrophies to varying degrees, contributing to a sunken or hollow appearance in certain parts of the face. Whereas our skin used to be smooth, as part of the aging process, it develops wrinkles and lines, areas of discoloration and blotchiness. Environmental factors such as sun exposure and smoking worsen and accelerate aging.
Before & After: Facelift*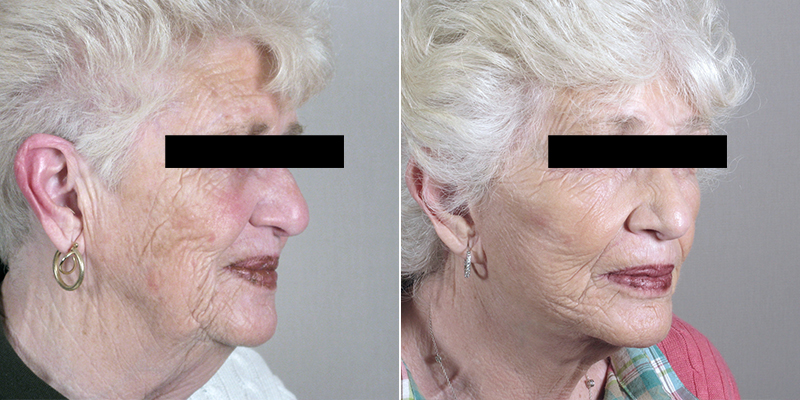 Non-Surgical Options
Whenever Dr. Parker consults with a patient about facial rejuvenation, he takes care to go over all of the possible options, including non-surgical treatments such as injectable fillers, neurotoxins, and skin resurfacing. These minimally invasive options are excellent for reducing wrinkles and improving the skin's surface. Though the results are temporary, they can last for several months up to a few years, helping to postpone the need for surgery in patients just beginning to show signs of aging, or enhancing the results of cosmetic surgery.
Before & After: Injectable Fillers*
Environmental and aging damage to the skin surface can be improved most directly by non surgical facial rejuvenation. This can include a customized skin care regime, microdermabrasion, chemical peels, IPL or laser treatments. Wrinkles can be improved with Botox, Dysport or fillers, depending on their location.
Surgical Options
If you and Dr. Parker decide that cosmetic surgery will best achieve your goals, the next step is determining which procedure or combination of procedures you will have. Dr. Parker's goal is to design a treatment plan that yields the most natural improvements using the least invasive surgery possible.
Mini Facelift
A mini facelift addresses aging in the cheeks and along the jaw line, but not the neck. The incisions are shorter and the recovery quicker. Mini lifts are often an excellent choice for younger patients without advanced facial aging or severe sagging in the neck.
Before & After: Mini-Facelift*

Full Facelift
The modern standard, or full facelift, addresses the signs of facial aging that occur from just below the eyes down to the base of the neck.
Before & After: Classic Facelift*
Neck Lift
A neck lift is part of a standard or classic facelift, but can also be performed as a stand- alone procedure to rejuvenate an aging neck.
Before & After: Neck Lift*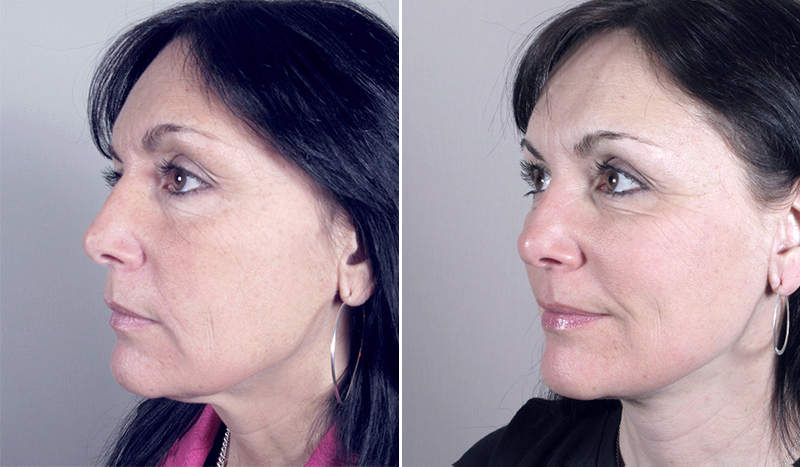 Mini or Full Facelift with Fat Injections
Volume which has been lost from the face, due to aging and subcutaneous tissue atrophy, can be restored through the use of judicious fat injections.
Before & After: Mini-Facelift & Fat Injections*
Facelift with Additional Procedures
Facelift surgery can be performed as a stand-alone procedure or in conjunction with other procedures, most commonly blepharoplasty, brow lift, chin augmentation and others.
Before & After: Brow Lift, Eyelid Lift & Skin Resurfacing*


Getting started with a consultation
Your facial rejuvenation at the Parker Center in Paramus NJ begins with a consultation with Dr. Parker. He will help you understand all of your options, so you can choose how to proceed. We can even demonstrate what's possible for you with different procedure options using our Vectra 3D imaging. Contact us today to schedule your appointment.