Parker Center for Plastic Surgery
122 East Ridgewood Ave
Paramus, NJ 07652
Phone: (201) 967-1212
Monday, Tuesday, Thursday, Friday: 9 a.m.–5 p.m.
Wednesday: 9:00 a.m.–7 p.m.
Saturday: 9 a.m.–2 p.m. (medical spa only)

Patient Resources
At Parker Center for Plastic Surgery in Paramus, New Jersey, we've been perfecting the patient experience for decades. On this page, we've provided information to help you get to know us better and resources to make your initial consultation a breeze. We welcome you to explore.
Our Keys to Patient Satisfaction
We Want to Exceed Your Expectations Every Step of the Way.
We hear again and again from patients how much they love their surgical results. In addition, they compliment us on our thoroughness in preparing them for surgery and the thoughtful care they have received before and after surgery.
Keys to Patient Satisfaction
The Parker Center Receives Patients' Choice Award

The Patients' Choice award recognizes doctors who make a difference in the lives of their patients. This honor is given to physicians who have near-perfect scores as voted by their patients. See if you agree by coming in for a personal consultation—we'll make sure it's time well spent.
Learn More About Us
Get to know us better by visiting the following pages:
Computer Imaging & 3D Simulations
One of the best ways to understand what plastic surgery can achieve is to see a picture of the possible results on your own body. We incorporate digital photo computer imaging into your consultation, showing you in detail how each procedure option might help you get the results you want. With VECTRA® 3D technology, you can even experiment with different looks or multiple procedures.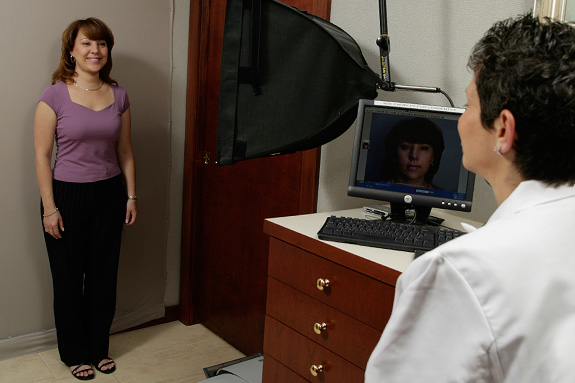 Computer imaging helps you visualize what's possible.
Personalized Shaping & Sizing
If you're considering a breast enhancement procedure, we want you to feel confident in your choice of implant size and shape. Every breast augmentation consultation includes a personal breast implant shaping & sizing session, where you will get to try on different implants.
We can also use VECTRA 3D imaging to show you how your implants might look from any angle. We'll also create a private webpage, where you can review your images after your consult.
"I have had many experiences with doctors, surgeons, plastic surgeons, and hospitals over the years and I find that research and knowledge are key before undergoing any major procedure. When it comes to plastic surgeons—highly recommend Dr. Parker!"

Plastic Surgery Patient
You'll Get Plenty of Time to Learn & Ask Questions
When you come in for your consultation, you'll meet with Dr. Parker and one of our patient care coordinators to review not only your past medical history but also your desires for the future. Dr. Parker takes the time to get to know what you really want. Use this time to get to know him, too. If you have concerns, we encourage you to raise them. Together, you'll develop a plan for making the changes that are right for you.
Contact Us Anytime
Dr. Parker knows that an educated patient is the best kind. So do your homework and don't be afraid to ask questions. Take the time to review and research your plastic surgery or nonsurgical procedure. We want you to trust us with your body, your face, and your future. Dr. Parker and his staff are available at the office, by telephone, and through this website. Request a consultation using our online form or call (201) 967-1212 for an appointment.