Parker Center for Plastic Surgery
122 East Ridgewood Ave
Paramus, NJ 07652
Phone: (201) 967-1212
Monday, Tuesday, Thursday, Friday: 9 a.m.–5 p.m.
Wednesday: 9:00 a.m.–7 p.m.
Saturday: 9 a.m.–2 p.m. (medical spa only)

|
|
|

Your Breast Implant Options
Your Breast Implant Options
Dr. Parker offers a choice of saline or silicone breast implants for women from Ridgewood and throughout Bergen County, North New Jersey, and surrounding areas who visit him for breast surgery. During your initial consultation in Paramus, NJ, Dr. Parker will listen to your desires and evaluate your anatomy. He will then review your implant options to find the best fit for you.
Page Contents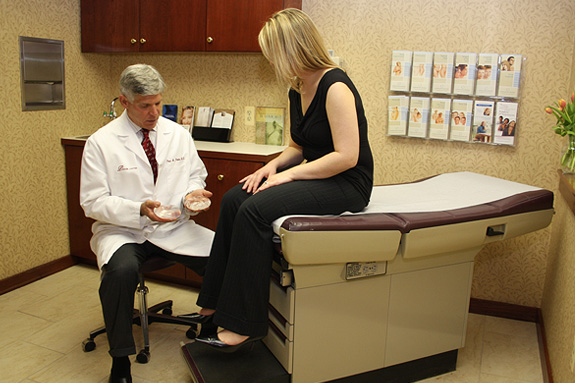 Implant Type: Saline or Silicone Gel
One of the first choices breast augmentation patients make about their implants is whether to get silicone or saline. It is largely a personal decision; a skilled plastic surgeon, such as Dr. Parker, can achieve very natural-looking results with either option.
Saline implants have a silicone outer shell that is filled with a sterile saline solution after placement within the breast to achieve your desired breast size.
Silicone gel implants feel the most like natural breast tissue. They come pre-filled to the correct volume with a cohesive gel material. In accordance with FDA guidelines, silicone implants are available for women age 22 and older. Patients with congenital deformities and/or requiring a breast lift may have silicone implants inserted at a younger age.
Important factors to consider when choosing implant type include:
the amount of existing breast tissue you have to cover the implant
the elasticity of your skin
your preferences for breast shape: fuller at the top or more sloping
the degree and nature of any breast asymmetry you would like to correct
which incision locations you prefer
At your consultation, Dr. Parker will discuss the differences between each breast implant type and give you samples to hold in your hands so you can feel the differences for yourself. Learn more in this blog post.
Deciding on Shape & Profile
In addition to discussing implant types, Dr. Parker will explore options with you in terms of implant shape and profile. These will be dictated by your desires as well as your individual anatomy. Our Sizing and Shaping session is integrated into your consultation with Dr. Parker. During this session, you will try on various implant shapes as well as sizes. In addition, our Vectra® 3D simulator will give you an idea of how various implant shapes will make your breasts look.
Shaped vs. Round Implants
Shaped implants are designed to provide a naturally sloping breast and are textured to stay in place within the breast pocket. Dr. Parker uses smooth round implants with either saline or silicone fill material. He feels this provides the softest and most natural-looking breast and that shaped implants provide no real aesthetic benefits for most patients.
About Implant Profile
Implant profile is largely based on your anatomy as well as your desired breast size. Thinner patients or those with a smaller frame typically do best with high or ultra high-profile implants, which have a greater forward projection to achieve the desired size increase with a smaller base width. Those with a wider chest wall tend to do well with moderate or moderate plus profile implants.

We will help you compare your shape and profile options at your personal Sizing and Shaping Session.
Breast Implant Size Options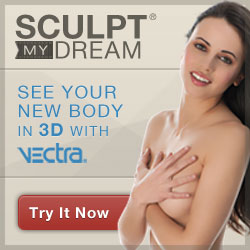 If you're considering breast augmentation, you likely have an ideal cup size in mind too. While it is helpful to Dr. Parker to know what "after" size you'd like to be, it's important to understand that a certain implant size does not directly translate to a certain cup size (for example, getting 400 cc implants will not necessarily achieve a "D" cup for every patient). Many things factor into the implant size you ultimately choose, including your current breast shape and size, your preferred implant type, shape & profile, as well as your desired breast size after surgery.
Generally speaking, breast implants range in size from 150cc to over 1,000cc. The best way to choose the size of your implants is to have your implants sized to your body. At the Parker Center, you will receive a custom fitting session, where you can try on different implant shapes and sizes, based on those that will best fit your frame. You'll also get to see realistic 3D simulations of your body with different implants so you can compare your options and see which look you like best.
Which Brand Should I Choose?
Dr. Parker has used Mentor breast implants almost exclusively for the last 17+ years. Here's why we believe them to be a superior product for our patients:
Mentor implants have a lower deflation rate, which means that our patients are less likely to experience the need for secondary surgery due to deflation.
In our experience, the outer shell of the Mentor implant is less likely to wrinkle when implanted.
Again, due to differences in the shell, we find that Mentor implants are less palpable (less able to feel the edges) beneath the breast.
Scheduling Your Consultation & Sizing Session
Our caring and informed team is dedicated to helping you realize your dreams. Call us anytime at (201) 967-1212 to schedule a consultation with Dr. Parker and to make an appointment for your personalized consultation and breast implant sizing and shaping session.
Feel Confident
About Your Procedure
Our cosmetic consultations include plenty of time with Dr. Parker, our patient care coordinator, and our imaging specialist. Once your procedure is booked, our nurse educator will meet with you for a special 1-hour pre-op education session.
Request a Consultation
Your Education Session