Parker Center for Plastic Surgery
122 East Ridgewood Ave
Paramus, NJ 07652
Phone: (201) 967-1212
Monday, Tuesday, Thursday, Friday: 9 a.m.–5 p.m.
Wednesday: 9:00 a.m.–7 p.m.
Saturday: 9 a.m.–2 p.m. (medical spa only)

Bra Line Back Lift
Procedure Snapshot
Dr. Parker offers the bra line back lift in Paramus, NJ, for women bothered by rolls, sagging skin, and bulges around the bra area of the upper back.
Cost & Recovery
Schedule your cosmetic consultation with Dr. Parker to get your personalized quote backed by our Price Guarantee.
Back to sedentary work within several days and exercise within about 2 weeks
Quick Facts
The incision is hidden along the bra line.
Liposuction may be used along with or instead of the back lift procedure.
BodyTite is a minimally invasive procedure that reduces fat and tightens skin.
CoolSculpting® is a nonsurgical fat reduction option for the back.
Lax skin and excess fat on the upper back can create embarrassing bra bulges even if you don't need to lose weight. Dr. Parker offers surgical and nonsurgical procedure options, such as a bra line back lift, to help women from Ridgewood and throughout Bergen County, North New Jersey, and surrounding areas feel more confident in thin, fitted clothing, swimsuits, and more.
Page Contents
How do you get rid of back fat and bra bulges?
If you are concerned about visible fat rolls and bulges on your upper back, Dr. Parker offers surgical, minimally invasive, and nonsurgical solutions. During your initial consultation, he will examine your areas of concern to determine whether these bulges are caused by:
Unwanted fat
Loose skin
A combination of both
He will then discuss appropriate treatment options to help improve the contour and firmness of your back.
Feel Confident
About Your Procedure
Our cosmetic consultations include plenty of time with Dr. Parker, our patient care coordinator, and our imaging specialist. Once your procedure is booked, our nurse educator will meet with you for a special 1-hour pre-op education session.
Request a Consultation
Your Education Session
What is a bra line back lift?
A bra line back lift is a surgical procedure that addresses sagging skin and visible fat rolls and bulges in the upper and mid-back with a scar hidden beneath the bra. Benefits include the following:
Restoring a more contoured, firmer appearance of the upper and mid-back
Improving the contour of the hip area just below the mid-back
Increasing confidence when wearing swimsuits and fitted clothing
Enhancing body image and self-esteem
Bra line back lift results are immediate after surgery.
Can liposuction alone get rid of back fat?
Patients who have excess back fat but good skin elasticity are often good candidates for back liposuction alone. Although it is the least invasive back contouring surgery, liposuction can achieve great results for the right patients. Instead of traditional liposuction, Dr. Parker uses SAFELipo® because it provides more efficient and less traumatic fat removal, allows him greater control in sculpting the area, and minimizes recovery time.
Back liposuction can be performed under local anesthesia with an oral cocktail, intravenous sedation, or general anesthesia. The surgery involves one tiny incision hidden in the armpit area and another hidden under the bra line through which Dr. Parker removes the excess fat and sculpts a more natural, aesthetically pleasing back contour. Most patients have little to moderate discomfort after back liposuction and return to normal activity within several days of their procedure.
Before & After Back Liposuction Alone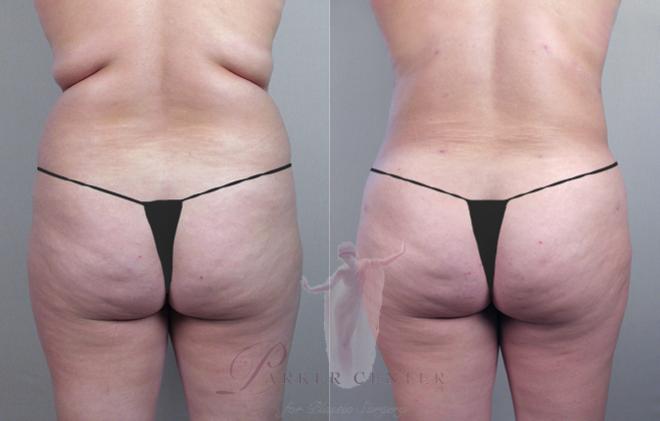 Is back contouring possible without surgery?
The minimally invasive BodyTite procedure and nonsurgical CoolSculpting® procedure can provide effective back contouring for the right patient. These procedures can also enhance the results of the bra line back lift and liposuction.
BodyTite is a radiofrequency assisted lipolysis (RFAL) technology that Dr. Parker can use to both sculpt away unwanted fat and tighten skin. While there are other radiofrequency (RF) treatments out there, BodyTite is unique in applying RF energy both above and below the skin, helping to reduce fat and remodel collagen for more thorough body reshaping. Results are typically visible shortly after treatment with continued improvement for the following 3 to 6 months. BodyTite can be used on its own or in combination with liposuction.
Before & After BodyTite of the Back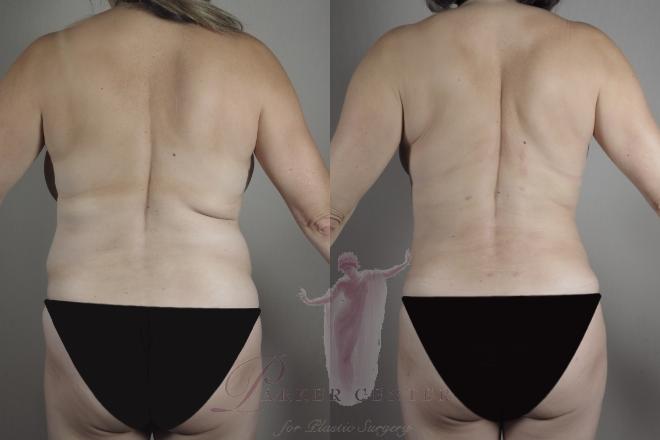 CoolSculpting provides nonsurgical fat reduction of the back without anesthetic or incisions. This option is best for patients with modest fat deposits and good skin elasticity. Results develop gradually for up to 3 months after treatment.
Before & After CoolSculpting of the Back

How is a bra line back lift performed?
On the day of surgery, Dr. Parker will have the patient bring a revealing swimsuit or bra to our surgical center. He will then draw the outline of the bra on the patient's back with a surgical marking pen along with a proposed incision extending horizontally underneath the bra. Dr. Parker will then gently pinch the excess skin and fat to be removed above and below the intended scar, outlining the excess tissue to be removed.
After Dr. Parker reviews these markings in front of a full-length mirror and again explains the procedure, the patient will be brought to the operating room. With the patient lying face down, Dr. Parker will remove the excess skin and fatty tissue, then close the incision with multiple layers of absorbable sutures to make the resultant scar as unnoticeable as possible. The procedure will commonly last from 2 to 3 1/2 hours, depending on how much excess skin and fatty tissue need to be removed.
How long does it take to recover after a bra line back lift?
Our bra line back lift patients go home about an hour after surgery and are up and moving around that same day. Most patients experience minimal pain and discomfort. Sutures dissolve and do not need to be removed. Patients may return to sedentary work within several days and exercise in approximately 2 weeks.
Our Signature
Rapid Recovery Program
Our surgical procedures, anesthesia, medications, and aftercare are tailored to minimize post-operative discomfort and accelerate recuperation.
Learn More
What are my next steps?
To meet with Dr. Parker and his team in Paramus, New Jersey, and learn more about bra line back lift surgery, request a cosmetic consultation using our online form or call (201) 967-1212 for an appointment.