Parker Center for Plastic Surgery
122 East Ridgewood Ave
Paramus, NJ 07652
Phone: (201) 967-1212
Monday, Tuesday, Thursday, Friday: 9 a.m.–5 p.m.
Wednesday: 9:00 a.m.–7 p.m.
Saturday: 9 a.m.–2 p.m. (medical spa only)

Body Lift
Procedure Snapshot
This personalized procedure can help free you from the burden of excess, hanging skin on your body after losing a lot of weight, helping you feel more comfortable and confident in your slimmer body.
Cost & Recovery
Schedule your cosmetic consultation with Dr. Parker to get your personalized quote backed by our Price Guarantee.
Body lifting procedures are highly personalized, so recovery times vary. Patients typically can expect to recover for 2 to 4 weeks before returning to normal activity.
Quick Facts
Scars will always be present after a body lift but should fade well with proper care
Patients should be at a stable, healthy weight for at least 3 to 6 months before surgery
Tummy tuck, thigh lift,  and upper arm lift are often performed along with body lift
7,797 patients had body lift surgery in 2019**
* Results may vary
** Statistical information listed here is drawn from 2019 data from the Aesthetic Society (ASAPS)
Body Lift

Before & After Photos
WARNING:
This feature contains nudity. Please click OK to confirm you are at least 18 years of age and are not offended by such material.
Many people who lose a lot of weight, either through post-bariatric surgery or diet and exercise, are left with significant amounts of excess skin around the torso and thighs. Their abdominal muscles may have become lax and protruding. A body lift by Paramus plastic surgeon Dr. Paul Parker combines a tummy tuck with an outer thigh and buttock lift to reduce excess skin, tighten abdominal muscles, and restore a smoother, more natural body contour. The most extensive of all post-weight loss procedures, body lift surgery can help people from Ridgewood and throughout Bergen County, North New Jersey, and surrounding areas achieve the most dramatic improvement after massive weight loss.
Page Contents
What Is a Body Lift?
When surgeons refer to a body lift, they are typically referring to a surgical procedure that lifts and tightens the skin of the outer thighs, buttocks, hips (flanks), waist, and abdomen. Other names for a body lift include:
Lateral thigh and buttock lift
Circumferential abdominoplasty
Circumferential body lift
360° body lift
A body lift is one type of post weight loss surgery and often performed with other procedures such as an inner thigh lift and a bra line back lift.
Paul M. Parker, M.D., FACS
Board-Certified Plastic Surgeon
Known for his surgical talent and caring personality, Dr. Parker has been serving the community for over 35 years. He has dedicated his practice to the education, safety, and comfort of his patients—making each one feel as important as family.
Tummy Tuck Alone
If the excess skin remaining after weight loss is mainly concentrated around the abdomen, a tummy tuck alone can provide excellent results. During this procedure, Dr. Parker tightens lax, protruding abdominal muscles and reduces the excess skin for a firmer, flatter midsection. For many patients, he will combine a tummy tuck with liposuction, called lipoabdominoplasty, to sculpt a more natural, slim contour to the entire belly and hips.
Before & After Tummy Tuck Following Weight Loss*
Feel Confident
About Your Procedure
Our cosmetic consultations include plenty of time with Dr. Parker, our patient care coordinator, and our imaging specialist. Once your procedure is booked, our nurse educator will meet with you for a special 1-hour pre-op education session.
Request a Consultation
Your Education Session
What Is Involved With Body Lift Surgery?
Prior to surgery, Dr. Parker will carefully draw the proposed incisions on the patient in a standing position. He will review these markings and the surgical plan once again with the patient in front of a full-length mirror. The patient is then brought to our operating room. Our anesthesiologist administers general anesthesia to the patient. The patient is carefully turned into a prone position, painted with an antiseptic solution, and draped with sterile sheets. Dr. Parker will make incisions with a scalpel through the marked incisions. He will then remove a pre-determined amount of skin and fatty tissue. If the buttocks have lost definition, Dr. Parker can perform auto-augmentation, transferring fatty tissue from the hips (usually discarded) to create a rounder, more aesthetically pleasing contour of the buttocks. He uses a laser-like device called a cautery to seal all blood vessels. Despite the extent of the surgery, there is typically very little blood loss in his patients with this surgery.
Once the desired amount of skin and fat have been removed, the incisions are closed in multiple layers with dissolvable sutures to make the scars heal so that they are as thin as possible. Over 100 sutures are likely inserted in this closure to make it as perfect as possible. A medical version of Krazy Glue® called Dermabond® is then applied to seal the skin incision allowing the patient to shower the next day.
The patient is then carefully turned onto their back for the tummy tuck portion of the procedure. The patient is again painted with an antiseptic solution and covered with fresh sterile towels. Dr. Parker now makes an incision in the lower abdominal skin marking with a scalpel and lifts the skin and underlying fatty tissue from the underlying muscles. If the muscles are loose (called "diastasis recti"), he will tighten them with several layers of sutures. He then removes the stretched out skin and again closes the abdominal incision with multiple layers of sutures, just like the one on the back. He will make a small incision over the belly button, bring this out through the skin to make the patient an attractive, natural-looking belly button.
Body Lift After Weight Loss From LAP-BAND Surgery*
Outer Thigh & Buttock Lift After Weight Loss*

Lower Body Lift Following Weight Loss*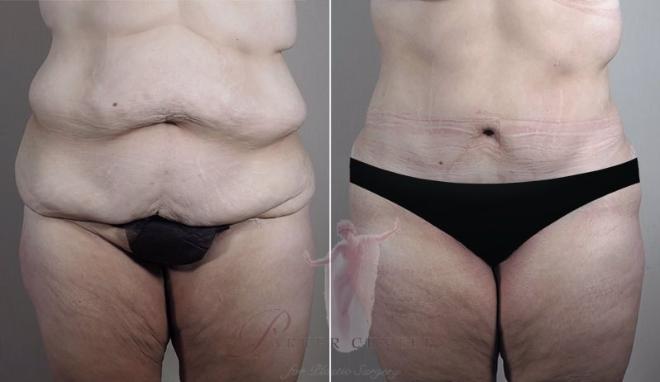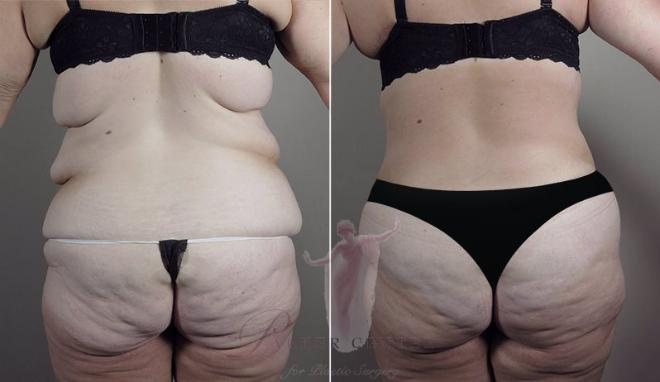 Are You Ready for Body Lift Surgery?
For your safety and to ensure the best possible results, you must be at a stable weight before undergoing plastic surgery after weight loss. Typically, Dr. Parker recommends waiting until one year after bypass surgery or when weight loss has plateaued for 6 months.
Your Body Lift Consultation & Imaging Session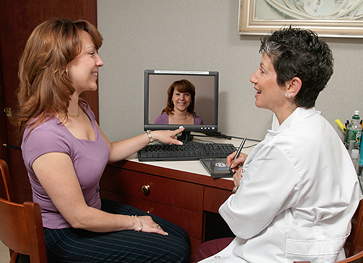 Consultations at the Parker Center are special. Dr. Parker will spend extra time with you, ensuring that he understands your goals and that you are fully educated about each potential solution. Additionally, our imaging expert will help you see the possibilities with digital photo imaging or Vectra 3D imaging technology, depending on your interests. Patients who are comparing providers often tell us our consults are the most thorough and informative they've ever experienced!
About Your Surgery at Parker Center
Dr. Parker performs body lifting surgery in our fully accredited surgical facility. Your surgery will be performed under general anesthesia, administered by our board-certified MD anesthesiologist. Time in surgery depends on the exact procedures you are having. Patients who are having more extensive procedures typically require post-op monitoring in our aftercare facility or in the comfort of their own home by a private duty nurse.
Body lifting procedures can be extensive cosmetic surgeries and typically require a more lengthy recovery, particularly if you are having a tummy tuck or other procedure that involves muscular repair. Dr. Parker will explain the details of recovery for each procedure you are considering, so you can decide what's best for you.
*Results may vary
Our Signature
Rapid Recovery Program
Our surgical procedures, anesthesia, medications, and aftercare are tailored to minimize post-operative discomfort and accelerate recuperation.
Learn More