Parker Center for Plastic Surgery
122 East Ridgewood Ave
Paramus, NJ 07652
Phone: (201) 967-1212
Monday, Wednesday, Friday: 9 a.m.–5 p.m.
Tuesday, Thursday: 9:00 a.m.–7 p.m.
Saturday: 9 a.m.–2 p.m. (medical spa only)

Rezenerate Facial
Nanotechnology meets anti-aging science for rapid skin rejuvenation

Want younger-looking, more attractive skin in a hurry? There's never been a better time to achieve this very goal at the Parker Center! Our skincare team offers all the most popular, effective options to treat skin aging, acne and other bothersome conditions—and we've just added one more high-tech treatment to our menu!
We're excited to introduce Rezenerate, a state-of-the-art, precision cosmetic facial treatment that delivers a customized blend of moisturizing and antioxidant serums into your skin at the cellular level for remarkably quick results and effective treatment of a variety skin concerns without any downtime.
Page Contents
How Does Rezenerate Work?
The secret of Rezenerate is nanotechnology. During treatment, our aesthetician uses a handheld wand to send "nanoscopic" (tinier than microscopic, about 1/10,000th of a human hair) channels of anti-aging serum ingredients deep beneath the skin's surface, where we can easily "feed" skin cells what they need to repair themselves at a faster rate. Treatment is non-invasive, totally painless, and does not cause any damage to your skin.
Paul M. Parker, M.D., FACS
Board-Certified Plastic Surgeon
Known for his surgical talent and caring personality, Dr. Parker has been serving the community for over 25 years. He has dedicated his practice to the education, safety, and comfort of his patients—making each one feel as important as family.
How Can Rezenerate Improve My Skin?
Reduce fine lines around the eyes, forehead, cheeks and lips
Smooth and soften skin texture
Minimize acne outbreaks
Reduce hyperpigmentation, brown spots and sun damage
Increase collagen production for firmer skin
Benefits of the Rezenerate facial include:
Painless, minimally invasive treatment
Zero downtime
Instantly noticeable improvements after your first treatment
No damage or ablation to the epidermis
Excellent for sensitive areas such as the eyelid region, lips
Safe for all skin types and tones
Feel Confident
About Your Procedure
Our free cosmetic consultations include plenty of time with Dr. Parker, our patient care coordinator, and our imaging specialist. Once your procedure is booked, our nurse educator will meet with you for a special 1-hour pre-op education session.
Request a Free Consultation
Your Education Session
How Does Rezenerate Compare to Other Skincare Treatments?
Many anti-aging treatments work by creating slight trauma in the skin, thereby triggering the skin's natural injury response, which in turn encourages skin cell renewal and collagen production. These treatments can be very effective, but are not always suitable for every patient's skin type, and results are often gradual.
Thanks to nanotechnology, Rezenerate can achieve similar skin cell renewal and accelerate collagen production while bypassing the injury-response mechanism. In turn, Rezenerate can achieve results very quickly for most common skin concerns, without any worry about discoloration or other adverse effects.
Because it is so gentle, we can easily combine Rezenerate with BOTOX injections, microdermabrasion, and other many skin care treatments during a single appointment, helping you achieve multiple goals all at once.
Before & After: Rezenerate for Crow's Feet (1 treatment)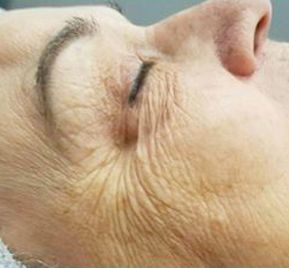 What Can I Expect During My Rezenerate Facial?
Before your first Rezenerate treatment, we'll sit down with you to discuss your concerns and goals, evaluate your skin, and outline a treatment plan that will safely and effectively achieve your desired results.
If Rezenerate is determined to be right for you, we will help you settle into one of our comfortable treatment rooms, and cleanse your skin in the treatment area. Rezenerate takes 20 to 90 minutes to perform, depending on your needs, and treatment is painless—at most, patients report a tickling sensation during treatment and some mild residual tingling for a few minutes after treatment.
When your Rezenerate session is complete, you can go right back to your normal routine (just keep your skin protected from the sun with clothing or SPF).
Before & After: Rezenerate for Hyperpigmentation/Sun Damage (series)
When Will I See Results From Rezenerate?
Rezenerate achieves instantly noticeable improvements in fine lines, skin texture, and other skin qualities, but the serums we infuse will continue to benefit your skin for several days after treatment. For maximum results, we often recommend a series of Rezenerate treatments, performed 2 to 3 weeks apart.