We can't escape the aging process, but we can lessen its visible effects on our skin—and a chemical peel is perfect for the job. By removing damaged layers of skin, a peel can reveal smoother, more radiant skin with fewer blemishes. While we'll never turn down a general boost in skin glow, we think the best treatments are those that can target a patient's specific concerns with minimal interruption to their busy lives. That's why we're excited at the Parker Center to offer the VI Peel, a gentle, effective, and customizable chemical peel that gets results in as little as 7 days.
Why get a VI Peel?
Whether you want to specifically treat fine lines, wrinkles, age spots, or acne—or you just want younger, smoother and healthier-looking skin overall—a VI Peel can help you reach your goals. Each VI Peel contains a unique blend of ingredients to improve skin on multiple levels. This allows us to treat a wide variety of skin types, areas, and concerns with precision.
There's no pre-treatment skin conditioning involved, so it's one of the easiest, most convenient peels available. Another thing that makes the VI Peel so easy: there's virtually no discomfort involved (what makes the VI Peel so effective is its optimized blend of ingredients—not its overpowering strength). You'll see improvements within one week of your first treatment, with little-to-no downtime.
What can a VI Peel treat?
The VI Peel is a fantastic option for treating a multitude of common skin problems on the face, hands, or body with minimal downtime. It's gentle enough to treat sensitive areas that other peels cannot, such as the around the eyes or mouth.
We'll use a VI Peel to reduce: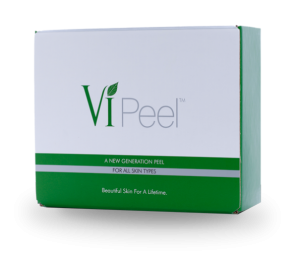 Fine lines & wrinkles
Dullness & rough patches
Age spots and brown spots
Dullness and rough texture
Acne & acne scars
We customize your VI Peel to target your top concerns
No one has cookie-cutter skin, so the VI Peel offers a suite of formulas to provide optimal results for a variety of skin types and concerns. Options include:
VI Peel: great for mild to moderate concerns like fine lines, sun damage, and roughness
VI Peel Precision: a more concentrated peel for more advanced signs of aging
VI Peel Precision Plus: targets sun damage, hyperpigmentation, and discoloration + improves texture
VI Peel PURIFY: clarifies, exfoliates, and neutralizes acne-causing bacteria to reduce inflammation and acne outbreaks
VI Peel PURIFY with Precision Plus: the ultimate peel to calm acne-prone skin and reduce acne scars
Don't worry about figuring out which VI Peel option you need right now; our highly experienced skin care professionals will help you choose the right option.
Your VI Peel treatments at the Parker Center
Your VI Peel is performed during a quick visit to our MedSpa. Typically, treatment takes only 15 minutes, and then you are free to return to your daily routine–just keep the treated skin protected with SPF and avoid sun exposure. There's no pain involved (no "hot" feeling that other peels might induce).
Following treatment, it's normal to experience some redness and itching, but no downtime is necessary. Your skin will gradually peel beginning about 48 hours after treatment, which peaks about 3 to 4 days after treatment. Our patients often schedule VI Peels late in the week so that the majority of peeling occurs over the weekend.
How many treatments will I need?
It depends on your goals. You'll notice smoother, more evenly toned skin after your first treatment, but most patients choose to have 3 to 4 VI peel treatments, spaced 4 weeks apart, to achieve substantial improvements for fine lines, wrinkles and other specific skin problems.
Ready to try a VI Peel? Contact us today for a consultation.