Parker Center for Plastic Surgery
122 East Ridgewood Ave
Paramus, NJ 07652
Phone: (201) 967-1212
Monday, Tuesday, Thursday, Friday: 9 a.m.–5 p.m.
Wednesday: 9:00 a.m.–7 p.m.
Saturday: 9 a.m.–2 p.m. (medical spa only)

Chemical Peels
One of the most popular resurfacing treatments in New Jersey, chemical peels use a prepared acid solution to exfoliate damaged, dull layers of skin, helping to remove blemishes & age spots, smooth fine lines & wrinkles, and balance pigmentation.
Peels are generally categorized by how deeply they penetrate the skin. Lighter peels remove the outer layers of the epidermis, addressing mild hyperpigmentation and blemishes. A deeper peel will remove more layers of skin, reaching the lower epidermis or into the dermis. These peels remove deeper scars and fine wrinkles, but require more recovery time.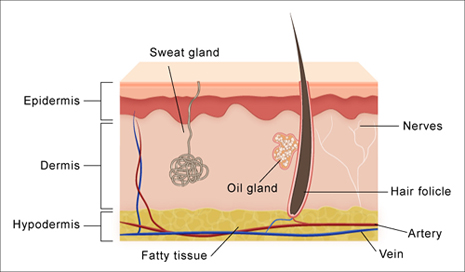 Parker Peels
The Peel with No Peel
This is a gentle peel with no peeling. The base of the peel is 10% each of Azeliac, salicylic, and mandelic acid. Down time is 2 days delay until peeling might start, maybe 1-2 days where the skin may be a bit dry. This peel was created for sensitive skin, redness prone skin, and rosacea prone skin. This peel is good for inflamed skin that need calming and gentle treatment. It is a great peel for a quick rejuvenation to give a nice healthy glow to your skin.
Paul M. Parker, M.D., FACS
Board-Certified Plastic Surgeon
Known for his surgical talent and caring personality, Dr. Parker has been serving the community for over 35 years. He has dedicated his practice to the education, safety, and comfort of his patients—making each one feel as important as family.
The Intense Peel
Our Intense Peel uses a combination of TCA, Salicylic Acid and Azeliac Acid with a layer of Retinoid. The down time 3 days until peeling will start followed by 4-6 days the peeling is shedding of the skin not layers of skin so it is not very noticeable. This is a great peel for retexturing the skin, reducing large pores, improve any texture issues, thick layered skin (a post summer hard and dry skin) as well as a deep rejuvenating peel. This peel works amazing on acne prone skin and creating a glowing smooth complexion.
The Bright Peel
The Bright Peel is for pigmented skin to help reduce hyperpigmentation, sun damage, and melasma. Down time is 2 days delay until peeling starts, followed by 4-6 days of peeling skin, with layers and layers of skin coming off. The more you peel the better pigment improvement will be.
Feel Confident
About Your Procedure
Our cosmetic consultations include plenty of time with Dr. Parker, our patient care coordinator, and our imaging specialist. Once your procedure is booked, our nurse educator will meet with you for a special 1-hour pre-op education session.
Request a Consultation
Your Education Session
Vi Peel
The Vi Peel is a gentle but powerful chemical peel that is safe and effective for all skin types and colors. In addition to improving overall skin health and beauty, the Vi Peel is a great option for treating:
Acne & acne scarring
Fine lines and wrinkles
Hyperpigmentation
Sun and age spots
Rosacea
Enlarged pores
The Vi Peel can be used safely virtually anywhere: the face, neck and décolletage, arms, back, legs, and even under the eyes. Learn more about the Vi Peel »
Alpha Hydroxy Acid Peel
Ingredients of these peels includelactic, glycolic and fruit acids. These are very superficial peels which heal quickly and allow the patient to return to all activities immediately afterwards. They make the skin smoother and more radiant.
Tricholoroacetic Acid (TCA) Peel
This is a light to medium depth peel, depending on the concentration used, which will heal in 3-7 days. This results in a more youthful appearance with skin tightening and reduced wrinkling.
Before & After: 30% TCA Peel*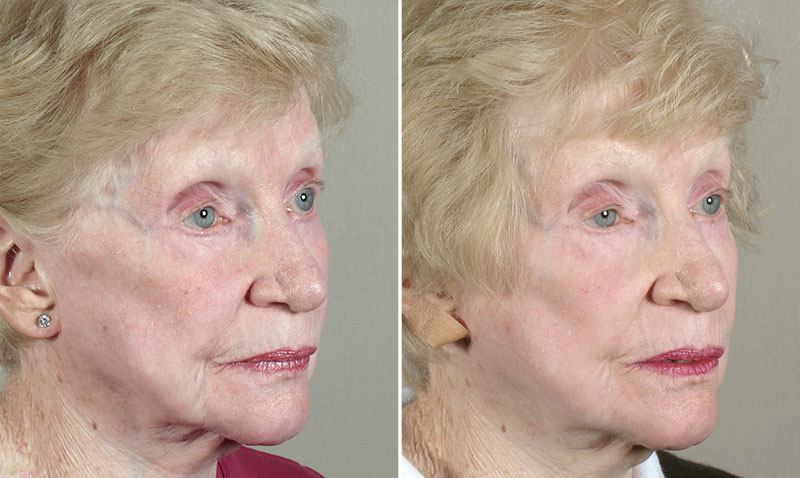 Higher Concentration TCA Peel
This peel uses a higher concentration of tricholoroacetic acid, with the exact amount depending on your specific needs. This results in a more youthful appearance with skin tightening and reduced wrinkling. A deeper TCA peel requires about 7 days to heal.
Before & After: Deep Chemical Peel*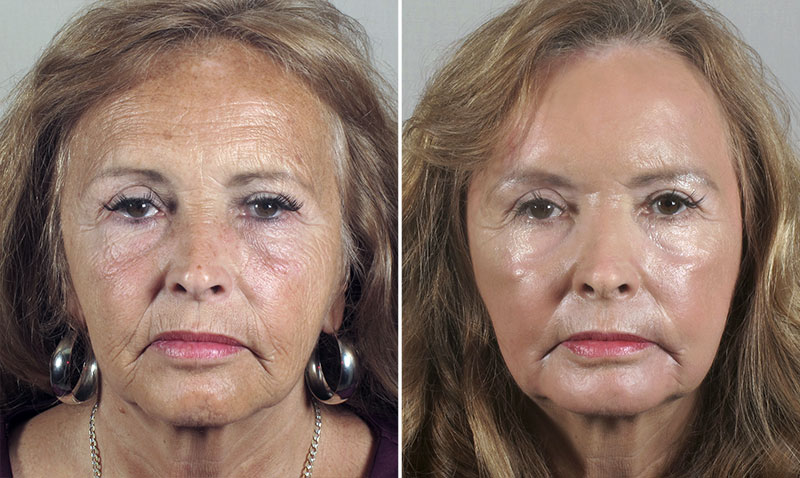 What will chemical peels do and what won't they do?
Chemical peels can help to tighten wrinkled skin, improve blotchy, irregular pigmentation, and improve the appearance of shallow acne scarring. Peels can also achieve dramatic long-term improvements in skin texture that are not easily replicated by any other procedure. Some evidence suggests that peeling the skin of patients with pre cancerous skin lesions may prevent the development of skin cancer.
However, a peel will not significantly reduce pore size, nor can it treat effects of aging such as sagging skin or thinning tissue; surgical procedures such as facelifts (with or without fat grafting) are necessary to treat sagging.
Preparing for a Chemical Peel
Dr. Parker will carefully evaluate your skin type prior to having a chemical peel. This is helpful in determining how your skin will respond to a chemical peel. The first step will be determining your skin's response to sun exposure, using the Fitzpatrick skin type scale:
| | |
| --- | --- |
| Skin Type | Description |
| Type I | Extremely fair skin, highly sun sensitive, burns very easily, never tans |
| Type II | Fair skin, very sun sensitive, burns easily, rarely tans |
| Type III | Skin is sun sensitive, burns sometimes, tans slowly, browns lightly |
| Type IV | Minimally sun sensitive, burns minimally, always tans to moderate brown |
| Type V | Not sun sensitive, rarely burns, tans darker brown |
| Type VI | Sun insensitive, never burns, very dark pigmentation |
The second step is to assess the amount of skin damage you have according to the Glogau Photoaging Classification System. The more sun damage present, the thicker the skin and the more aggressive the peel should be:
| | | | |
| --- | --- | --- | --- |
| Group | Photoaging | Age Range | Appearance |
| I | Mild | 25-35 | No keratosis, little scarring or wrinkling. Mild pigment changes. Wears little or no makeup. |
| II | Moderate | 35-50 | Early wrinkling, keratosis present but not visible, mild scarring and/or discoloration. Usually wears makeup. |
| III | Advanced | 50-65 | Visible keratosis, obvious wrinkles, and discoloration, visible capillaries. Always wears heavy makeup. |
| IV | Severe | 65-75 | Keratosis, deep wrinkles, skin laxity, discoloration, scarring. Makeup cakes and cracks. |
The Benefits of Pre-Peel Treatment
It has been our experience that patients undergoing deeper peels recover more quickly, with less redness and hyperpigmentation, after a 4- 6 week period of pre-treatment. The pre-treatment regimen includes glycolic acid, hydroquinone and Retin-A. These medications "rev up" the skin for the upcoming peel and accelerate the healing process.
Post Treatment Care
At the conclusion of the procedure, the peeled area will be covered with a petroleum based occlusive dressing, such as Aquaphor. This will keep the peeled skin moist, reducing pain and allowing for faster healing. Dr. Parker and his team will thoroughly review written instructions with you before and after the peel. The patient will be seen the day after the peel and several times during the first 7-10 days when healing should be complete. After that, visits will be scheduled at increasing time intervals to monitor the resolution of swelling as well as the re implementation of skin care products and sunscreen.
Who should avoid chemical peels?
Chemical peels aren't for everyone. Chemical resurfacing is not recommended for most darker skin types or if the patient has used Accutane within the past year. Chemical peels should be avoided by those with suppressed immune systems, a history of keloid scarring, cardiac abnormalities, collagen vascular disease, or emotional or mental instability.