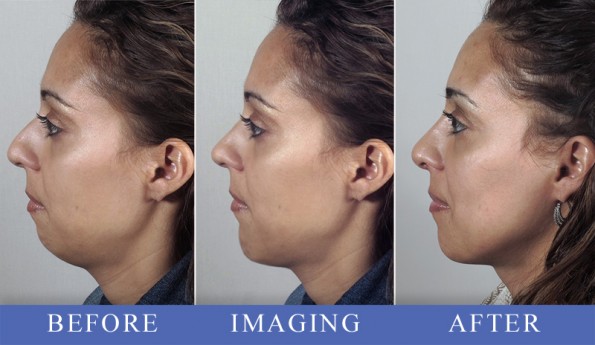 In this month's Featured Patient section, we discuss the importance of "computer imaging" as an adjunct to our plastic surgery consultations and surgery, as well. At the Parker Center, all patients have high quality digital photographs taken by our professional photographer at the time of their consultation with Dr. Parker. For most of our procedures, our consultations are supplemented by morphing these digital photographs to mimic the operative changes which may be obtained by Dr. Parker with surgery. We refer to this as "computer imaging".
Computer imaging is been a very powerful and educational tool, that helps us to demonstrate to an individual what they could look like after surgery. In the hands of an experienced team, such as Dr. Parker and his professional photographer, Liz, computer imaging has been very predictive of our achievable results.
The importance of computer imaging goes beyond the consultation. Dr. Parker reviews the patient's pictures and these images the night before surgery, has them displayed in his operating room on a large monitor, and uses them as an artist uses sketches while sculpting. The three patients featured this month demonstrate that. All three patients are shown before surgery, their "imaged" pictures, then their actual after surgery results. Patient #1 underwent liposuction of her neck and chin augmentation. Patient #2 underwent a rhinoplasty and chin augmentation. Patient #3 underwent a rhinoplasty and chin augmentation.
Patient #1
This 21 year old patient requested Dr. Parker to give her a stronger chin, create more definition in her jawline and improve upon her "double chin". The patient is 5'6″ tall and weighs 175 pounds. Dr. Parker removed 50 cc of fat from the patient's neck with liposuction, then inserted a #3 extended anatomic chin implant. The patient recovered quickly and painlessly after her surgery. She is thrilled with the improved contour of her jawline and neck. She feels much more self confident and tells us she now looks forward to having pictures taken rather than running the other way.
Patient #2
This 34 year old patient requested that Dr. Parker improve the appearance of her nose. Specifically, she was bothered by her dorsal "hump" and "broad tip". During the patient's consultation, Dr. Parker discussed how he could perform an open rhinoplasty to improve the appearance of the patient's nose. He also tactfully suggested that inserting a chin implant would help to build out her weak chin. Dr. Parker explained that a chin implant would complement the adjustments being made to the nose and help achieve better facial balance. The patient agreed with the plan. Dr. Parker subsequently performed an open rhinoplasty, reducing the bony-cartilaginous hump, as well as refining and setting back the patient's bulbous nasal tip. Dr. Parker then inserted a #3 solid silicone extended anatomic chin implant through a small submental incision. The patient enjoyed a quick, painless recovery. She is thrilled with the appearance of her nose, chin and improved facial harmony.
Patient #3
This 41 year old, who came to Dr. Parker by word of mouth, asked to have his nose made to appear smaller. During the patient's initial consultation, Dr. Parker recommended an open rhinoplasty and chin augmentation. At surgery, Dr. Parker performed an open rhinoplasty which included dorsal hump reduction, sculpted a better proportioned and shaped tip as well as insertion or an extended anatomic chin implant. Following surgery, the patient healed quickly and loved the improved aesthetics of his nose and chin.