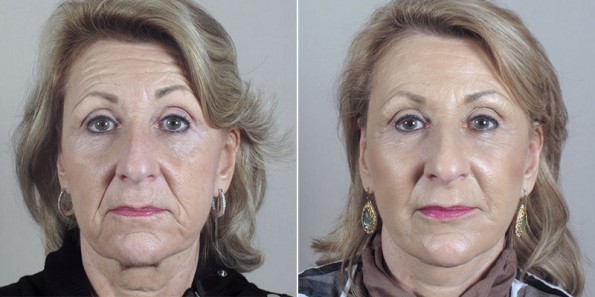 This month's Featured Patient demonstrates Dr. Parker's state-of-the-art facelift technique, designed to provide patients with a natural-looking, youthful appearance and lasting results.
Today's facelift is personalized for each patient and often includes non-surgical procedures to refine the patient's final appearance. It's a far cry from the results that could be obtained even 30 years back, making the history of the facelift procedure an interesting example for how a procedure can change and improve over time.
Facelift surgery has come a long way since the first ones were performed in the early 1900's. At the time, surgeons relied on skin removal alone, using incisions in front of and behind the ears.
By the late 1970's, plastic surgeons had discovered that incorporating the stronger soft tissue layer beneath the skin could create a longer lasting, more youthful contour to the face. This layer, called the submuscular aponeurotic system or "SMAS," provided a better support structure to the facelift. Surgeons could now get better results without relying on over-tightening the patient's skin.
More recently, surgeons such as Dr. Parker have focused on refining use of the SMAS to achieve an even more natural and youthful look. The modern facelift allows Dr. Parker to lift and reposition the deep facial tissues, reducing jowls and elevating the fatty tissues while maintaining a natural level of skin tensity. For many patients, final touches include Botox, fillers, or a skin resurfacing procedure. We welcome you to visit our facelift gallery to see the results.