Parker Center for Plastic Surgery
122 East Ridgewood Ave
Paramus, NJ 07652
Phone: (201) 967-1212
Monday, Tuesday, Thursday, Friday: 9 a.m.–5 p.m.
Wednesday: 9:00 a.m.–7 p.m.
Saturday: 9 a.m.–2 p.m. (medical spa only)

Thigh Lift for Men
Procedure Snapshot
A thigh lift can address excess sagging, bunching skin on men's inner thighs. Thigh lift surgery in Paramus, NJ, is a popular option after weight loss for men. It can significantly improve your comfort in many types of clothing.
Cost & Recovery
Schedule your cosmetic consultation with Dr. Parker to get your personalized quote backed by our Price Guarantee.
Patients typically return to work about 1 to 2 weeks after a thigh lift.
Quick Facts
Scars from thigh lift surgery are usually hidden well by shorts or swim trunks
Dr. Parker also often performs liposuction to create natural contours**
9,815 patients had thigh lift surgery in 2019***
**Results may vary
***Statistical information listed here is drawn from 2019 The Aesthetic Society data
Before & After Inner Thigh Lift*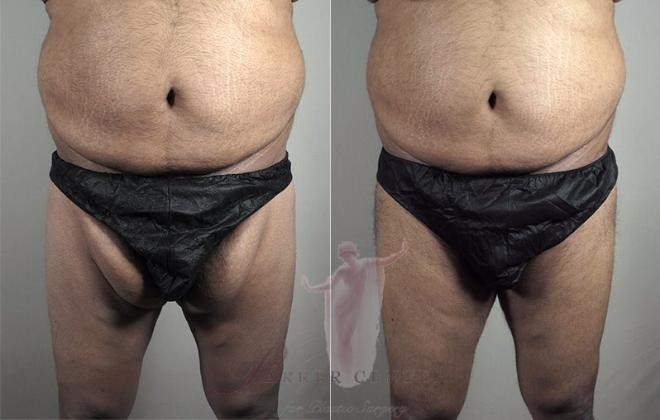 Page Contents
Who is a candidate for a thigh lift?
For many patients, significant weight loss results in skin excess that gathers on the inner thighs. This unwanted saggy skin can be removed with a crescent inner thigh lift. In some cases, liposuction alone can provide the desired results. Dr. Parker will discuss these options with you during your consultation.
Paul M. Parker, M.D., FACS
Board-Certified Plastic Surgeon
Known for his surgical talent and caring personality, Dr. Parker has been serving the community for over 35 years. He has dedicated his practice to the education, safety, and comfort of his patients—making each one feel as important as family.
Do I need a thigh lift or liposuction?
Liposuction only removes fat and helps sculpt the thighs' shape. Even though some patients with good skin elasticity may see their skin contract somewhat, liposuction alone cannot address sagging, excess skin. These patients usually need a thigh lift to remove the excess skin and tighten the inner thighs. Liposuction will make you look thinner, but a lift will make you look younger.
How is an inner thigh lift performed?
The incisions Dr. Parker makes for an inner (medial) thigh lift are shorter than for a lateral (outer) thigh lift. In this technique, called a crescent thigh lift, Dr. Parker makes the incisions in the crease of the groin so they are easily concealed, then uses these incisions to remove excess skin.
When finished, he closes the incisions with sutures. After completing the procedure, we have the patient wear a compression garment that decreases swelling and aids in the natural shrinking and tightening of the skin.
Thigh lift procedures are performed under general anesthesia or intravenous sedation as outpatient surgery.
How long does it take to recover from a thigh lift?
Following thigh surgery, patients adequately manage pain with oral medication in most cases. Patients return to desk jobs within 1 to 2 weeks and may slowly resume exercise in several weeks.
Our Signature
Rapid Recovery Program
Our surgical procedures, anesthesia, medications, and aftercare are tailored to minimize post-operative discomfort and accelerate recuperation.
Learn More
The Consultation Process
Dr. Parker meets with every patient considering plastic surgery for an initial consultation. During this appointment, he will listen to your concerns, explain your options to help you achieve your desired improvements, and go over details of your procedure options.
Feel Confident
About Your Procedure
Our cosmetic consultations include plenty of time with Dr. Parker, our patient care coordinator, and our imaging specialist. Once your procedure is booked, our nurse educator will meet with you for a special 1-hour pre-op education session.
Request a Consultation
Your Education Session