Parker Center for Plastic Surgery
122 East Ridgewood Ave
Paramus, NJ 07652
Phone: (201) 967-1212
Monday, Wednesday, Friday: 9 a.m.–5 p.m.
Tuesday, Thursday: 9:00 a.m.–7 p.m.
Saturday: 9 a.m.–2 p.m. (medical spa only)

Body Lift for Men
Procedure Snapshot
Body lifting procedures are designed to remove excess, hanging skin from the torso, chest, flanks or arms after massive weight loss from bariatric surgery or diet & exercise. Post-bariatric plastic surgery can help you feel more comfortable & confident in your leaner body.
Cost & Recovery
$8,000 to $19,000
Body lifting procedures are highly personalized; patients typically return to daily activity in 2 to 4 weeks
Quick Facts
Diet and exercise will not significantly improve sagging skin or loose abdominal muscles
Scars will always be present after a body lift, but should fade well with proper care
Abdominoplasty, chest lift & lower body lift are popular post-bariatric procedures for men
483 men had body lift surgery in 2019**
* Results may vary
** Statistical information listed here is drawn from 2019 The Aesthetic Society data
Following substantial weight loss, excess skin can hang from the hips, and from the outer and inner thighs. This can be very frustrating for those who have worked hard to lose weight because the skin will never regain the elasticity it once had.
The only way to fix this problem is through a body lifting procedure that surgically removes the excess skin and tightens these areas. This will:
Create a new, smoother contour,
Make you look younger, and
Allow you finally enjoy the fruits of your labor.
Page Contents
The Body Lift Procedure
Body/thigh lift is performed under general anesthesia.
For an outer (lateral) thigh and buttock lift, the incision extends from hip to hip across the top of the buttocks. It is strategically placed so that it can be concealed under a bathing suit or undergarments.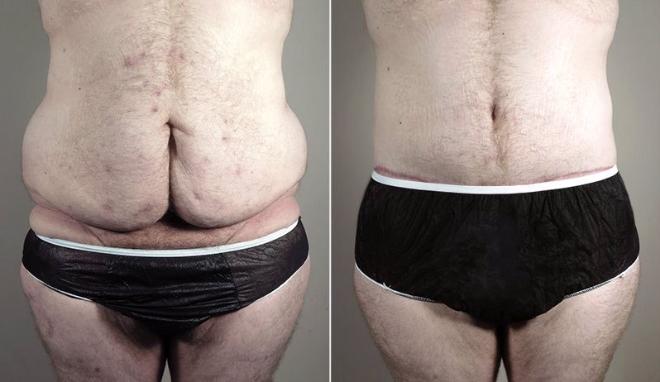 The incisions for an inner (medial) thigh lift are smaller and made in the groin crease so they are also concealed quite well.
Using these incisions, the excess skin is removed and incisions closed with sutures.
At the conclusion of the procedure, the patient is placed in a compression garment similar to a girdle to decrease swelling and aid in the natural shrinking and tightening of the skin.
Paul M. Parker, M.D., FACS
Board-Certified Plastic Surgeon
Known for his surgical talent and caring personality, Dr. Parker has been serving the community for over 25 years. He has dedicated his practice to the education, safety, and comfort of his patients—making each one feel as important as family.
Recovery After a Body Lift
Pain is adequately controlled with oral medication
You can return to sedentary work within one to two weeks
You can slowly resume exercise in four to six weeks
The result is of these procedures is tighter, more attractive thighs and buttocks, improved contours and smoother skin. People who have experienced significant weight loss often describe the results as the "icing on the cake."
Body lift procedures at Parker Center for Plastic Surgery are commonly combined with abdominoplasty, liposuction, or gynecomastia.
"I am a male who was concerned with my abdomen and love handles. I am physically fit, but could not get rid of these areas. I am happy with my results and so glad I chose Dr. Parker. I feel more confident in myself and in my line of work, that is very important."

Body Lift Patient
Our Rapid Recovery Program
Most of our male patients lead active lives and are anxious to return to their activities as soon as possible after surgery. With that in mind, we have tailored our surgical procedures, anesthesia, and medications, and developed our Rapid Recovery peri-operative program to optimize the recovery process. During both your consultation with Dr. Parker and in your pre-op education visit with our Nurse Educator, your anticipated recovery will be discussed in detail.
Our Signature
Rapid Recovery Program
Our surgical procedures, anesthesia, medications, and aftercare are tailored to minimize post-operative discomfort and accelerate recuperation.
Learn More
Additional Parker Center Resources
To learn more about the body lift procedure, read about our consultation process. If you have further questions or comments, please contact us.
Feel Confident
About Your Procedure
Our free cosmetic consultations include plenty of time with Dr. Parker, our patient care coordinator, and our imaging specialist. Once your procedure is booked, our nurse educator will meet with you for a special 1-hour pre-op education session.
Request a Free Consultation
Your Education Session