Parker Center for Plastic Surgery
122 East Ridgewood Ave
Paramus, NJ 07652
Phone: (201) 967-1212
Monday, Tuesday, Thursday, Friday: 9 a.m.–5 p.m.
Wednesday: 9:00 a.m.–7 p.m.
Saturday: 9 a.m.–2 p.m. (medical spa only)

|
|

How We Pamper Our Patients
Plastic Surgery New Jersey – Pampering Our Patients

Parker Center Receives Patients' Choice Award!
The Patients' Choice award recognizes doctors who make a difference in the lives of their patients. This honor is given to physicians who have received near perfect scores as voted by their patients.
We Seek to Exceed Your Expectations
We hear again and again from our patients that our surgical results have exceeded their expectations. In addition, they compliment us on our thoroughness in preparing them for surgery and the thoughtful care they have received before and after surgery.
---
Our process begins on the day of your initial consultation. Once a surgical procedure is scheduled, patients undergo a 30 to 40-minute, in-office, face-to-face education session with Dr. Parker's Nurse Educator. During this session, a thorough review of a printed information packet specifically designed for the patient and procedure they are having is done. It includes a discussion of what to do in preparation for surgery, details about the day of surgery itself, and what to expect after surgery. It's a nuts and bolts session that really educates our patients about the entire surgical process here at Parker Center.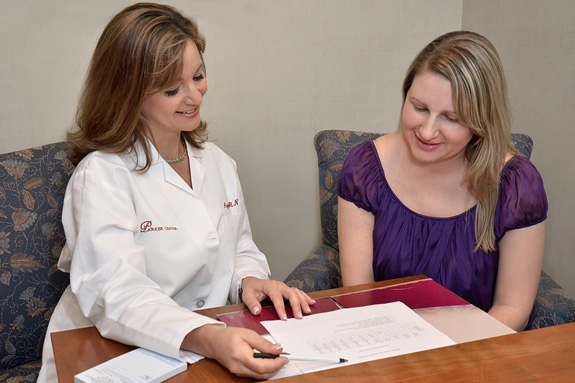 On the day of surgery, patients are made to feel comfortable by our nurturing staff when they arrive in Surgiplex, LLC, our onsite fully certified, ambulatory facility. Dr. Parker then carefully draws an anatomic diagram on the area to be operated upon and reviews the operative plan with the patient in front of a full length mirror. Our anesthesiologist discusses the anesthesia plan with the patient as well.
During the surgical procedure, while Dr. Parker is busy operating, one of his nurses keeps the family informed of the progress to help allay any anxieties. Following surgery, our patients recover in the Surgiplex, LLC Recovery Area. Most patients are able to leave the facility within an hour after surgery. Patients undergoing more lengthy and extensive procedures such as a facelift, neck lift, lipoabdominoplasty, abdominoplasty, large volume liposuction or those patients with special concerns will undergo a 23 hour stay in our facility monitored by one of our registered nurses. This one-on-one nursing care under close supervision by our specially trained nurses in the relaxed comfort of our facility gets rave reviews from our patients.
---
Prior to discharge from Surgiplex, LLC our nurses review again all patient aftercare instructions and then follow up by telephone with the patient over the next 24 hours. Patients return to see Dr. Parker within 3 to 4 days of surgery for a routine follow up examination. Typically, at this visit, our patients are having very little pain, very little bruising and some expected postoperative swelling (see our Rapid Recovery Program). The first of 3 post surgical manual lymphatic drainage massages occur within the first 7 to 10 days after surgery in our onsite Parker Center Medi-Spa. Patients find these relaxing, soothing and immediately notice their benefit in rapidly getting rid of postoperative swelling.
Dr. Parker and his staff continue to see their patients for follow up examinations at progressively increasing intervals over the first year to be sure the healing and results are as expected. Patients have learned that at the Parker Center, the experience doesn't begin and end with surgery: patients are pampered before and for many months afterwards.