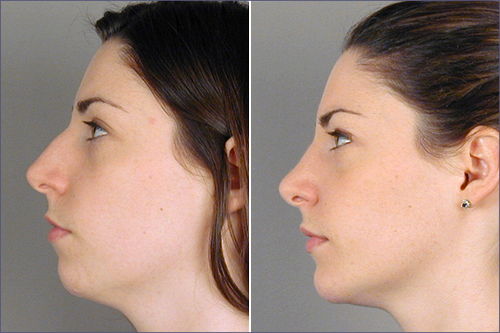 This month, we are discussing the power of chin implants in improving facial aesthetics. This procedure is usually performed in less than 30 minutes under monitored sedation or general anesthesia. In this short time frame, a weak chin can be made stronger and in better proportion with other facial features, making it a quick yet powerful procedure.
We demonstrate the results with two patients who have undergone chin augmentation to increase the size of their chins.
Patient #1
In the first patient, age 24, a chin implant was inserted at the time of rhinoplasty to achieve better facial balance: the nose was also made somewhat smaller with a more attractive shape. Adding a chin implant at the same time enhances facial harmony.
Patient #2
The second patient, age 39, underwent chin augmentation at the time of neck liposuction. Once again, using a chin implant helps build out a weak chin and complements the improved aesthetics achieved by removing heaviness from the neck with liposuction.
Recovery from chin augmentation surgery is relatively quick and easy, with almost no pain associated with the procedure. There is a mild to moderate amount of swelling and usually very little bruising. Patients are often able to return to work and be in public within a week's time.