In Paramus, Facelift Procedures at the Parker Center are Popular for All Ages
Board certified plastic surgeon, Dr. Paul M. Parker, knows that everyone's skin shows signs of aging at different rates so every consultation is individualized to deliver appropriate treatment.
(Vocus/PRWEB ) September 30, 2009 — A 60 year-old can look 40 and a 40 year-old can look 60. The reason for this is that genetics, environment and an individual's skin care regimen dictate how quickly the face shows age. This is why Paramus plastic surgeon, Dr. Paul M. Parker says there is no real age requirement for a facelift procedure.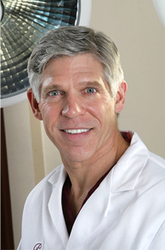 Dr. Paul M. Parker
"Whatever the age, when a patient comes to me wanting a facelift, I start every consultation by handing her a mirror," he says. "Then I say 'Show me what's bothering you.'" He goes on to say that if the patient points out sagging jowls and lax skin of the face and neck, a facelift will help the situation. If the patient expresses concern about fine wrinkling of the skin, he recommends non-surgical treatments at The Parker Center Medi-Spa, the onsite medical spa where Dr. Parker serves as Medical Director.
It is important to understand that the purpose of a facelift procedure is to reposition underlying fatty tissue that sags with aging along with sagging skin in the jowls, cheek and neck area. Dr. Parker's biplaner Paramus facelift procedure ensures natural looking results, as opposed to other techniques that simply pull the skin tight. He uses carefully designed incisions which curve in front and behind the ear. Through these incisions, he lifts up the skin in the face and neck. The fallen fat is lifted into a more youthful position with sutures. The facial skin is then re-draped over the fat, excess skin removed and incisions closed with sutures, so as to make them inconspicuous.
As women age, their skin loses key biochemical components such as collagen and elastin which allow gravity to cause a sagging of their facial and neck skin. This process is not confined to just the skin, however. The fibers holding the fat beneath the skin in place loosen with aging, causing a descent of facial and neck fat which contributes to this aged appearance. Women of all ages experience these physiologic changes due to genetics, environment and lifestyle. "I have seen an increase in younger patients who are good candidates for a facelift. The youngest patients I have treated have been in their mid-thirties."
Dr. Parker admits that patients in their 30s and 40s have a bit of advantage over their more senior counterparts when it comes to getting a Paramus facelift. "For one thing, younger patients tend to have better skin tone and elasticity which leads to a faster bounce back of the skin," he says. "I can also use shorter incisions than say, with a 70 year-old patient with poor skin tone."
When Dr. Parker has a younger patient come in thinking a facelift is what she needs, "I will listen to their concerns and then perform a physical examination to correlate the patient's concerns with their physical findings. Following this I will discuss with the patient options for treatment. These will range from a facelift procedure less invasive solutions such as microdermabrasion, skin care products, a chemical peel, Botox or fillers," he says. The key for determining candidacy for a facelift is not age which is why Dr. Parker "individualizes every consultation" with his patients.
For a facelift or other cosmetic surgery, New Jersey residents can come in to the Parker Center for customized care with natural-looking results. Contained within the Parker Center is a fully accredited, state-of-the-art ambulatory surgical facility with a fully trained and certified staff of nurses and anesthesiologists.
The signs of aging do not discriminate and are not ruled by a number. Women in their 30s, 40s, 50s and beyond can all benefit from the Paramus facelift procedure at the Parker Center.