No two breast augmentations are exactly the same—and providing you with optimal results for your natural proportions, individual aesthetic goals, and lifestyle requires an expert touch and a customized surgical plan. Dr. Parker has been helping women from all walks of life enjoy increased confidence and comfort with breast augmentation surgery for over 25 years, and his dedication to staying up-to-date on the safest, most effective techniques has earned him a reputation for providing patients with stellar results and an exceptional surgical experience.
Five breast implant pocket locations can be used in breast augmentation, also known as augmentation mammoplasty. These pocket locations include: 1) subglandular, whereby the implant sits behind the breast gland but above the pectoralis major muscle, 2) partial subpectoral, whereby the implant sits partially behind the pectoralis major muscle, 3) complete subpectoral, whereby the implants sits totally behind the pectoralis major muscle, 4) subfascial, whereby the implant sits behind the breast gland and fascia covering the pectoralis major muscle but above the muscle and 5) dual plane, whereby the implant sits partially behind the breast gland and partially behind the pectoralis major muscle simultaneously.
In the overwhelming majority of his breast implant procedures, Dr. Parker prefers the dual plane technique to the others. Having experience with all of these methods, he has found the dual plane technique provides optimal results for his patients. The dual plane method allows Dr. Parker to surgically adjust the position of the pectoralis major muscle relative to the breast implant and breast tissue permitting better control of these three variables.
ARTICLE CONTENTS
What is dual plane breast augmentation?
Dual plane breast augmentation is a surgical technique that involves placing breast implants partially under both the breast gland and the pectoralis major muscle simultaneously. Dr. Parker achieves this by dividing the attachments of the pectoralis major muscle above the inframammary fold, then releasing the attachments of the breast tissue to variable degrees, based on the patient's individual anatomy and results he is trying to achieve.
The resulting pocket places the breast implant in an optimal position for the individual patient and a more natural outcome.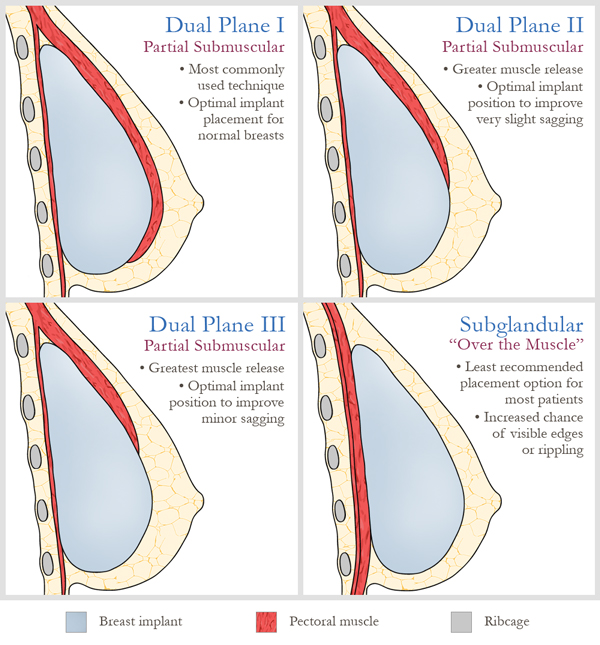 Dual Plane I breast augmentation
Dual Plane I breast augmentation is most commonly performed by Dr. Parker. With Dual Plane I augmentation, Dr. Parker releases only a minimal amount of overlying breast tissue from the pectoral muscle.
Dual Plane II and III breast augmentation
Dual Plane II and III augmentation techniques are most appropriate for patients who both want to improve breast shape and size while also addressing minor sagging or a "deflated" appearance. Dual Plane II involves releasing the overlying breast tissue to the lower border of the areola to improve very slight sagging Dual Plane III releases the breast tissue higher up to the level of the nipple allowing the breast implant to expand the lower portion of the breast to a greater degree. This can help elevate the nipple and areola to improve the appearance of mildly sagging without necessarily requiring breast lift surgery. It does not, however, eliminate the need for breast lift or mastopexy surgery in patients with a greater degree of sagging.
What are the benefits of dual plane breast augmentation?
Dr. Parker has found that the dual plane technique provides patients with the benefit of both partial subglandular and submuscular placement simultaneously (very natural look, reduced risk of visible implant edges, etc.) with the ability to expand the breast skin envelope to treat mild sagging.
Women with tuberous breasts (a constricted breast deformity) may also benefit from this technique, as it allows Dr. Parker to expand the lower pole of the breast which in turn corrects a downward-facing nipple while giving the entire breast a more attractive shape.
Is dual plane breast augmentation right for me?
Dual plane breast augmentation is a fantastic choice for many women, but it's important to determine if it's the right fit for your body, goals, and expectations. The best way to determine what type of breast augmentation technique is right for you is to consult with a board certified plastic surgeon who is experienced in breast augmentation.
Typically, Dr. Parker finds that patients who answer "yes" to the following questions are great potential candidates for the dual plane technique:
Do you have mild breast sagging?
Do your breasts look "deflated" after pregnancy and breastfeeding or weight loss?
Are you hoping for a natural breast shape with fullness in the lower breast?
If you have excessive breast sagging, it's important to know that this technique will not provide you with dramatic lifting. For those who want to improve breast shape and size while also treating more significant sagging, a breast augmentation with lift (augmentation mastopexy) is recommended.
Your dual plane breast augmentation consultation & imaging session
Your consultation is where the fun really begins—and the Parker Center has made the experience particularly special! Patients who are comparing providers often tell us our consults are the most thorough and informative they've ever experienced!
During your appointment, Dr. Parker will spend extra time with you to ensure that he understands his goals and that you are fully educated about your options so you can make a well-informed decision. In addition to your time with Dr. Parker, you'll also have the opportunity to meet with our imaging expert so you can see the possibilities of your procedure. Using digital photo imaging or Vectra 3D imaging technology, she will create realistic imaging of your potential results.
What is dual plane breast augmentation recovery like?
While the recovery process of any procedure can vary from person to person, most patients are able to get back to their non-strenuous jobs within the first week. While it's normal to be sore and tired for the first few days, light activities, showering, and walking can be resumed the day after surgery!
As with any technique that involves implant placement under the pectoral major muscle, it's normal to experience some muscle tightness and tightness in the chest as your body heals and accommodates to the breast implants. As part of our Rapid Recovery program, you'll be given prescriptions for medications which raise your pain threshold and cut down on swelling as well as bruising. Using this regimen, the majority of our patients report their pain levels to be low and not need any opiod pain medications. Our goals to optimize your recovery after surgery will be explained to you in detail during your Pre Op Visit with Our Nurse Educator.
Rapid Recovery after dual plane breast augmentation
One of the hardest things our patients experience after surgery is waiting to get back to regular life so they can enjoy their new look. It's crucial to have a positive, safe recovery experience for your personal wellbeing as well as for achieving optimal results.
We want to help you get back to your normal routine as safely and as soon as possible! That's why we have developed special protocols to optimize your post-procedure experience.