Parker Center for Plastic Surgery
122 East Ridgewood Ave
Paramus, NJ 07652
Phone: (201) 967-1212
Monday, Tuesday, Thursday, Friday: 9 a.m.–5 p.m.
Wednesday: 9:00 a.m.–7 p.m.
Saturday: 9 a.m.–2 p.m. (medical spa only)

Brow Lift
Procedure Snapshot
This procedure can help correct a tired or angry appearance by lifting the forehead tissues and smoothing deep folds & creases. Dr. Parker uses minimally invasive brow lift techniques, personalized to your needs.
Cost & Recovery
Schedule your cosmetic consultation with Dr. Parker to get your personalized quote backed by our Price Guarantee.
Most patients are back to normal activities about 7 to 10 days after surgery.
Quick Facts
Injectables can provide temporary, non-surgical brow rejuvenation
A brow lift can be combined with eyelid surgery for more complete rejuvenation**
Any scarring is well-hidden behind the hairline or in the eyelid crease
23,305 patients had brow lift surgery in 2019***
**Results may vary.
***Statistical information listed here is drawn from 2019 The Aesthetic Society data.
Parker Center for Plastic Surgery
If people tell you that you look angry or sad, an aging forehead with drooping eyebrows and wrinkled forehead skin may be to blame. As we age, our skin loses its elasticity and tone. Gravity wins out, causing our forehead and eyebrows to sag. In addition, a lifetime of facial animation and corrugator muscle (those muscles between the eyebrows) activity causes a progressive deepening of the wrinkle lines in our forehead skin. At Parker Center for Plastic Surgery, brow lift surgery has helped many people from Ridgewood and throughout Bergen County, North New Jersey, and surrounding areas look as youthful and happy as they feel.
Is a Brow Lift Right for Me?
A number of options currently exist to treat the signs of aging in the forehead and eyebrows. During your initial consultation, Dr. Parker will listen to what bothers you, take a medical history, and examine your forehead and face, focusing on the areas around your eyes. He will assess your eyebrow position, upper eyelid skin excess, the wrinkles in your forehead and those between your eyebrows, and the quality of your forehead skin. Dr. Parker will review his findings with you and discuss the various treatment options available.
What Can a Brow Lift Do?
A brow lift accomplishes several goals:
Raises the eyebrows to a more aesthetically and desirable position
Smoothes horizontal wrinkles across the forehead & between the eyebrows
Restores a more well-rested and youthful appearance
What Are My Brow Lift Options?
Options for treatment run the gamut from least to more aggressive, and Dr. Parker will discuss these options with you during your consultation.
Upper Eyelid Lift With Corrugator Muscle Removal

One option to improve the wrinkles in between and above your eyebrows is removing your corrugator muscles. This can be done through an incision in the upper eyelid crease during an upper lid blepharoplasty procedure. These are paired muscles located at the inner aspect of the eyebrows. They are directly responsible for causing frowning and wrinkling in between the eyebrows, and also contribute to the horizontal wrinkles that occur in the forehead. Neuromodulators such as BOTOX® or Dysport® are commonly injected into these muscles as a non-surgical option and are very effective in softening these wrinkles for three to six months.
During an upper lid blepharoplasty surgery, Dr. Parker can remove the corrugator muscles without any additional incisions; this procedure is referred to in medical circles as a "transpalpebral corrugator resection". Doing this adds approximately 30 minutes to the blepharoplasty procedure and very little additional time to the recovery afterward. The removal of the corrugator muscles should provide long-term correction of frowning as well as softening of the forehead wrinkles.
Internal Lateral Browpexy With Upper Lid Blepharoplasty
Before & After Lateral Brow Lift*

One option to lift the outer or lateral aspects of drooping eyebrows is called an "internal lateral browpexy". An internal lateral browpexy can be performed during upper lid blepharoplasty surgery through the same incision in the upper eyelid crease. Using this approach, Dr. Parker can moderately elevate the outer aspect of your eyebrows by suspending them internally with sutures. Doing this adds approximately 30 minutes to an upper lid blepharoplasty procedure and very little additional time to recovery.
Performing an internal lateral browpexy will not elevate the drooping eyebrows as much as other brow lifting procedures (see below). Patients with mild to moderate drooping of the eyebrows like it because it doesn't need any additional incisions and adds very little to the recovery time after upper lid blepharoplasty.
Temporal Brow Lift With Transpalpebral Corrugator Resection
Before & After Temporal Brow Lift*

In those patients undergoing an upper lid blepharoplasty who have little sagging of the inner aspect of their eyebrows and only mild laxity of skin in between the eyebrows, a temporal brow lift is a very good choice. A 1½-inch incision is made in the temporal part of your scalp behind the hairline. Dr. Parker separates the temporal and forehead skin from the underlying tissues to elevate the outer aspect of your eyebrows into a more youthful position. Dr. Parker will then perform what is known as a transpalpebral corrugator resection, removing the corrugator muscles under direct vision through the upper eyelid incision (medically, this is referred to as "transpalpebral"). Removing the corrugator muscles offers a long-term solution to soften frown lines and forehead wrinkles.
Endoscopic Brow Lift
Before & After Endoscopic Brow Lift*
During an endoscopic brow lift, Dr. Parker will make two small incisions, each about ¾" in length, hidden behind your anterior hairline and a somewhat longer incision hidden behind your temporal hairline. This will allow him to insert a thin telescopic probe, called an endoscope, connected to a camera and television monitor. Guided by the endoscope, he will surgically separate your forehead skin from the underlying tissues. This will allow Dr. Parker to remove a significant portion of the corrugator muscles using the endoscope for optimal visualization. He will elevate your eyebrows into a more youthful position and hold them in place with sutures as well as two fixation devices called Endotines. The incisions will then be closed with sutures.
Pre-Hairline Brow Lift
Patients concerned about their low brows who have high hairlines will merit additional discussion with Dr. Parker. He will offer them 3 options: 1) make their hair the priority and leave their brows alone, 2) undergo an endoscopic procedure and accept a high hairline, 3) undergo a pre hairline incision at the frontal hairline to lift their brows and maintain or even shorten their forehead height.
If they elect this last option, Dr. Parker will carefully make an incision along the axis of the frontal hair follicles, then curve the incision back into the temporal scalp recess so it is not seen. Through this incision, he will lift your forehead skin from the underlying tissues. This will allow Dr. Parker to remove a significant portion of the corrugator muscles under direct vision. He will elevate your eyebrows into a more aesthetic and youthful position holding them in place with sutures, remove some forehead skin and somewhat lower the hairline. There is a permanent scar along the frontal hairline but careful design and closure of this incision typically leads to a well-concealed scar.
Paul M. Parker, M.D., FACS
Board-Certified Plastic Surgeon
Known for his surgical talent and caring personality, Dr. Parker has been serving the community for over 35 years. He has dedicated his practice to the education, safety, and comfort of his patients—making each one feel as important as family.
Can You Lift the Forehead Without Surgery?
In considering treatment options, we first think of non-surgical options. Though temporary, neurotoxins such as BOTOX , Dysport or Jeuveau can be used to elevate the outer aspect of the eyebrows and soften wrinkling between the eyebrows and in the forehead. We often refer to this as a "chemical brow lift."
Hyaluronic acid (HA) fillers can be used to plump out very deep depressions in between the eyebrows if they do not completely disappear after neurotoxin injections. Fillers can also be used in conjunction with neurotoxin injections to raise the outer aspect of the eyebrows.
Discoloration and fine wrinkling of the forehead skin may be improved with skincare products, a chemical peel, or laser resurfacing. Dr. Parker, our Nurse Injector, Angela Parisi, RN, and our team will discuss the details of these treatments with you, as well as their duration, at your initial consultation.
Your Brow Lift Consultation & Imaging Session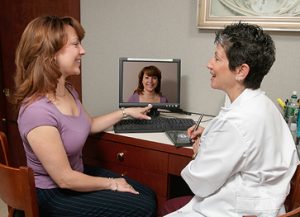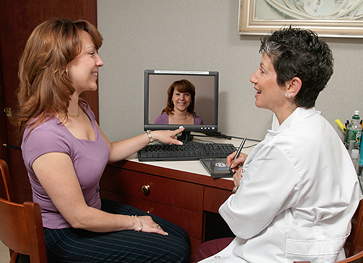 Consultations at the Parker Center stand out from the crowd. Dr. Parker will spend extra time with you, ensuring that he understands your goals and that you are fully educated about each potential solution.
Next, you'll meet with our imaging expert, who will help you see the possibilities with digital photo imaging or Vectra 3D imaging technology. Patients who are comparing providers often tell us our consults are the most thorough and informative they've ever experienced!
What Can I Expect During Brow Lift Recovery?
The procedures discussed above usually require approximately one hour to perform. Patients are made comfortable with monitored intravenous sedation or general anesthesia, administered by one of our board certified anesthesiologists.
Patients are typically discharged one hour after completing surgery. There is usually very little postoperative pain. Patients may shower and shampoo their hair the day after surgery. Sutures are removed within ten days. Swelling and discoloration usually subside within 10 to 14 days. Camouflage make-up may be applied after one week and exercise resumed in two weeks.
Our Signature
Rapid Recovery Program
Our surgical procedures, anesthesia, medications, and aftercare are tailored to minimize post-operative discomfort and accelerate recuperation.
Learn More