Parker Center for Plastic Surgery
122 East Ridgewood Ave
Paramus, NJ 07652
Phone: (201) 967-1212
Monday, Tuesday, Thursday, Friday: 9 a.m.–5 p.m.
Wednesday: 9:00 a.m.–7 p.m.
Saturday: 9 a.m.–2 p.m. (medical spa only)

FaceTite
Procedure Snapshot
This radiofrequency assisted lipolysis (RFAL) technology remodels the skin to restore a firmer, smoother, more youthful look. With FaceTite in Paramus, New Jersey, at Parker Center for Plastic Surgery, we can help you look younger without surgery and only minimal downtime.
Cost & Recovery
Schedule your cosmetic consultation to get a personalized quote.
Most patients are back to work in 4 to 5 days.
Quick Facts
FaceTite uses bipolar RF energy for thorough, rapid results.
AccuTite is a smaller version of the FaceTite applicator used for delicate areas and fine-tuning FaceTite treatments.
Minimally invasive skin tightening can postpone your need for a facelift.**
**Results may vary.
Before & After FaceTite
Eventually, it happens to us all. We look in the mirror, and our face just looks a little older and a little more tired than we remember. Visible jowls, fullness under the chin, and deepening folds along the nose and mouth can occur as early as in your 30s—but you don't have to put up with these changes or even have surgery to reverse early-stage signs of aging. Parker Center for Plastic Surgery offers FaceTite in Paramus for people from Ridgewood and throughout Bergen County, North New Jersey, and surrounding areas who want effective skin tightening without surgery.
Page Contents
Paul M. Parker, M.D., FACS
Board-Certified Plastic Surgeon
Known for his surgical talent and caring personality, Dr. Parker has been serving the community for over 35 years. He has dedicated his practice to the education, safety, and comfort of his patients—making each one feel as important as family.
What Is FaceTite?

While facelift surgery remains the most effective option for dramatically improving skin laxity, there is a huge population of people who would love to address their concerns but aren't quite ready for surgery. FDA-cleared FaceTite was developed to meet this growing demand of patients hoping for minimally invasive skin tightening options that target and reduce small areas of fat for an overall more youthful appearance.
FaceTite uses focused radiofrequency (RF) energy to remodel skin and subcutaneous tissue (below the skin), improving age-related skin laxity and restoring a firmer, smoother, more naturally youthful appearance to your features. While other RF treatments exist, FaceTite (as well as its siblings, BodyTite and AccuTite) is unique. FaceTite's technology utilizes bipolar RF energy both above and below the skin to ensure the most thorough treatment and rapid results without invasive surgery.
What Are the Benefits of FaceTite?
Women and men come to our practice for FaceTite from Ridgewood, Paterson, Jersey City, and other nearby cities to tighten the cheeks, jawline, double chin, neck, and other small areas. It offers a variety of benefits, which include:
Minimally invasive, in-office procedure
Can be performed with only local anesthesia
Minimal downtime in most patients
Virtually scarless—the procedure is done using a tiny needle access incision only
Dramatic improvements possible with one treatment
Helps to postpone the need for a surgical facelift
Reliable, safe, and consistent outcomes
BodyTite, which employs the same FDA-cleared technology as FaceTite, is used for larger areas such as the abdomen, hips, back, thighs, chest, and upper arms.
How Much Does FaceTite Cost?
At Parker Center in Paramus, New Jersey, FaceTite cost will depend on the areas treated. We will give you a personalized cost estimate at your private cosmetic consultation.
How Does FaceTite Work?
Dr. Parker will inject a local anesthetic to numb the treatment area prior to employing the FaceTite bipolar treatment applicator. This applicator consists of a very thin probe inserted underneath the skin and an external RF transmitter, which Dr. Parker moves along the skin of the area being treated. RF energy is emitted between the internal probe and the external transmitter, heating up the overlying subcutaneous tissue and fibroseptal network. The sophisticated FaceTite instrumentation monitors the internal and external temperatures for precise heating of these tissues beneath the skin. This heating effect induces collagen formation and contraction of these soft tissues and skin over the ensuing months.
What Is AccuTite?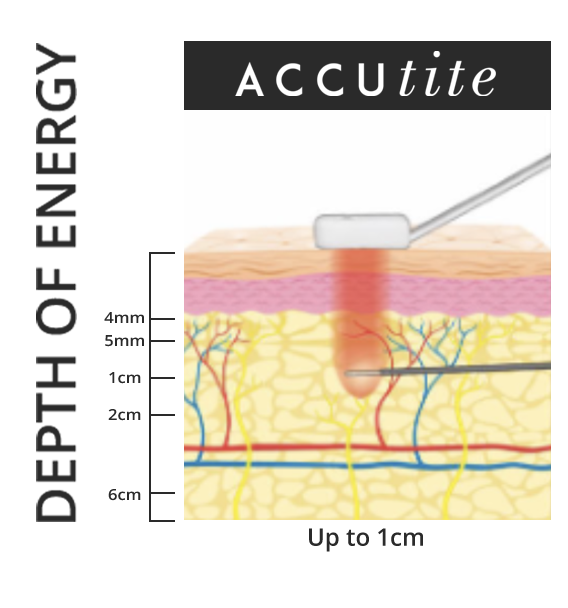 AccuTite, often combined with FaceTite and BodyTite, is the smallest FDA-cleared radiofrequency device on the market. It allows us to safely and accurately tighten skin and reduce fat in small and delicate areas such as:
Knees
Jowls
Jawline
Tail of the breasts
Underarms
Feel Confident
About Your Procedure
Our cosmetic consultations include plenty of time with Dr. Parker, our patient care coordinator, and our imaging specialist. Once your procedure is booked, our nurse educator will meet with you for a special 1-hour pre-op education session.
Request a Consultation
Your Education Session
Who Is a Good Candidate for FaceTite?
FaceTite is great for patients who need more lifting and tightening than skin resurfacing or fillers alone can achieve, but who are not ready for facelift surgery. FaceTite is also an excellent treatment to combine with one or more of the following treatments for comprehensive nonsurgical facial rejuvenation:
FaceTite works best for those experiencing mild to moderate skin sagging and excess fullness; if you have more pronounced jowls or loose skin on your neck, you may get better results with facelift surgery. If you prefer the least invasive option possible and desire modest skin firming and resurfacing, you may enjoy Morpheus8 radiofrequency microneedling. If you prefer a totally non-invasive treatment with skin firming and fat melting, consider Evoke.
Schedule a Cosmetic Consultation
There's no need to let unwelcome signs of aging keep you from looking and feeling your best. We'd love to show you what's possible with FaceTite and our other fabulous facial rejuvenation procedures at Parker Center. Request a personal consultation using our online form or call us at (201) 967-1212.
Our Signature
Rapid Recovery Program
Our surgical procedures, anesthesia, medications, and aftercare are tailored to minimize post-operative discomfort and accelerate recuperation.
Learn More