Parker Center for Plastic Surgery
122 East Ridgewood Ave
Paramus, NJ 07652
Phone: (201) 967-1212
Monday, Wednesday, Friday: 9 a.m.–5 p.m.
Tuesday, Thursday: 9:00 a.m.–7 p.m.
Saturday: 9 a.m.–2 p.m. (medical spa only)

Case #627
*Keep in mind that each patient is unique and your results may vary.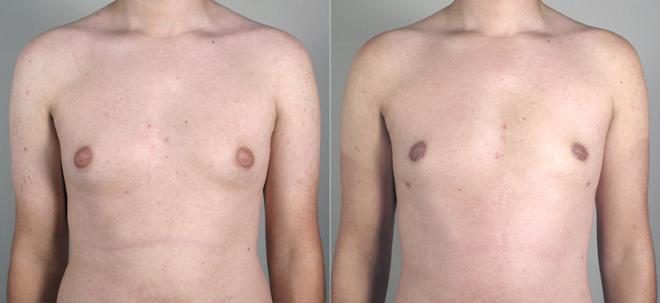 Before & After

This 19 year old was referred to Dr. Parker by his pediatrician for treatment of gynecomastia. His breasts have been large since puberty. The patient quietly endured peer ridicule and covered himself with baggy sweatshirts and clothing. During the consultation, the patient also requested Dr. Parker to improve the fullness of his abdomen and flanks. He has been unable to improve them with diet and exercise. Using SAFE liposuction, Dr. Parker removed 150 cc of fat from each breast, 425 cc from the abdomen and 375 cc of fat from each flank. Following the procedure, the patient experienced little pain. The pain he felt he described as "a soreness in the operated areas as if he had undergone a vigorous workout at the gym". He had little bruising and moderate swelling. The patient is very excited about the results of his surgery. He feels great and has a much more confident attitude. He is now wearing tee shirts like the rest of his friends.
Surgeon: Paul M. Parker M.D.