Parker Center for Plastic Surgery
122 East Ridgewood Ave
Paramus, NJ 07652
Phone: (201) 967-1212
Monday, Wednesday, Friday: 9 a.m.–5 p.m.
Tuesday, Thursday: 9:00 a.m.–7 p.m.
Saturday: 9 a.m.–2 p.m. (medical spa only)

Lip Microneedling
Plump, youthful lips never go out of style—too bad the aging process never got that memo. Just like our skin, our lips can lose volume as we age, causing them to appear thin and even leading to vertical lines around the edges. Blame collagen loss—but don't let it win. Get fuller, softer natural lips without fillers—microneedling for lips is here at Parker Center in Paramus, NJ!
Before and After: Lip Microneedling*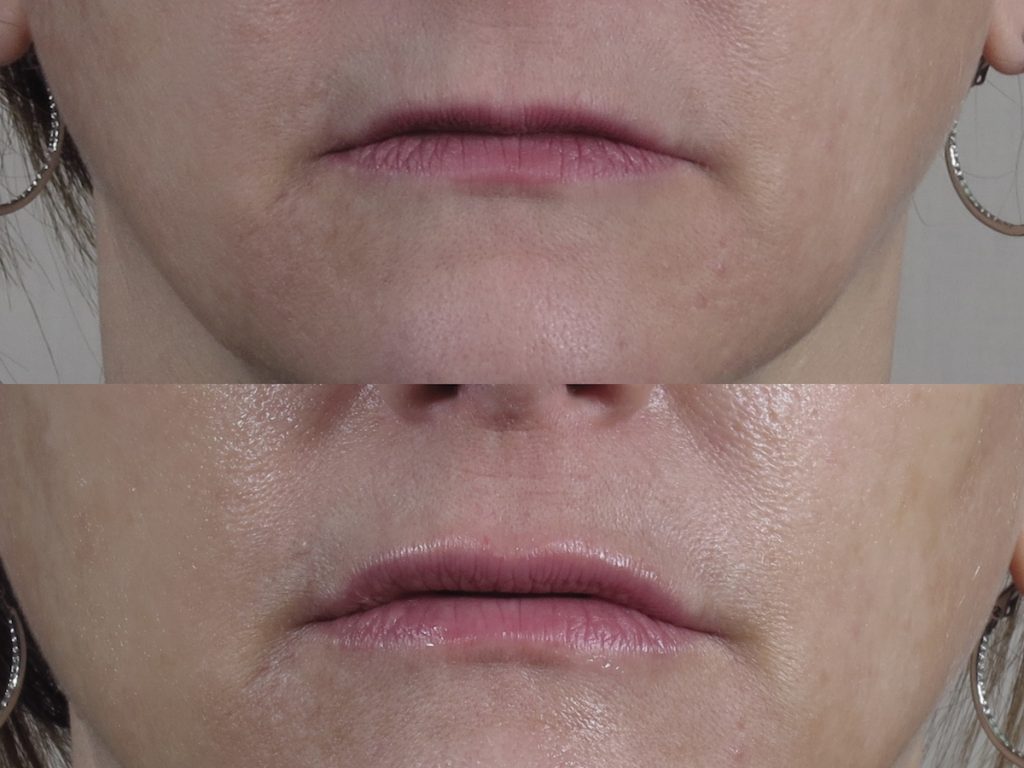 Page Contents
Paul M. Parker, M.D., FACS
Board-Certified Plastic Surgeon
Known for his surgical talent and caring personality, Dr. Parker has been serving the community for over 25 years. He has dedicated his practice to the education, safety, and comfort of his patients—making each one feel as important as family.
Why Consider Microneedling for Lip Plumping?
At Parker Center, we want to give our patients options to reach their goals. Microneedling offers a number of benefits for those who would prefer an alternative to lip injections:
All natural way to have fuller lips
No fillers, implants, or chemicals—just your own natural collagen
No downtime
Perfect for a subtle boost in lip fullness before a special occasion
It's affordable—just $400/treatment!
Feel Confident
About Your Procedure
Our free cosmetic consultations include plenty of time with Dr. Parker, our patient care coordinator, and our imaging specialist. Once your procedure is booked, our nurse educator will meet with you for a special 1-hour pre-op education session.
Request a Free Consultation
Your Education Session
How Does Microneedling Plump the Lips?
Microneedling, the same popular skin resurfacing procedure our patients love to help them minimize flaws, rebuild collagen, and get smoother, firmer skin, is also excellent for rejuvenating the lips!
Microneedling works by creating a series of microscopic injuries in the treated area—in this case, your lips. Your body responds by sending growth factors to the area and triggering new collagen production. Just a few treatments can help your lips become noticeably fuller—without fillers!
What Is a Lip Microneedling Treatment Like?
During treatment, our experienced technician will apply our microneedling pen to your lips. This pen contains microscopic needles that reach just beneath the skin's surface to create the micro-injuries. During treatment, you may have some slight discomfort, but we can apply a numbing agent to help keep you comfortable. After treatment, there is no downtime. Your lips may feel sore for a few days, but you can wear makeup the very next day after your treatment.
How Many Lip Microneedling Treatments Do I Need?
Most of our lip microneedling patients at Parker Center choose to have a series of 3 to 6 treatments. The exact number needed depends on your current lip appearance and your goals. You will notice improvements after each treatment, which will get better and better with each additional treatment. We will help you determine how many treatments you might need for optimal results at your free cosmetic consultation.
Our Signature
Rapid Recovery Program
Our surgical procedures, anesthesia, medications, and aftercare are tailored to minimize post-operative discomfort and accelerate recuperation.
Learn More
Are You Ready to Learn More?
If you would like to learn more about lip microneedling in Paramus, New Jersey, we would love to help! Just call us at (201) 967-1212 or request a free consultation online.