Parker Center for Plastic Surgery
122 East Ridgewood Ave
Paramus, NJ 07652
Phone: (201) 967-1212
Monday, Wednesday, Friday: 9 a.m.–5 p.m.
Tuesday, Thursday: 9:00 a.m.–7 p.m.
Saturday: 9 a.m.–2 p.m. (medical spa only)

Case #383
*Keep in mind that each patient is unique and your results may vary.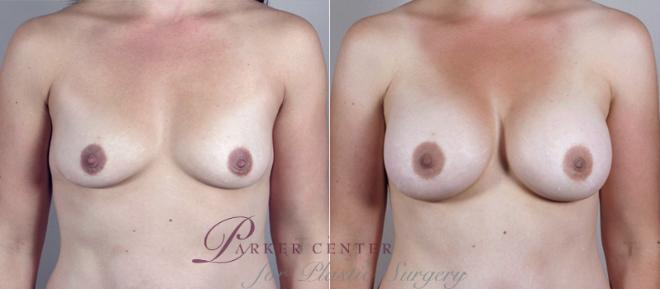 Before & After

This 37 year old, referred by the Beaura Spa, said that after birthing 4 children both her breasts and tummy "need help". The patient is 5'3" tall and weighs 127 pounds. She wears a B cup bra and would like to fill a C cup. After examining the patient, Dr. Parker recommended a breast augmentation and lipoabdominoplasty to be performed at the same time. At surgery, Dr. Parker inserted silicone breast implants through inframammary incisions into a partial submuscular plane, 375 cc on the right side and 350 cc on the left, to improve upon the patient's pre-existing asymmetry. He then performed a lipoabdominoplasty as well. The patient enjoyed a smooth and rapid recovery. She is very happy with the rejuvenated appearance of her breasts and abdomen.
Surgeon: Paul M. Parker M.D.
About This Patient
Implant Contents
Silicone
Breast Incision Type
Inframammary