Parker Center for Plastic Surgery
122 East Ridgewood Ave
Paramus, NJ 07652
Phone: (201) 967-1212
Monday, Wednesday, Friday: 9 a.m.–5 p.m.
Tuesday, Thursday: 9:00 a.m.–7 p.m.
Saturday: 9 a.m.–2 p.m. (medical spa only)

Case #776
*Keep in mind that each patient is unique and your results may vary.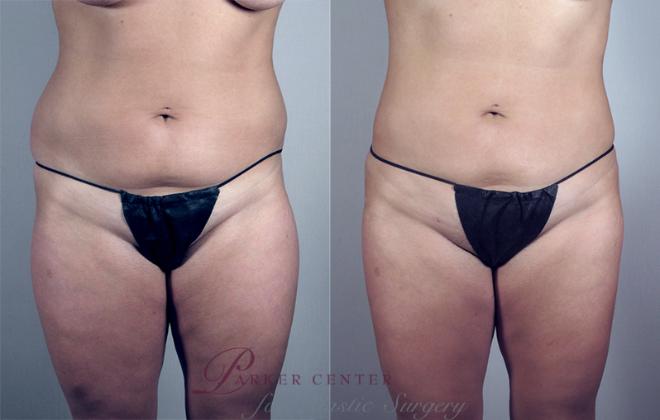 Before & After

This 28 year old dietitian presented herself to Dr. Parker with concerns about areas of diet and exercise resistant fat in certain areas of her body. She has been bothered by this since she was a teenager, but has only started looking for a plastic surgeon over the past year. She is 5'6″ and weighs 180 pounds which is 10 pounds higher than her ideal weight. She works out several times a week but cannot lose the pouch on her abdomen, the fat under her bra line, or the heaviness in her arms, hips and outer thighs. Dr. Parker performed SAFE liposuction on the patient removing the following amounts of fat: abdomen– 575 cc, right hip–575 cc, left hip–650 cc, right outer thigh–250 cc, left outer thigh–250 cc, right side back–325 cc, left side back–300 cc, right arm–250 cc, left arm–250 cc. The patient experienced little bruising and pain, a moderate amount of swelling, and was able to return to the activities of daily living within a few days of her procedure. She loves the improved contours of her body. She has lost 10 pounds since surgery and her clothes fit better than they have in many years.
Surgeon: Paul M. Parker M.D.